Before each season begins, hockey fans are presented with thirty teams to cheer for on their journey toward Stanley Cup glory. For 82 games, these teams duke it out as they jockey for position in the playoffs. But before the post-season comes the regular season's biggest reward, the President's Trophy. It's a trophy dangling in front of the eyes of roughly 750 players and coaches, but at the end of an impossibly long, treacherous tunnel. A season six-and-a-half months long sees players embark upon an arduous adventure where they will encounter many obstacles along the way, including seemingly endless cuts and bruises. Much like a royal rumble, thirty teams enter, one team comes out on top.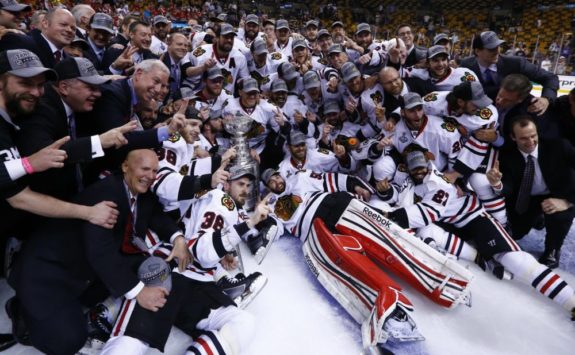 As the season crawls along, certain few teams pull ahead of the group, mathematically eliminating the rest of the league's chance at regular season glory. Though the trophy was only introduced in 1985-86, for the sake of argument, it could be said every team that has finished first since the league's inception deserved the trophy. That being said, since 1917, the team that has won the Presidents' trophy has gone on to win the Stanley Cup 40 times. One might argue there were only six teams until 1967, so most of those instances probably occurred before then. Surprisingly, it only happened 22 times. In fact, in the 13 seasons the NHL has consisted of 30 teams, it has been achieved four times (almost a third of the time). The Chicago Blackhawks were the last team to do it, and it was just last year. Colorado and Detroit did it in consecutive years in 2000-01 and 2001-02, so there is precedence for consecutive Presidents.
This year's race looks to be a little special. Most teams have 16 to 17 games left on the season, but there are still seven teams dominating enough for a chance at the title. Let's take a closer look at each squad and see how they're shaping up.
St. Louis Blues
The Blues stumbled out of the gate when they returned from the Olympics, losing 1-0 in consecutive affairs. Since then, they've rattled off victories in six of seven, boosting them ahead of the sliding Ducks for first overall. GM Doug Armstrong realized his team was putting together a special season, so he pulled the trigger in a move unexpected by many. The goaltending department has been a place of solidarity for the Blues over the course of the last few seasons, but Armstrong saw an opportunity and pounced. The biggest trade of the deadline saw Buffalo Sabres netminder Ryan Miller and captain Steve Ott rescued from their last place misery in exchange for a hefty price: Jaroslav Halak, Chris Stewart,William Carrier, a 2015 first-round pick and a 2016 third-round pick. Has it been worth it? Well, Ott has managed one point in seven games, but Miller has gone 5-0-1 in six games with a 1.82 GAA and a .924 SV%. Lookin' good Armstrong, lookin' good.
Presidents' Trophies:
1999-00.
Stanley Cup in Same Year:
None.
Boston Bruins
The Bruins were quiet at the deadline. Picking up Andrej Meszaros from the Philadelphia Flyers for a third-round pick was all they mustered. They were also quiet in their first two games post-Olympics, losing both – but they haven't lost a game since. Meszaros' hard-nosed play has complemented the Bruins' defence-first mantra, helping them to become the league's hottest team after the Kings fell to the Leafs. They've allowed 11 goals in seven-straight wins while putting up 28. Heading into the post season, their ROW is higher than anyone at 42, which boasts well for any team entering a two-month span without shootouts. They sit fourth in goals for, second in goals against, and first in plus/minus. Balanced scoring has been the Bruins best asset throughout the year, with seven players on pace for 20 goals.
Presidents' Trophies:
1929-30, 1930-31, 1932-33, 1937-38, 1938-39, 1939-40, 1940-41, 1970-71, 1971-72, 1973-74, 1982-83, 1989-90.
Stanley Cup in Same Year:
1938-39, 1940-41. 1971-72.
Anaheim Ducks
The Ducks could be in the midst of a collapse, or just a rare slide in this otherwise fantastic season. The Ducks held first overall for a good chunk of the season, but lost it after only winning three times in their last ten games. They still maintain first in the Pacific thanks to having more wins than San Jose, who have suddenly caught up. Despite losing four in a row, there are a lot of great things to say about this season's Ducks, who are capable of winning eight or nine in a row. The Ducks' ROW of 41 is right behind Boston. Bruce Boudreau has really focused on full strength play helping the Ducks to be one of the most dangerous teams five-on-five, especially when Ryan Getzlaf and Corey Perry are on the ice. The two sit third and seventh respectively in points. Boudreau has had a better record through 100 games with his Mallards than any other coach in team history. If they hope to make a deep playoff run, the powerplay will need a lot of work as it sits at a measly 16.9%, 18th overall.
Presidents' Trophies:
None.
Stanley Cup in Same Year:
None.
San Jose Sharks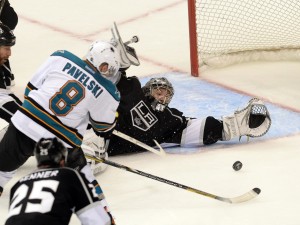 The San Jose Sharks have somewhat quietly been near the top all year long. I say quiet because the microscope has almost been entirely focusing on Anaheim, Chicago and the St. Louis Blues, who were the popular pick to win the Stanley Cup before the season began. The Sharks were trepidatious at the deadline, but not much needs to be done to round out this dangerous squad, who have gone 8-1-1 in their last ten and are currently on a four-game winning streak. At +48 they sit in a three-way tie for second place and own first place in shots-per-game by a wide margin with an even 35. Many will declare San Jose a long-shot for a deep playoff run as the Sharks lead the league with 14 overtime/shootout wins and sit in 23rd with their 16% conversion on the powerplay. However, Joe Pavelski has quickly become one of the most dangerous centers in the league and Joe Thornton is rattling off assists as well as he ever has. Don't forget Patrick Marleau, who is nearing the 30-goal mark for the fifth time in six years (though he was on pace to reach it in the lockout shortened year).
Presidents' Trophies:
2008-09.
Stanley Cup in Same Year:
None.
Pittsburgh Penguins
There can never be enough said about The Kid. In 65 games, Sidney Crosby has 31 goals and 57 assists, and a 15 point strangle-hold over Phil Kessel in the points race. Once again, he is leading his team to the top of its division and second place in the Eastern Conference. Evgeni Malkin is also playing like his usual self, posting 66 points in 54 games. rarely have those two been healthy at the same time, but when they are, the Penguins are an offensive force to be reckoned with. Chris Kunitz is three points away from a career-high season and Marc-Andre Fleury is boasting his best ever GAA and SV%. The Penguins sit 4th in ROW with 39, fifth in goals-for, sixth in goals-against, first on the powerplay by a wide margin and first on the penalty kill. The Penguins may benefit by playing in the worst division in the NHL, but there's no doubt they will be a threat to go deep. Post Olympics, the Penguins lost pretty convincingly to both Chicago and San Jose, so they'll need to prove themselves against Western power with games against St. Louis, Chicago and Colorado as they close out their season.
Presidents' Trophies:
None.
Stanley Cup in Same Year:
None.
Colorado Avalanche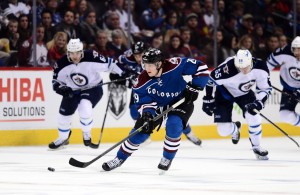 Probably the coolest story of the year. The Avalanche were on pace for 66 points over an 82-game schedule last year. In comes head coach Patrick Roy and rookie Nathan MacKinnon and they all ready have 91 through 66 games, which is a 113 pace. The last time they threw up that many was in 2000-01 when they won the Presidents' Trophy and the Stanley Cup (118 points). They have won six of their last seven, falling only to St. Louis in that span. The Avalanche have the third best ROW at 40, the best winning percentage when scoring first (.892), and are sixth in goals for. Matt Duchene and Ryan O'Reilly are having career years while MacKinnon owns an eight-point gap over the rest of the rookies in the scoring race. He'll be a candidate for rookie-of-the-year, as well as Semyon Varlamov in the keeper category,  who is second in wins, shots against and saves.
Presidents' Trophies:
1996-97, 2000-01
Stanley Cup in Same Year:
2000-01
Chicago Blackhawks
Last, and by far not the least, the reigning Stanley Cup champs. The team has been a little troubled as of late, posting a .500 record in their last 10 (rare the last few seasons). They find themselves seven points shy of the St. Louis Blues, who have bested the Blackhawks on all three occasions this year. The most surprising stat this year is Chicago's, all ready the most ever in franchise history. A staggering eight have come by way of shootout, which is good news heading into the playoffs. In much better news:
Top 5 teams in points from defencemen..
1st) Blackhawks (163)
2nd) Blues (156)
3rd) Bruins (153)
4th) Senators (150)
5th) Blue Jackets (144)

— Mike Kelly (@MikeKellyNHL) March 11, 2014
They are the only team who has five players with 50 points or more, which speaks volumes of their balanced lineup. Also, despite their lousy record in OT, Chicago has only lost 14 times in regulation, tied with the Blues for first. Their powerplay is fifth, shots-per-game is second, and not even the searing hot Blues have scored as much as the Blackhawks, who have 220 goals, or 3.33 per game.
Presidents' Trophies:
1969-70, 1990-91, 2012-13
Stanley Cup in Same Year:
2012-13
So now that you're caught up, who is your pick to win the Presidents' Trophy? Come playoff time, how much merit will that deserve? Playoff hockey is always next level, and sometimes the best team is knocked out of the first round leaving room for a Cinderella run. Sometimes the best team is simply just too good, regular season or playoffs. Drop a comment below and let us know what you think. Let the races begin