There is something to be said about players who are appointed as captains in a league of over 800 players.  Specifically, thirty players have this honor.  These players encompass a plethora of responsibility above and beyond just playing the game.
In Wearing the "C":  Leadership Secrets From Hockey's Greatest Captains, Ross Bernstein and Bobby Clarke emphasize the broad scope of responsibility NHL captains possess both on and off the ice.  In both atmospheres, the captain is an advocate and liaison.
On the ice, he is the sole communicator with referees in keeping his teammates and coaches informed about penalties.  Off the ice, he is the sole liaison and advocate between the players, coaches, and management.
He may also be the mediator in tense situations between teammates. When he is not advocating, mediating, and acting as liaison, he must play hockey to the best of his ability.  He who can do all of these things exemplifies the greatness required of NHL captains.
Since its conception, the Kings have had 13 captains. This article pays homage to the team's prior and present captains by highlighting the bright spots in their careers leading to their appointments, and their success while wearing the "C."
A large thank you  in advance to the Los Angeles Kings for their historic information contributing to this piece.
Bob Wall: 1967-69
According to Legends of Hockey, while playing junior hockey, Wall was part of the Memorial Cup winning Hamilton Red Wings of 1962. He was claimed from Detroit in the 1967 Expansion draft, and was the Kings' inaugural team captain, gaining appointment at age 24 in December of 1967.   The Ontario native and feisty defensemen scored 85 points as captain in Los Angeles and will always be remembered as the club's founding elite leader.
Larry Cahan:  1969-71
Cahan, better known as "Hank" began his professional hockey career in 1949, and played until 1974.  The Ontario Native played for many NHL teams in addition to the Kings,  including the Canucks, Rangers, and Maple Leafs.  He is perhaps also infamous for being involved in the car accident that took Bill Masterson's life.  Nonetheless, the club's second captain scored 130 points in 666 NHL games.
Bob Pulford:  1971-73
Spending most of his formative NHL career with the Toronto Maple Leafs, Pulford ended his career with the Kings.  During his time as captain, the Hall of Famer accomplished 80 points in 132 games.  Subsequent to his retirement, he became the club's coach for five seasons.  His legendary status cannot be ignored.  He made an impact wherever he wore skates.  Below find his Stanley Cup winning shot in overtime, where the Leafs beat the Habs 3-2.
Terry Harper:  1973-75
Harper was known as one of the most feisty defensemen of his time.  A typical "stay at home" oriented D-Man, Terry often amassed 90 penalty minutes per season due to his physical play.  Not surprisingly, his intensity and anchoring of one of the league's most stingiest defenses translated into elite leadership in Los Angeles.
Mike Murphy:  1975-81
Murphy played in Los Angeles for 13 years, 7 of which he wore the "C."  An olympic medalist for Team Canada, and offensive talent, little can be said as to the team's decision to make him "the guy."
Dave Lewis:  1981-83
The Saskatchewan native served two years wearing the "C" in Los Angeles.  He played over 1000 NHL games, and was also known for his aggressive defensive play.  He is currently an assistant coach for the Carolina Hurricanes.
Terry Ruskowski:  1983-85
Ruskowski is best known for his leadership during his professional hockey league.  Currently, he is the only player to have ever worn a "C" for 4 different clubs (Blackhawks, Kings, Penguins, and North Stars).  In 2010, he was inducted into the World Hockey Association Hall of Fame.
Dave Taylor:  1985-89
Taylor was just about a point-per-game pace player during his entire duration on the Kings, scoring 1,069 points in 1,111 games.  The talented right winger played on the club's famous "triple crown" line with Marcel Dionne and Charlie Simmer, where each player scored over 100 points during the 1981 season.  He also served as the team's general manger from 1997-2006.  Here is a recent video of where the "triple crown" members are these days.
Wayne Gretzky:  1989-93, 1995-96
The Great One.  Gretzky's arrival in Los Angeles had an almost immediate impact eventually leading the team to the Stanley Cup Playoffs.  His greatness is credited with bringing popularity to hockey in California.  He never missed a point-per-game pace with the Kings and his leadership had a seismic impact on the club.
Luc Robitaille:  1992-93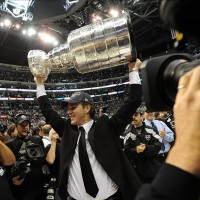 Robitaille served as interim captain while Gretzky was injured for two seasons.  Due to concerns of his skating skills, Luc was drafted late; however, he retired as the highest scoring left wing in NHL history.  During his tenure as captain, the sharp shooter helped lead his struggling team into the playoffs with his own offensive talent and superb leadership ability.
Rob Blake:  1996-2001
The club's legendary defensemen played collegiate hockey for Bowling Green State and began his NHL career in Los Angeles in 1989 against Winnipeg.  In 1996, Blake became the first King to ever win the Norris Trophy as the NHL's top defensemen.  A true offensive defensemen, for all of his seasons as the team's captain, Blake was an elite defensemen in the league.
Mattias Norstrom:  2001-07
Another "stay at home" defender, the Swede became the Kings' captain and defensive anchor subsequent to Rob Blake being traded to Colorado.  When Blake returned to the Kings in 2007, Norstrom offered him back the captaincy.  Blake denied this offer during a press conference calling Mattias the "core and soul" of the team.
Dustin Brown:  2008-Present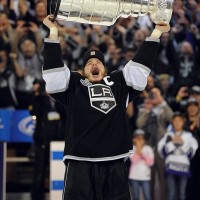 As a player, Brown is recognized for his physical play.  Year after year, Brown is always the headliner regarding discussions about hits in the league; however, it is perhaps his behavior off the ice that landed him the "C."  NHL Foundation Award, L.A. Kings Most Inspirational Player, and L.A. Kings Community Service Award are a few of the awards Brown has in his portfolio.  Each of these awards speak directly to his leadership abilities.  He is a community man, husband, father, and respected player and leader for his club.  Attaining the captaincy at 23 years old, Brown is up there with the best of the long list of legendary players called upon to lead in Los Angeles.
In sum, with every departing captain in Los Angeles Kings history, comes bigger shoes to fill for the succeeding captain.  The same could be said for every NHL team.  These stories make it clearer, next time the hockey game is on, and the captain skates across the screen, the responsibility, honor, and challenges that came with that "C.'
For more on the Los Angeles Kings, please follow me on Twitter @JesseScott_THW.