The Washington Capitals have one of the best offenses in the league along with a strong power play, but are on outside looking in at the playoff picture and are unlikely to reach the postseason due to a grueling schedule down the stretch. Their defensive play has been their focal problem for the past few years and will continue to be until the issue is addressed and a top four defenseman is added that can play effectively in their own end and contribute offensively.
General Manager George McPhee has built a blue line with some good young pieces and continued that this week, signing Russian defenseman Dmitry Orlov to a two year contract extension. Orlov, Alzner and Carlson highlight Capitals defensemen that must be part of the future. Past that is unclear. Connor Carrick is another young blue liner that is playing in his rookie year. Carrick is another talented offensive player, but his defensive game, like many rookies is unrefined.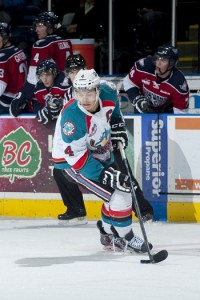 Mike Green is not what he once was several years ago and is a liability in his own end. The 2014-15 contracts of John Erskine and Jack Hillen are roadblocks in adding another defenseman in free agency, but there aren't many options out there to begin with this coming summer. Finding a top four defenseman is a necessity and the best way is through the draft. The Capitals could have that in soon to be 19 year old defenseman Madison Bowey.
The Capitals selected Bowey in the second round of the 2013 NHL entry draft after their first round selection of Andre Burakovsky in the first round. Bowey, 18, plays for the Kelowna Rockets of the WHL and set a team record Friday night with his 20th goal from the blue line, the most for a Rockets defenseman in club history.  Bowey has 20 goals and 39 assists on the season, including six power play goals, easily eclipsing his 30 point total in 59 games last season.
"I think it was a really special moment for not on myself, but for my family and everyone that helped me get there," the Rockets defenseman told The Hockey Writers in an interview this week about getting drafted by Washington.  "That was probably definitely the highlight of my career so far and hopefully I can try to make the jump to (the NHL) as soon as possible."
Born in Winnipeg, the thoughts of getting selected by his hometown team crossed Bowey's mind for sure.
"I thought if they did pick me it'd be pretty cool," Bowey explained. "Playing in my hometown would definitely be pretty neat to have a lot of friends and family to get a chance to watch me, but I think I landed in a great spot in Washington, it's a perfect spot for me."
The 6'3", 203 pound defenseman brings a compelling offensive game that Washington desires in many of their defensemen, but he wants to become a two-way blue liner for the Capitals, something they desperately need.
"I like to think of myself as a two-way defenseman," Bowey said of his style on the blue line. "Drew Doughty is a guy I really try to model my game after and focus on; I know he's a tremendous guy not only in the defensive zone, but he can also put up his numbers too offensively."
"My shot is something I really want to work on and get better at. Making a harder first pass all the time and getting the puck out of the zone as quick as possible and up to the forwards. Also I'm a defenseman so making sure my defensive game is always top notch and I'm a hard guy to play against."
Madison Bowey with two goals in 1:50 to sit at 20 on the season, a new single season record for Rockets D-men #wow #bows #whlrockets

— Kelowna Rockets (@Kelowna_Rockets) March 15, 2014
Playing in his third full season for the Rockets, Kelowna recorded the top record in the Western Hockey League (WHL) and that was a goal Bowey and the team set out prior to the season. Kelowna will face the Tri-City Americans in the first round of the WHL playoffs beginning March 22nd.
"One of our goals was to get first in the league and we achieved that," Bowey said. "Now it's going to be a fun time in the playoffs"
"It's a pretty good atmosphere right now, I know in Kelowna the fans are really supporting us right now. It's awesome to play at home."
Bowey was named Captain of the Rockets prior to the opening night faceoff, giving him a leadership role that he is already accustomed to. He was an assistant Captain for Canada's Under 18 team that won the World Junior Hockey Championship during the 2013-13 season.
"It's definitely an honor," the 18 year old explained about being named Captain of the Kelowna Rockets for the 2013-14 campaign. "There's a lot of great players that wore the "C" in previous years and I think I'm a leader that really tries to show by example when I have to step up and talk to the guys and get them on the same page I can do that as well."
"Definitely I'll never forget winning Gold there, whenever you get the chance to wear that crest on your jersey and the logo it's a huge honor. That was such a great experience and to be a leader of that team too it's pretty special. The coaches trusted me in that position, it was awesome."
He paid attention to Canada's performance in the Under 20 WJHC this winter and knows from experience that developing chemistry in practice and during the beginning of the tournament is huge. One of his goals is to make the Canada's Under 20 roster if he can't break in with Washington.
"The big key is coming together right away off the bat. I know at the U 18 Tournament our team we bonded right away. Our coach made sure that we came together as a team quickly and that's what we did and it showed on the ice. In a tournament where you can't really take any days off, we didn't there and it showed in the result of winning the Gold (medal).
"It definitely is a goal for me," Bowey said of the prospects of making Canada's Under 20 squad next winter. "Obviously the goal is to hopefully make the jump next year to the big level, but definitely making the World Junior team is a goal I have set. Hopefully I can get off to a good start next year and achieve that."
His main goal is to impress the Capitals like fellow young defenseman Connor Carrick did in Washington. A summer of training after a hopeful championship run for the Rockets in the WHL will preclude that dream.
"Just finish the year off strong and hopefully we can win a championship here with the Kelowna Rockets and then have a good summer of training and come into the camp and turn some heads there and maybe get a shot in playing a few games and moving on."
"Me and Connor (Carrick) are pretty good buddies in the camps there and I think what he's done is awesome. He's inspired me that if I keep working hard I have a chance to make it into the league pretty soon. It's cool to look up to him and see what he has done and it's definitely making me more determined and more driven."
Bowey said that his agent and the Capitals have discussed when the young defenseman could make the jump to the pros and earn his entry level deal. He's focused on his Junior team before any thoughts of what he'll do next year however.
"A little bit I think," Bowey said of contract discussions between his agent and the Capitals. "Just have a strong end to the season and hopefully win a championship and we'll go from there. Right now I think it's just focusing on our team here back in Kelowna and we'll see how the cards fold after that."
If signed to an NHL deal after his junior season ends, Bowey could join Washington's AHL affiliate, the Hershey Bears, on an ATO.
"I think it could be," Bowey said of the possibility in joining the AHL's Hershey Bears after his junior season ends. "We're hoping to have a good run here in Kelowna and hopefully go all the way. If that doesn't work hopefully getting called down there to the AHL would be a pretty cool thing for myself."
You can follow Matthew on twitter @m_speck and email him at mspeck21@yahoo.com with any questions or comments.
Matthew Speck covers the Washington Capitals organization for The Hockey Writers. He provides coverage of both Washington at the NHL level and prospect related content. Matthew also covers local sports for the Lebanon Daily News in Central Pennsylvania. You can email him at mspeck21@yahoo.com with any questions or comments.