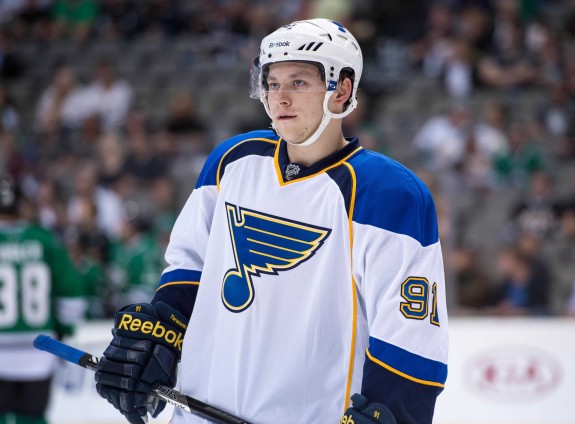 Vladimir Tarasenko is slowly becoming the player that scouts that he could be in his draft year. The St. Louis Blues have gone from ballyhooed preseason Stanley Cup favorite to legitimate contender over the last few months. In the eyes of some pundits, their arrival was legitimized by the acquisition of  Ryan Miller and Steve Ott ahead of the trade deadline. That isn't the case in St. Louis though.
What makes this team so dangerous is their scoring depth. Against the Edmonton Oilers on Thursday night they reached several noteworthy team milestones. St. Louis became the first team in the NHL to have seven players score 40 points, and joined the Chicago Blackhawks and Colorado Avalanche as one of three teams in the league to roster four 20-goal scorers.
One of the players that cracked that barrier was Tarasenko.
Schwartz + Tarasenko now give @StLouisBlues 4 players w/ 20+ goals tying #Blackhawks + #Avs for #NHL lead #depthscoring

— Matt Sitkoff (@msitkoffNHL) March 14, 2014
The 22-year-old Russian has been quietly and remarkably effective for the Blues this season—a far departure from a rookie campaign that saw him struggle to be a factor when he wasn't scoring. Tarasenko is now showing the skills that made St. Louis want to snatch him with the 16th-overall selection in 2010, and he's a big part of a dangerous and dynamic Blues attack that generates more goals than just about any other team in the NHL.
A Rookie Season Gone Wrong
Tarasenko arrived in St. Louis to much fanfare. He spent four seasons playing in the KHL after the Blues drafted him, and by the time he came to North America his resume was already overflowing. He played more than 200 games in Russia's answer to the NHL, compiling 66 goals along the way. Worth keeping in mind is that Tarasenko was a teenager through several of his KHL seasons, competing as a boy among former NHLers and other professionals.

On June 2, 2012, Tarasenko signed his entry-level deal with the Blues—He was coming to St. Louis. At the time, general manager Doug Armstrong said that:
Vladi is coming off his best season as a professional and we are excited that he has decided to join our organization. He has shown significant growth in his years in the KHL and we look forward to him taking his game to the next level as a St. Louis Blue.
Tarasenko didn't waste much time waiting to prove how impressive he could be. In St. Louis' opening game of the lockout-shortened 2013 campaign, he electrified the home crowd by scoring two goals against the bitterly detested Detroit Red Wings. His second tally of the evening is still one of the prettiest goals you'll see.
He was immediately a Calder Trophy favorite, and the Blues seemed to have a new star in the making. Tarasenko didn't slow down in his first month as a pro in North America. In his first seven contests, he potted five goals and added four assists. He cooled off a bit in February, but still appeared to be a dynamic offensive force.
Then Mark Oliver of the Colorado Avalanche came calling. On February 20, Tarasenko took a nasty hit to the head and subsequently missed time with a concussion.

He wasn't cleared to return until the middle of March. When Tarasenko did take to the ice again, it was clear that he wasn't the same player that he had been prior to getting knocked out cold by Oliver. He managed four points in six games before the end of March, and then went cold. The former Calder-Trophy shoo in posted three points in 15 April contests before going 15 straight games without a goal to close out the season.
It was a classic tale of two campaigns for the youngster, and all told, his rookie season was a disappointing one. There were various external factors that prevented Tarasenko from living up to his hype—no training camp, compressed schedule, concussion, adjusting to North American play—but the Blues were looking for more out of him in his Sophomore season.
They'd get it.
From Rocked Rookie to Rising Star
Tarasenko didn't score in the first game of the season for the Blues, but he notched a goal in games two through five. He was clearly stronger on the puck than he had been in his rookie campaign, and the effects of the hit to the head were gone. The Russian's streakiness reared its ugly head though, and saw Tarasenko go on an eight-game goalless drought following the four-game scoring run.
For a player that is used almost exclusively as an offensive weapon, pointless and goalless streaks are devastating to value.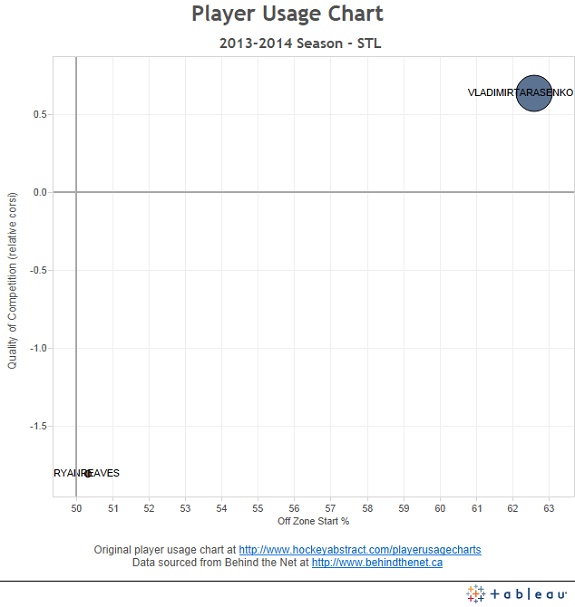 As the 2013-14 campaign has gone on though, Tarasenko has slowly discovered his consistency. A big reason why has been a renewed willingness to drive to the net. He's shooting from a closer range on average this season, and takes noticeably more chances in close. In the KHL, work around the net was a hallmark of Tarasenko's game. It's no coincidence that his new level of play has been buoyed by taking more shots within five or six feet of the net.
Since January 18, he hasn't gone more than two contests without adding at least an assist. His points-per-game average has slowly crept up as the months have fallen off the calendar. In November, Tarasenko managed five points in 15 games.
In December, he added nine points in 14 contests. Through 12 games in January, Tarasenko posted 10 points. Over his last 12 games, he's tacked on 11 more points. He recently played in his 100th NHL game, and is obviously becoming more and more accustomed to the way the game is played in the NHL.
Vladimir Tarasenko is slated to play in game No. 100 tonight against the Dallas Stars. #StlBlues

— Andrew Allsman (@allsmandrew) March 11, 2014
Hitting the 20-goal plateau seems to be just the beginning for the budding St. Louis star. While he's not a two-way stud along the same lines as David Backes, Tarasenko has also showed more commitment to possession and defense this season. He's a plus-19 through 63 games—a big improvement over the plus-one that he posted through 38 contests last year.
When you look at the Blues roster, a few different names pop out at you. The opposition knows that Backes is going to bring the pain and that Alexander Steen has the uncanny ability to appear out of nowhere to score goals. It appears that Tarasenko will be a player worth worrying about for the foreseeable future, given his recent steady level of play and excellence inside the offensive zone.