Anthony DeAngelo
THW's NHL Draft War Room Rankings (E-Mac): #30 (Feb 2014)
THW's NHL Draft Rankings – The Next Ones Edition (aka Chris's List): #27 (March 2014)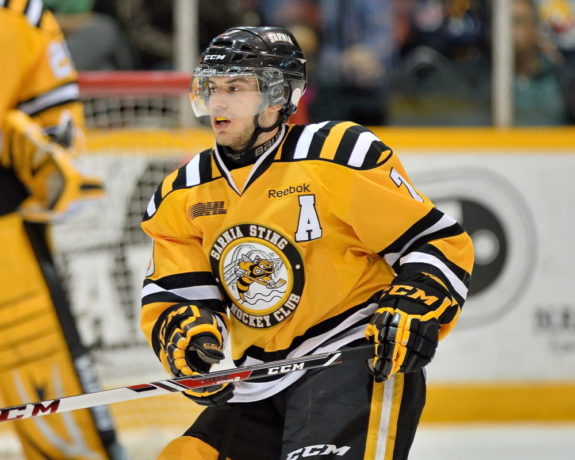 Hashtag: #MrPassionateDee
Team: #7, Sarnia, OHL
Position: Defense
Shoots: Right
Height: 5'11
Weight: 175 lb.
Born: Sewell, NJ, 24-Oct-95
Twitter: @TonyDee07
Stats
Other Rankings
11 – NHL Combined – Mid-term, Jan-14
12 – Craig Button, Jan-14
25 – ISS, Feb-14
26 – Bob MacKenzie, Jan-14
23 – HockeyProspect.com, Feb-14
29 – Future Considerations, Feb-14
Worth Retweeting
https://twitter.com/TonyDee07/statuses/423822532983418880
Best Offensive Defenceman:

Eastern Conference:
1. Aaron Ekblad, Barrie Colts

Western Conference:
1. Anthony DeAngelo, Sarnia Sting

— HockeyProspect.com (@ScoutingService) March 19, 2014
Draft prospect who may be centerstage for scouts v. stats debate is Anthony DeAngelo. Elite #'s, but plenty of question marks.

— Corey Pronman (@coreypronman) March 22, 2014
The Sting confirm this is the second time Anthony DeAngelo has broken the #OHL's harassment/abuse/diversity policy.

— Sunaya Sapurji (@sunayas) February 14, 2014
http://t.co/TMB326PEad
#23 Anthony Deangelo @TonyDee07
Outstanding offensive weapons… rushing the puck, joining rush, vision from the point

— ISS Hockey (@ISShockey) February 7, 2014
Profiles
Quotable
NHL Central Scouting says: "Dynamic skating and puck moving defenseman, plays with an offensive synergy – excellent quickness in transition game – initiates rushes and team offense – passes and shoots with authority – capable to change the complexion of a game – positive improvement to his game to manage risk-reward plays – plays a lot of minutes and in all situations."
From the THW War Room
Eldon MacDonald, THW: A few words on Anthony DeAngelo:

Mr. Passionate Dee – The thing that stands out about Anthony DeAngelo, above all else, is his passion. That can be good because Anthony will do just about anything to win a game. It can be bad as well because sometimes Anthony loses his temper and his composure during games or yells at his own teammates inappropriately.
Skills – Skating, top-notch, first gear and high gear, shots – booming slapshot, elite wrister and an effective one-timer, adroit stickhandling, passing extraordinaire. He is simply an all-out offensive defenseman who produces goals for his team, five on five or on the powerplay.
Powerplay Quarterback  – Anthony combines high end skill, poise, elite creativity and his undying passion to the powerplay quarterback role. He is probably the top power play quarterback in this draft.
Eight game suspension – Anthony received an eight game suspension from his team for harassing or abusing a teammate. This combined with his anger management issues is a potential red flag for teams.
Other issues – Anthony, of course, has a size and strength issue but also does not possess an acceptable defensive game. Combine that with his riverboat gambler offense and you have a very high risk, very high reward player.
Draft placement – From almost top ten to the end of the first round on most rankings. Where he goes in the draft is likely dependent on the general manager who either desperately needs a power play quarterback or spends some time in Las Vegas. His interview performance with NHL teams will be perhaps the most critical and crucial of all this draft class in determining where he lands in Philly.
Video
About NHL Draft War Room Series
This series is compiled by Eldon MacDonald and edited by @ChrisRalphTHW)