Nikolay Goldobin
(a.k.a. Niklai Goldobin)
THW's NHL Draft War Room Rankings (E-Mac): #29 (Feb 2014)
THW's NHL Draft Rankings – The Next Ones Edition (aka Chris's List): #22 (March 2014)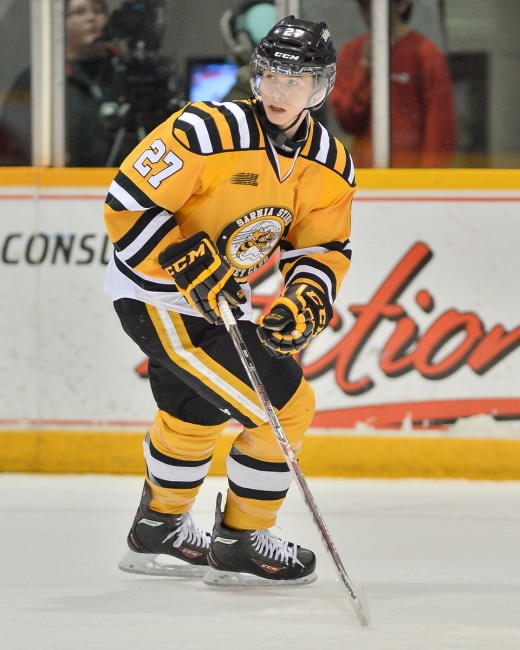 Hashtag: #MrGoldWinger
Nickname: Goldy
Team: 27, Sarnia, OHL
Position: Right Wing
Shoots: Left
Height: 6'0
Weight: 178 lb.
Born: Moscow, Russia, 7-Oct-95
Twitter: @NGoldobin
Stats
Other Rankings
13 – ISS, Feb-14
18 – NHL Combined – Mid-term, Jan-14
23 – HockeyProspect.com, Feb-14
22 – Bob MacKenzie, Jan-14
26 – Future Considerations, Feb-14
28 – Craig Button, Jan-14
Worth Retweeting
#2014NHLDraft prospects talk on #NHL radio w/ @RyanHPscout Anthony Deangelo, Nikolay Goldobin and Julius Honka http://t.co/tWVyuJ1MoL

— HockeyProspect.com (@ScoutingService) March 7, 2014
Goldobin and De Leo fastest in the 30m sprint for Team Cherry. Vanier and Bleackley at 3 and 4 respectively. #BMOTP

— Zenon Herasymiuk (@ZenonHerasymiuk) January 14, 2014
#OHL #2014NHLDraft Scoring Leaders: 1-Dal Colle, OSH 95P, 2-Goldobin, SAR 94P, 3-Bennett, KGN 91P, 4-Fabbri, GUE 87P, 4-HoSang, WSR 85P

— Brendan Ross 🇨🇦 (@RossyYoungblood) March 18, 2014
http://t.co/dTmaEKMf2A
#13 Nikolai Goldobin @NGoldobin
39PTS 15+24 thru 22GP in Dec & Jan… Extremely quick & shifty on edges; Dynamic skill.

— ISS Hockey (@ISShockey) February 27, 2014
Profiles
Sting's Goldobin setting lofty goals for himself – http://t.co/9XwcuG991K #GoStingGo @NGoldobin @StingHockey #OHL

— Hockey's Future (@HockeysFuture) February 20, 2014
Quotable
Dan Marr

, NHL Director of Central Scouting, at

NHL.com

,
"The one thing he has in common with Yakupov is that you can see how ecstatic he is to score. When Central Scouting puts the list together we don't look at the players' passport. I'm not saying the team's do but they may have a different emphasis when they put their list together or when they're making their selections. As we've seen in the past some special players do tend to fall a little bit because there is some concern. To me Goldobin is one of those players who can potentially get to the NHL sooner than other players taken ahead of him, but that's just because players develop at different degrees at this age group.  He's got decent size (5-foot-11.5, 178 pounds) and has the attitude and personality that portrays an offensive game."
"Goldobin has faced questions about his consistency, but he's produced for a struggling team. With 91 points, good for seventh in OHL scoring, the projected high NHL pick has factored into almost 45 per cent of the Sting's goals. The way he perked up during the CHL/NHL Top Prospects Game in January and was one of the best on the ice, well, maybe that is a hint of what he can do when the skill level on the ice rises."
Prospect Nikolay Goldobin (No. 14) from @StingHockey: "In Canada, hockey is way faster than Russia so it was hard transition from RUS"

— Mike Morreale (@mikemorrealeNHL) January 15, 2014
From the THW War Room
Eldon MacDonald, THW: A few words on Nikolay Goldobin:

Mr. Gold Winger – Nikolay can be gold with the puck. He is like a magican weaving the puck by or through defenders. His offensive production are almost as good as anyone in this draft.
Skills – Great skater, elite stickhandler, creative passer, elite wrist shot, outstanding power play guy with absolute top level hockey sense for offense.
Issues – Slightly under-sized, poor defense, lack of desire to play without the puck, lack of willingness to be physical, tendency to play on the peripheral as well as the Russian factor.
Draft placement – From almost the top ten to the bottom end of the first round. Nikolay certainly has the offensive dynamism and talent to be considered for the top ten in this draft. However, the issues noted previously are worrisome for some. A team that thinks it can help Nikolay address these issues could take him very high. Other teams may be willing to wait to even the second round.
Video
About NHL Draft War Room Series
This series is compiled by Eldon MacDonald and edited by @ChrisRalphTHW)