It's hard to believe that the Florida Panthers were a playoff contender just two years ago. Less than 730 days ago, Florida battled the New Jersey Devils in a seven game playoff series before falling to the eventual Eastern Conference Champion Devils. But despite dwelling in the basement of their division since then, Florida GM Dale Tallon has the Panthers showing what it means to be frugal, while ownership has demonstrated how to be cheap.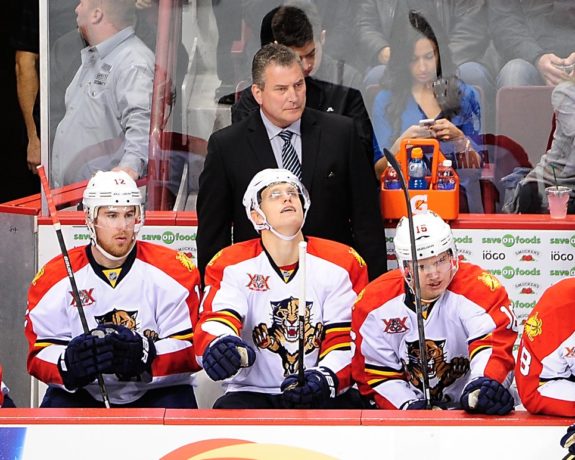 Panthers Showing An Eye For Talent
With seven top 10 picks in the past decade, the Panthers have undoubtedly stockpiled talent. Of those top 10 picks, the Panthers have chosen their first round pick within the first three picks three times. Names like Michael Frolik, Jacob Markstrom, Dmitry Kulikov, Jonathan Huberdeau, and Aleksander Barkov are testimony to Florida's eye for talent.
"For the longest time, experts have raved about the stable of prospects the Panthers hold in their system. This should be the year we finally get to see them. Save for a few still marinating in the minors, all of Florida's highly touted youngsters should break training camp with the main roster." — TSN
While Frolik and Markstrom are no longer members of the organization, the Panthers have seen Huberdeau and Barkov develop before Barkov was eventually sidelined due to injury. The two youngsters have combined for 51 points despite the team's disappointing mark of 26-36-8. And while Huberdeau is only four points shy of matching his 31 points from last season, it was Barkov who started the year, and his career, with a bang.
"At 18 years, 31 days (on Thursday), Barkov became the youngest goal-scorer in an NHL game since Jan. 8, 1944, when Ted "Teeder" Kennedy scored for the Maple Leafs at 18 years, 27 days." — USA Today via the NHL
Although Tallon has unquestionably built the Panthers through the draft, it didn't stop him from acquiring a young prospect in whom he drafted as GM of the Chicago Blackhawks. When Brandon Pirri didn't fit into Joel Quenneville's system in Chicago, Tallon eagerly gave up two draft picks, a 2016 third and fifth-round draft pick, to acquire the AHL All-Star Game's MVP.
In his last 5 games with the Panthers, Brandon Pirri has 3 goals and 4 assists

— NBC 6 Sports (@NBC6Sports) March 19, 2014
"He has experienced tremendous success on the American Hockey League level, being named MVP of the All-Star game and winning the league's scoring title," said Tallon. "Pirri further adds to our depth at center along with Aleksander Barkov, Nick Bjugstad and Drew Shore. We look forward to his contributions to our team."
The move for Pirri, who posted six goals and five assists through 28 games for the Blackhawks, appears to be paying off early. After going scoreless in his first two games with his new team, Pirri has gone onto tally seven points in Florida's last seven games.
"He's grasping this; he comes from a good organization that he didn't break into full time," said Pirri's new head coach Peter Horachek.
"This is a great opportunity for him, being with a lot of other young players who have a lot going for them. They all have parts of their game they need to improve. But they are relishing the opportunity."
Panthers Showing They're Buyers?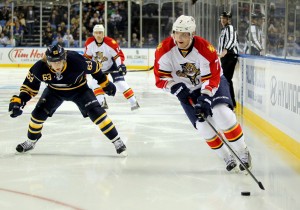 The trade for Brandon Pirri was just one example of the Panthers showing their fan base, and the rest of the league, that they weren't the trade deadline sellers that all of the rumors suggested they would be. Not only did shootout specialist Brady Boyes and upcoming restricted free agent Dmitry Kulikov stay put, the additions of Pirri and established netminder Roberto Luongo were opposite actions of a team who is known to dump salary as the team undergoes the rebuilding process.
Tallon did, however, deal forward Marcel Goc to Pittsburgh at the trade deadline, sending his 23 points and 52.8 face-off percentage to Pittsburgh for late round draft picks in the two upcoming NHL Entry Drafts. Moving Goc freed up another $5.1 million from Florida's already abundant cap space. And while Tallon wasn't finished, the trades that sent goalies Tim Thomas and Jacob Markstrom to new homes were part of Tallon's reconstruction at the goalie position.
"We're going to do what's best for the Panthers to build a championship team," Tallon explained before the deadline. "We're not blowing this thing up. If we can sell some assets to get better, we'll do that. It depends what happens in the next few weeks. We'll be aggressive either way."
Panthers Showing How To Be Cheap
On the other side of the coin, Florida's ownership has fairly received a plethora of criticism. That'll happen when you ask the local taxpayers for an extra $80 million for renovations to the publicly owned BB&T Center in Sunrise. The 59-page proposal the Panthers submitted to Broward County reeks of cheapness on ownership's behalf, and some county commissioners have already showed displeasure with the proposal.
"If there is something where we could get money to take care of some of the needs of Broward County that we can't meet now, then I'd be interested," said one commissioner, Sue Gunzburger. "They want to live here rent-free."
I keep reading about @FlaPanthers losing money yet keep seeing reports that say ownership says Tallon can spend to cap next year. Huh???

— Mike Ross (@RossyOnTheMic) January 15, 2014
The owners of the Panthers, whose payroll sits around $50 million, the lowest in the NHL, claim they're hemorrhaging money. Don't believe it. The team itself doesn't draw, but the funny thing about the situation in Sunrise is that the team itself was never supposed to be the big profit. It's the arena.
"The BB&T Center is run by Arena Operating Company, a division of the corporation that actually owns the Panthers. Since the arena was built with public money, AOC is forced to open its books. And audits consistently show that AOC turns a profit. Much of that comes from concerts, events, and sports other than hockey—running an arena is a true cash cow. But even when Panthers games are factored in, AOC is still in the black, to the tune of nearly $10 million a year dating back to 1998." — Deadspin
If the Panthers are using this deal for leverage to become more competitive, it doesn't add up. The Panthers currently have only four players who's salaries exceed $4 million, with defenseman Brian Campbell's $7.142 million as the team's highest paid player. With a gapping cap space that's wide enough to drive a Mac truck through, it's ownership's penny pinching that appears to be the true culprit of Florida's woes.
Even certain gimmicks that the Panthers have pulled off in the recent past would be enough to make a minor league organization blush. After last season's last place finish, the Panthers dropped confetti from the ceiling, a move that left former Panther Stephen Weiss in pure shock.
"I don't know what to say. It got under my skin to see that, said Weiss, who is now a member of the Detroit Red Wings. "I've seen a lot here. I don't know where these things come from, who makes these decisions. It's certainly not the right way to do things. The jersey off your back is fine, that's good for the fans. But confetti and streamers?"
And then there's the issue of glass maintenance. After a Nick Bjugstad slap shot shattered the glass behind the net back in December, workers settled on a piece of plywood to temporarily fix the solution when the replacement glass wouldn't cooperate.
"For much of the third period, this thing stood between the fans in the BB&T Center's lower bowl and their view of visiting netminder Jimmy Howard. I'm with the FSN announcer — I've never seen this before.

Now, in the arena crew's defence, that actually is a pane of glass, not plywood or cardboard. It's not as though they ran out of glass in Sunrise. The issue is that, after a wrist shot broke the first piece, the crew couldn't get the protective cover off the second piece. So what the Hell, they just left it on, because Florida's gonna Florida.

Embarrassing, especially for a team that has trouble filling its building. Turning the best seat in the house into the worst seat in the house by replacing the window with a door doesn't really seem like a good fan outreach strategy." — Puck Daddy
A lot remains to be seen moving forward in Sunrise. As Tallon has built a winner in Chicago, much is expected of the veteran general manager. But will he truly be free to spend the type of money it takes to compete in the league next season? Or is it just another form of lip service from a financially starved owner?
Florida ran out of replacement glass, and suddenly those seats aren't so great anymore: http://t.co/oyI0wxcHwg pic.twitter.com/uDkp4Nm5R2

— SB Nation (@SBNation) December 11, 2013
If so, fans can expect to see more of this in their future.
Andy is a contributor for The Hockey Writers, covering the Philadelphia Flyers. He holds a Bachelor's Degree in Communications from Walsh University. He enjoys spending time with his family, golfing, and reading. He is married with a daughter. You can follow Andy on Twitter @ADudones.