Where would the Chicago Blackhawks be without GM Stan Bowman? That's a fair question with a dim answer. In his fifth year in the driver's seat in the Windy City, Bowman's proficiency has withstood the wrecking ball otherwise known as the salary cap. And for a star-studded roster, that's anything but an easy task – even for Chicago's mad genius.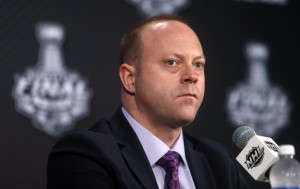 The Making Of The Blackhawks' Mad Genuis
Stan Bowman isn't a stranger to numbers. In fact, his competency in number crunching was visible before he ever spent a day as GM of the Blackhawks. Chicago's mad genius first joined the Blackhawks organization in 2000 where he served in a role that enabled him to perfect his skill for not only managing numbers, but evaluating talent as well.
"Bowman played an integral role in acquiring the talent that brought the Stanley Cup to Chicago in 2010. Following the championship run, Bowman was named to Crain's Chicago Business "40 under 40" Class of 2010. The prestigious announcement is given out to 40 business executives under the age of 40 in the city of Chicago each year and recognizes the tremendous accomplishments of the individuals chosen.

"Bowman graduated from the University of Notre Dame in 1995 with degrees in finance and computer applications. When he arrived at the Blackhawks in 2000, Bowman worked extensively on financial budgets and developed programs to track player movement and player evaluation." — Blackhawks Bio
At age 36, Bowman assumed the role of general manager for the Blackhawks, making him the youngest GM in the league. And although Bowman tasted success right out of the gate as GM with a Stanley Cup, he knows what it's like being in the basement.
The son of legendary head coach Scotty Bowman spent a decade as an assistant in the organization; 10 years that included only two playoff appearances and a cancelled season due to a lockout (2004-05).
"There's no shortcut going from a bad team to an elite team," said Bowman. "We did it the right way. The only thing I hearken back to is, if you have to take advantage of drafting players early, you have to make sure you're drafting the right guys, and you have to make sure you're developing those guys. That's the way you build a franchise. It's hard to pluck players from here or there and just become a good team."
Chicago's Mad Genius Taking On The Salary Cap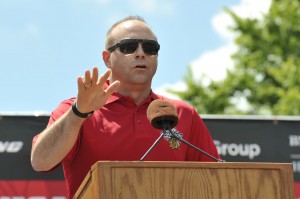 After Bowman's honeymoon period as a Stanley Cup-winning GM, the Montreal native solidified himself as an NHL executive by gutting the very team that brought Chicago their first Stanley Cup in over 40 years. The Blackhawks were looking for a way to cut over $4 million, and that was just to break even.
With Jonathan Toews, Patrick Kane, Patrick Sharp, and Marian Hossa in-expendable, Bowman sent Dustin Byfuglien, Andrew Ladd, and Kris Versteeg packing. Bowman also made the decision to allow goalie Antti Niemi to walk, where he would ultimately end up signing with the San Jose Sharks for $15.2 million after a $2 million trial year.
The goaltending decision proved to be another casualty to Bowman's midas touch. Although the Blackhawks failed to even reach the Cup Finals in 2011, Crawford went 33-18-6 in his first year as the starter. And despite going 3-4 in the playoffs that year, Crawford did turn in a shut out to go along with his .927 save percentage.
The Mad Genius and Another Roster Showdown
Of course the Blackhawks had their army of goal scorers, along with a solid defensive unit that featured Duncan Keith, Brent Seabrook, and Brian Campbell. This obviously made losing the earlier mentioned easier to digest. But after winning a second Stanley Cup in four years, the mad genius faced a different type of roster structuring.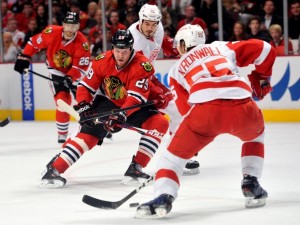 After Bryan Bickell's career high 17-point playoff performance, Bowman rewarded the left winger with a hefty $16 million deal over four years. Bickell's $4 million cap hit may not seem like much, but for a roster with heavy dough committed to multiple stars, it's easy to understand the questioning of the deal.
It's easy to say that Bickell's season to this point has been a dud. It's been an irritating year, battling injuries and fighting for ice time. Bickell's 12 points in 51 games may give some the chance to criticize Bowman for such an outrageous contract, but given his playoff performance from the largest sample size, and the alternative, the jury is still out on the decision to not only retain Bickell, but to pay him $4 million-a-year.
''When I think of myself as a hockey player, I feel I'm a playoff kind of guy,'' said Bickell. ''The regular season is important, but the playoffs is the most important time. That's where the physicality goes up a level, and it tends to bring more out of me. It sparks me.''
To keep Bickell, Bowman traded Michael Frolik and Dave Bolland, along with allowing the Nashville Predators to sweep up Viktor Stalberg. And although Bickell seems to be as lost right now as Steve Urkel without his glasses, Bolland and Stalberg have been equally disappointing in their new homes. Bolland, who scored Chicago's game-winning goal in game six of last year's Stanley Cup Finals, has appeared in only 15 games this season due to injury, while Stalberg has accumulated 15 points with a minus-11 rating for the Predators.
There's no question, however, that the Blackhawks have missed Michael Frolik. In 69 games with Winnipeg, Frolik's 35 points and two game-winning goals proves how valuable 26-year-old was and is. But that doesn't mean Bowman's decision to trade Frolik wasn't meticulously planned.
Enter Ben Smith, who is not only a year younger than Frolik, but a cap hit of a little more than half-a-million dollars. Not only has Smith provided some offense with 21 points, he has also recently moved from the right wing to center, filling a hole that's plagued the Blackhawks of late.
"He's gotten better each and every day this season," said head coach Joel Quenneville. "He's gotten more responsibility as he's gone along here, and we tried him at center last game. It was a short addition there, and he looked comfortable. It seemed to help. It worked again (Sunday), so we gave him more responsibility and we liked what we saw."
The Drafting Of A Mad Genius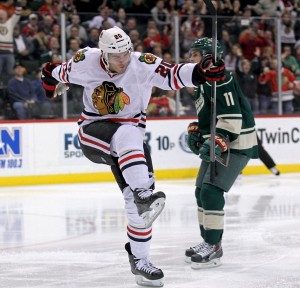 With the salary cap in effect, it's virtually impossible to build a consistent winner in the NHL by free agency alone. Building through the draft has become a blueprint for success in not only the NHL, but the NFL as well (another salary capped league). Bowman has used a combination of free agency, trading, and drafting right to keep the Blackhawks in contention throughout his tenure.
"If there are deals to be made we're not hesitant to do that," explained Bowman. "It would have to be the right fit. … We're always trying to improve our team and sometimes that's just keeping your picks. Sometimes it's making moves, whether it's trading picks or players."
It's been the strategy of a mad genius that has not only landed players such as, Marian Hossa, Johnny Oduya, Nick Leddy, and Andrew Shaw. Bowman has also positioned himself for success in previous drafts, trading Toronto's second-round pick in 2011 back to the Maple Leafs in exchange for a pair of picks. The significance of that particular deal is fixed on Brandon Saad, who was chosen with the 43rd pick of the 2011 NHL Entry Draft. Yes, one of the picks Toronto sent Chicago's way to regain their own 2nd round selection.
Bowman has gone on to select other highly touted prospects as well. Names like, Teuvo Teravainen, Adam Clendening, Phillip Danault, and Ryan Hartman give the Blackhawks a favorable grading among other NHL farm systems, even with the departure of Brandon Pirri.
"Even with Brandon Saad graduated to the NHL, the Blackhawks forward prospects pack an offensive punch with Teuvo Teravainen and Brandon Pirri among a deep and talented group of center prospects. Mark McNeill and Phillip Danault are not far behind them in terms of skill and each brings a smart, well-rounded game to the table as well. Ryan Hartman and John Hayden are two of the five forwards drafted by Chicago in 2013 that have mitigated the impact of the team's graduations in recent years. The defense also remains a strength. Adam Clendening is an offensive force in the AHL and Notre Dame senior Stephen Johns is a standout prospect with a nasty physical game." — Hockey's Future 
https://twitter.com/CRoumeliotis/status/351481376220000256
Everybody who criticized Stan Bowman for taking apart the 2010 Cup Champs needs to recognize that he knows what he's doing .

— All In Illinois (@ChiTownSports) June 26, 2013
The Blackhawks may not be as dominate as last season's team, but 92 points through 68 games is hardly the result of incompetence. Many questioned Chicago's mad genius, though, at the trade deadline. The Hawks' biggest acquisition via the trade market was Kris Versteeg earlier in the season. And with Central Division rival St. Louis pulling off a blockbuster trade before the deadline, many wondered why Bowman refused to join in the frenzy. Still, others put their trust in the man that's proven knowing when to hold 'em and when to fold 'em.