Drunk Driving Arrest
Two Halloween's ago a boozed up Riley Sheahan was stumbling and bumbling around Grand Rapids. The 20-year-old was pulled over wearing a purple teletubby costume driving his Jeep Wrangler the wrong way on a downtown street.
An underage Sheahan presented cops with teammate Brendan Smith's driver's license and was charged under Michigan's "Super Drunk Driving " law. It was the kind of legendary drinking story that Wings fans would have expected out of a hard living Bob Probert in late 1980's.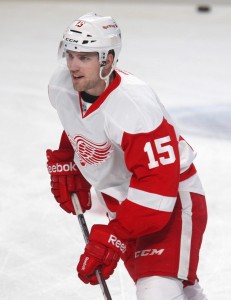 Eventually, he pleaded guilty to the offense and MLive.com's Peter J. Wallner detailed Sheahan's penalties:
According to a clerk at the 61st district court, Sheahan had to pay a $1,325 fine by today and agreed to complete 49 hours on a work crew, attend a victim impact class and serve 12 months of probation.
However, unlike Probert's exploits, the clip of Sheahan's escapade was up on social media sites within hours. Not an easy situation for a young player.
A Brand New Man  
Fast forward to 2014. Sheahan is no longer navigating his way around downtown Grand Rapids; nope, these days he's cruising around downtown Detroit.
In a critical game in Minnesota on Saturday Riley Sheahan suited up for his 30th game with the Detroit Red Wings this season. And, these haven't been powder puff minutes either. On Thursday, Sheahan spent much of his night matched up against Pittsburgh's Evgeni Malkin.
Currently, Sheahan is centering the Wings' second line between Tomas Tatar and Gustav Nyquist. A position commonly occupied by Pavel Datsyuk or Henrik Zetterberg isn't an easy job for any player to fill, let alone a rookie.
But, he's filled in admirably. Sheahan has proven himself to be a versatile player who Mike Babcock can utilize in any situation.
Although, he's only got 5 goals this year Sheahan has shown glimpses of offensive flare. His goal against olympic gold medalist goaltender Carey Price is a good example of the heavy shot Sheahan possesses.
I don't pretend to know what Sheahan has been up to off the ice. He could be partying just as hard for all I know.
However, I doubt those type of blowouts would be accepted behavior around a veteran Red Wing group. It's fair to say that Sheahan has grown up a lot both on and off the ice in the last two years.
And, Sheahan's transformation has come at the nick of time for the organization. Detroit is counting on the youngster to be a key contributor for their stretch drive.
Riley Sheahan's conversion from big partier to big player might be best summed up by country music legends Brooks & Dunn:
I used to have a wild side,
They say a country mile wide,
I'd burn those beer joints down,
That's all changed now.
.