The newest face to the Red Wings lineup, Brendan Smith, perhaps didn't make the greatest impression on fans as he tried to secure himself a roster position for the 2011-12 season. During the preseason Smith was suspended for 8 games after a nasty hit to Chicago's fellow Smith, Ben. While those actions may have lowered his chances to see action, the injuries of defensemen Ian White and Mike Commodore coinciding with the completion of Smith's suspension allowed him the opportunity to make his NHL debut against San Jose on Thursday evening.
Understandably nervous in the first regular season game of his career, Smith played well and showed few signs of inexperience. Those were about the only positive things to come out of the evening for the rookie though, as he saw his team drop a 5-2 loss to the Sharks. The loss didn't seem to dampen the spirits of he nor his family, who attended both of Smith's first 2 games, and their enthusiasm was rewarded during the next affair, when Smith notched his first NHL point and played in his first NHL victory. The following night Smith would assist again, giving him 2 points in his first 3 games.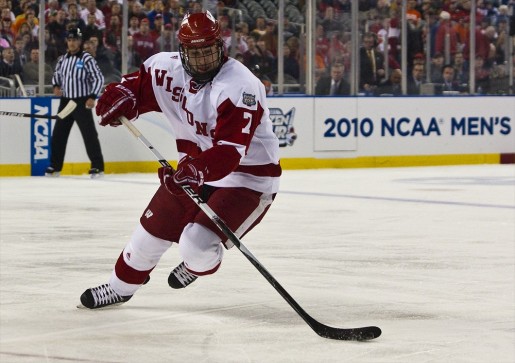 Red Wings fans should expect more of the same from Smith, a 27th overall draft pick from 2007. During his 3 year collegiate career, the 22-year-old recorded 87 points in 95 games for the University of Wisconsin, including a 2009-10 season in which he put up 52 of those points in just 42 games. With such impressive production the year before, when Smith joined the Red Wings' AHL affiliate Grand Rapids Griffins for the 2010-11 season, high expectations were placed on his shoulders. Those high expectations didn't appear to be any sort of burden on the defenseman though, who scored 12 times and added another 20 assists in his only season with Grand Rapids.
The Toronto, Ontario native can clearly put the puck in the net, but that's not the only strong point of his game. With a playing style reminiscent of a young Niklas Kronwall, Brendan Smith uses his Jonathan Ericsson-like size to his advantage, putting forth a respectable gritty game. Smart, confident, reliable decisions highlighted Smith's 2nd and 3rd NHL performances, as he tries to make a case to stay in the lineup beyond the return of White and Commodore.
He'll face competition though, manly in the form of fellow first round pick Jakub Kindl, a 19th overall selection from 2005. Kindl, who began the season with Detroit, has just 1 more point than Smith despite being present in 14 more games this season, and with only 4 points in his first full season with the 'Wings, hasn't proven himself a reliable point getter just yet. That's not to say he isn't a talented defenseman, Kindl has looked brilliant at times through the first quarter of the season, but the Red Wings defensive squad is near the top of the league in point production year in and year out. That makes this Smith's opportunity to prove himself a valuable asset on the blue line. Something he's done well to this point.
Whether Smith is able to keep up his point producing pace and steal a roster spot away from someone else remains to be seen, but whether or not it's this season, this wont be the last you hear of the young defenseman. Poised to become the next Red Wings success story, Smith joins the likes of Jan Mursak and Gustav Nyquist as NHL prodigy's waiting in the wings.