While looking to answer questions on the ice following their 4 straight losses, the Detroit Red Wings organization have answered a major question off the ice, extending defenseman Niklas Kronwall through the 2018-19 season. The 7 year deal, worth $33.25 million, equates to a pay increase of around $1.75 million a season. The contract makes Kronwall the 2nd highest paid defender on the team, and one of only 3 players signed beyond the 2013-14 season. So is this a good move for the franchise? All signs point to yes.
In what may be the final season of prolific defensemen and current Red Wings captain Nicklas Lidstrom's career and is also the final season of frequent pairing partner Brad Stuart's contract, the Red Wings indicated early on their level of trust and confidence in Kronwall, making him one of 3 alternate captains along side Henrik Zetterberg and Pavel Datsyuk. When your name is in such good company on a team known for its leadership excellence, it speaks volumes about how the coaching staff and management view you. It then comes as no surprise that just 1 month into the final season of Kronwall's current contract, that the Red Wings would choose to extend his stay with the team.
Since joining the Red Wings, Kronwall's numbers steadily increased until an injury during the 2009-10 season limited him to just 48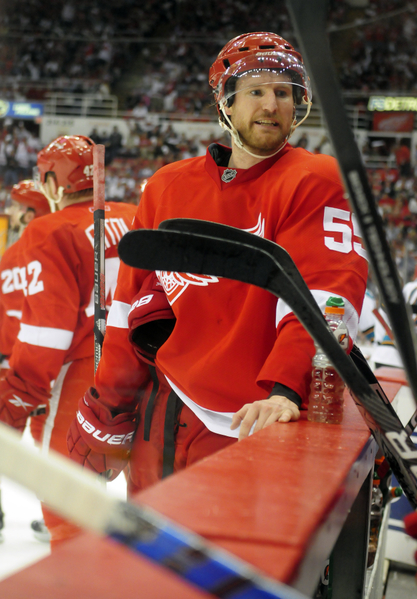 games. Last season, able to participate in 77 of 82 contests, Kronwall saw his numbers rebound significantly, and scored the most goals of his short career with 11, while adding another 26 points in the assists column. Another important indicator of good defensive play, Kronwall has never had a negative plus/minus rating at the end of a season, even going +25 in 2007-08, a year in which he went on to win his first Stanley Cup. But Kronwall offers the team more than just point production and solid defensive play. Kronwall brings valuable playoff experience to the table going forward, important for a team going through a transitional phase, which Detroit is clearly in. In 74 career playoff games Kronwall has 38 points and is a +27, a strong indication of his ability to play in every situation.
Not only is he able, but he's regularly trusted to do so. Kronwall is truly one of the smartest players on the ice during every game he sees action in. Rarely found out of position while playing in all situations from the powerplay to the penalty kill. It's also no secret that Kronwall is one of the most potent hitters in the game today, striking in a quick and bone-crushing manner every time he gets the chance, without having to run out of position or endanger his team. Kronwall offers the team point production, grit, defensive reliability, strong leadership, and a sturdy platform on which to build the future of the franchise. This extension was a no-brainer for Red Wings' General Manager Ken Holland, and one which will pay off over and over again heading into future seasons. Even more impressive is the deal the Red Wings were able to sign him too.
Kronwall is undoubtedly worth more money than the Red Wings will pay him, and easily could have garnered over $6 million a season on another team, but as we've seen time and time again; Players are willing to take a discount to play in Detroit. To illustrate just how much of a bargain the 'Wings are getting him for, here's an example of what he could fetch somewhere else. Going by last season's numbers alone, Kronwall put forth the same number of goals and just 3 fewer assists than Los Angeles Kings defenseman Drew Doughty, who you may recall was signed to an 8 year $50 million deal at the beginning of this season. That averages to $7 million a season, $3.25 million more than Kronwall will make, and that's just one example. Well known defenders around the league like Brian Campbell, Bryan McCabe and Dion Phaneuf also all make more money than Kronwall despite putting up less points in their 2010-11 campaigns. While point production may not be the only attribute to their signings, it is an indication of their level of play, one which Kronwall easily matches or surpasses.
There really is no drawback to this signing, and Red Wings fans should be excited and hopeful about the future of the team knowing that a key piece has been secured for several years to come. Whether Brad Stuart resigns or Nicklas Lidstrom decides to return for another season, you can rest assured, the Red Wings have a defender capable of handling the #1 job and getting it done in spectacular fashion.
Andrew is a passionate hockey fan at heart, and has been since a very young age. Residing in Michigan, he grew up with the team he currently covers at THW, the Detroit Red Wings.