Brett Pollock THW Close-Up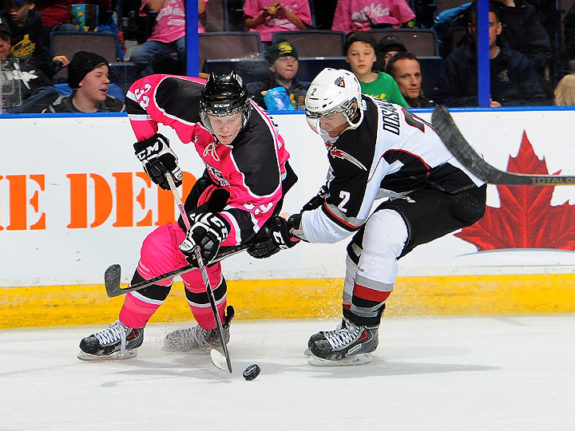 Date of Birth: March 16, 1996
Place of Birth: Sherwood Park, AB
Ht: 6'2" Wt: 187 lbs
Shoots: Left
Position: Center
NHL Draft Eligibility: 2014
If there's a player NHL clubs may value for the junior player he could become rather than the one he is today, it may be Edmonton Oil Kings center Brett Pollock.
As a young player on a stacked Oil Kings team, Pollock's had the ability to be brought along slowly. After playing 40 games in a shielded role last year, he was given a bit more rope this season and really blossomed, amassing 55 points in 71 games. More important was the depth role he played, basically being willing to chip in wherever he could to help his team win games. Pollock also improved many aspects of his game over the season.
There's upsides and downsides to being a youngster on the Oil Kings. On one hand, your ice time gets shielded and you get brought along slowly – this approach has happened at every position, and has paid dividends. However, an ambitious player may try to find ways to work himself out of his older teammates' shadows. Pollock's done that this year, particularly in the playoffs. He's scored timely goals, played a strong complementary role, and used his speed and aggressiveness on puck pursuit to create turnovers and scoring chances. He's definitely made the most of his draft eligible year, including winning a WHL title and a Memorial Cup. The challenge will be to follow it up.
Next season, Pollock's role will expand. Reid Petryk and Riley Kieser are aging out of junior. Henrik Samuelsson and Mitch Moroz are heading to the professional ranks. The proverbial safety net Pollock had for his first season and change in Edmonton will be gone. How well the Oil Kings do may depend primarily on how he plays. We've found out a lot about how well Pollock's talents fare on the ice in a relatively safe environment. Next season will probably tell the tale of his mental fortitude.
Scout's Honour:
"The other pleasant surprise is forward Brett Pollock, who managed to make the club last year, but sat on the bench most of the season. Red Line liked him in a very limited energy role last year, as he used his big frame to spark the team with an up-tempo forecheck. But the fact that he has already eclipsed his offensive numbers from last year in this campaign's first four games has drawn our attention. Pollock seems to have come back with a much smoother and improved skating stride, and a new-found confidence in his puckhandling."
–Kyle Woodlief, Red Line Report
"Pollock won Edmonton's Unsung Hero Award for November, and continues to play the unheralded but indispensable role: Wednesday he made a terrific individual effort to tie the game only 12 seconds after the Pats had taken an early 1-0 lead, then helped set up an insurance goal in the third period by Edgars Kulda, and finished the night plus-three."
–Brian Swane, Edmonton Sun
Statistics:
Bio/Interview(s)/Link(s):
International Tournaments:
No significant international experience.
ETA:
2-3 years
Risk-Reward Analysis:
Risk 1/5, Reward 3.5/5
NHL Potential:
Second or third line center.
Strengths:
Good skater.
Aggressive fore-checker.
Very opportunistic offensive player; doesn't let a lot of chances die on his stick.
Doesn't take a lot of penalties.
Flaws/Aspects He Needs To Work On:
Could add a bit of muscle and physicality to his game.
Defensive instincts aren't quite as well-formed as his offensive side.
Fantasy Hockey Potential:
Offensive 8/10, Defensive 7/10
NHL Player(s) Comparison:
Pollock compares to Andrew Cogliano.
When He'll Go In June:
Pollock will likely go sometime in the second or third round.