A few days ago, I detailed why the Flyers draft tendencies need to continue to evolve from the past. You can read it here. In short, they need to continue to address their weaknesses (puck-moving defensemen, top line wingers) and ignore what they've been good at (centers and bottom six forwards). Thankfully for the Flyers, there are a few players that should be around at 17th overall that will help them execute this strategy. When Ron Hextall walks up to the podium to make his first draft pick as GM, he should call one of these names.
Sonny Milano, LW, USNTDP
Playing on a line with Jack Eichel and Alex Tuch, Milano had a remarkable offensive season this year. Playing for the USNTDP, he had a combined 135 points this year across all competition. Before you claim that he was a product of his star linemate Eichel, note that Eichel scored just 7 more points than Milano this year.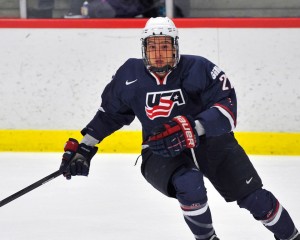 Milano is everything the Flyers need in a winger. He has good speed, he's shifty, and has supreme puck skills. Right now, the Flyers have a serious lack of offensive flair at left wing, in the NHL and in the developmental system. Scott Hartnell is an effective complementary power forward, and Matt Read a useful, versatile forward. The Brayden Schenn and Vinny Lecavalier experiments at left wing were a disaster. Neither Read or Hartnell has the pure skill you look for in a top line winger.  Milano has that skill.
Milano is average in terms of size at 6'0″, 185 lbs. The only knock on him as a prospect is that his defensive game needs some work, and he is not a strong defensive player. However, the Flyers have plenty of grit among their forwards already, and defense can be taught. The skill that Milano has cannot be taught.
Kevin Fiala, LW/RW, HV71 (SHL)
A bit undersized at 5'10", 181 lbs, what Fiala lacks in size he makes up for with dazzling skill. A slick stickhandler with supreme pucks skills, elusive speed, and gamebreaking abilities, Fiala can create offense out of nothing.
Fiala is originally from Switzerland, but has played the past two seasons in Sweden, most recently for HV71 in 2013-14. He put up an impressive 25 points in 27 games in the J20, which earned him a promotion to the big club. In his time in the SHL, Fiala just kept getting better and better, making him a real riser for this draft. He put up 11 points in 17 regular season games for the big club, and then added 6 points in 8 playoff games.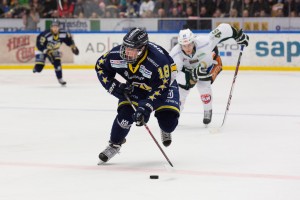 Just to make the SHL in your draft year is feat. It's something only seven other forwards that were 1st round picks have done since 2006. Among those forwards, which include Nicklas Backstrom, Mika Zibanejad, and Elias Lindholm, Fiala has the highest points-per-game in the SHL in his draft year.
Fiala also had an eventful season internationally. He had 5 points in 5 games at the U20 WJC (leading the Swiss team), had 9 points 5 games at the U18 WJC (leading the Swiss team and good for sixth most in the tournament despite playing two fewer games than most), and even played at the World Championships, where he chipped in two assists.
Fiala is not a gritty player, but is willing to go to the net and the dirty areas to create offense. His defensive game needs work, but again, that can be taught.
Anthony DeAngelo, D, Sarnia Sting
Without a doubt, DeAngelo is the most polarizing prospect available in this draft. His skating abilities and offensive talent from the backend are undeniable, but there are questions about his defensive abilities, and also his character.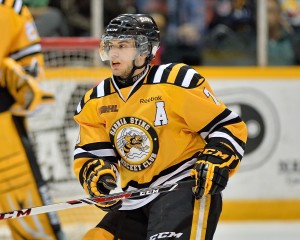 In terms of pure talent, DeAngelo is probably top five in this draft. He led the OHL in points by a defenseman, with 10 more points than second place Matt Finn, despite playing 15 fewer games. That's absolutely absurd. The Sarnia Sting were a very bad team last year, and DeAngelo, along with 2014 eligible Nikolai Goldobin, was the driving force of their offense. DeAngelo is the most talented offensive defenseman to come around in years.
This year, DeAngelo scored or assisted on 33.65% of Sarnia's goals. Compare that to Aaron Ekblad (20.31%), Julius Honka (22.58%), and Haydn Fleury (21.50%), and you start to understand how good DeAngelo was this year.
Two good comparables are Ryan Ellis and Ryan Murphy, two other relatively undersized offensive defensemen from the OHL. In Ellis' draft year, he put up 89 points in 57 games on a powerhouse Windsor team that led the league in goals. In Murphy's, he put up 79 points in 63 games on a solid, but unspectacular Kitchener team. If DeAngelo played those amount of games, he would have put up around 79 and 88 points.
The strength of his team is a double edged sword. On one hand, he had the opportunity to jump into the offensive play more often because the team was trailing. On the other, if he would have been playing with higher quality teammates, he may have scored more.
DeAngelo is a one-man breakout when he has the puck on his stick. He jumps up into the rush with frequency, has sublime vision, and is a great skater. In his defensive zone, he needs a good bit of polishing. The questions about his character arise from when he was suspended for 8 games because of a slur directed at a teammate.
The Flyers badly need a player with DeAngelo's skillset on their defense. If the Flyers draft an offensive defenseman like DeAngelo, they have more than enough stay at home defensemen to pair him with on their current NHL roster. DeAngelo also grew up a Flyers fan in Sewell NJ, right across the PA-NJ border.
Julius Honka, D, Swift Current Broncos
Honka is a very similar player to DeAngelo, but he does not come with any red flags or question marks about his game. Originally from Finland, Honka came to play in North America in the WHL, and hit the ground running in his first year.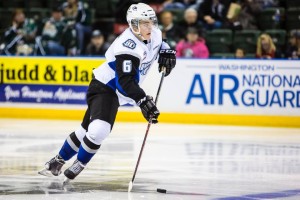 He finished the season with 56 points in 62 games, which was good for fourth among rookies at all positions in the WHL, and eleventh among defensemen.
Honka's best asset is his speed and mobility, which he uses to great effectiveness on the breakout and in the offensive zone. Unlike DeAngelo, Honka does not have questions about his defensive game. While he is not a big player at 5'11", 181 lbs, he has shown he is willing to engage in physical battles in his own zone and not let his size get in his way. He is sound positionally, and uses his high hockey IQ to defend effectively.
A good NHL comparable would be Tobias Enstrom, a player who utilizes his speed and vision to distribute the puck in transition and on the power play. Honka does not have a cannon for a shot, but effectively gets pucks to the net, evidenced by his 16 goals this season.
Who Should the Flyers Draft?
It is almost a guarantee that one of the four above players will be available when the Flyers draft at #17 overall. But, it is unlikely that all four will be available. Given the choice among all four, I would put them in the following order of desirability:
Kevin Fiala
Julius Honka
Sonny Milano
Anthony DeAngelo