by Eldon MacDonald (edited by @ChrisRalphTHW)
Ryan Donato
THW's NHL Draft War Room Rankings (E-Mac): #37 (April 2014)
THW's NHL Draft Rankings – The Next Ones Edition (aka Chris's List): #49 (March 2014)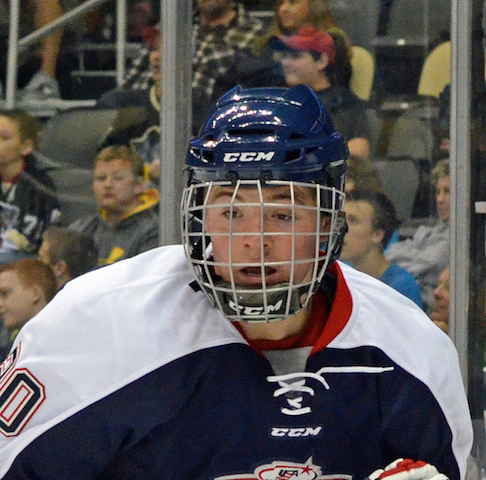 Hashtag:  #MrEasy
Team: #16, Dexter High School, Massachusetts
Commit:Harvard University
Position: Centre
Shoots: Left
Height: 6'0
Weight: 174 lb.
Born: Rockland, MA, 6-Apr-96
Twitter: @DonatoRyan
Stats
Other Rankings
46 – Bob MacKenzie, Jan-14
74 – NHL Combined – Final, Apr-14
Worth Retweeting
Extremely excited to officially announce my commitment to play college hockey at Harvard University #GoCrimson

— Ryan Donato (@DonatoRyan) January 30, 2014
Hearing Ryan Donato, 2014 NHL Draft target and Dexter School forward, could accelerate, join Harvard in fall of 2014. Originally '15 commit.

— Jeff Cox (@JeffCoxSports) May 15, 2014
Ryan Donato has officially been invited to the NHL Draft Combine in Toronto from May 26-31! The NHL Draft is June 26-28 in Philly!

— Dexter Sports (@DexterSports) May 15, 2014
NHL draft fans- if aren't tracking Ryan Donato & Bobo Carpenter you should. Two of top talents in Mass& their dads played on 91-92 Bruins

— Kirk Luedeke (@kluedeke29) October 12, 2013
Profiles
Contains All the Prospects Profiled in This Series]
Interview
Quotable
Quote 1: From Ryan's uncle, Dan Donato, also his coach at Dexter, at ESPN.Go.com, "He expects himself to do great things every time he's on the ice, that's the sign of a great player. I've been really fortunate to have coached three players that have gone on to the NHL, but in some ways, Ryan's on another planet. I truly believe his best hockey is ahead of him."
Quote 2: From Joe Mullen (NHL Hall of Famer, three time Stanley Cup champion and first American 500 goal scorer) on Ryan's performance in the All-American Top Prospects game at AllAmericanProspectsGame.com, "He was just a solid player throughout the whole game, I thought his line really chipped in and got things going late in the game and he seemed to take the lead on that."
Quote 3: From David Gregory of NHL Central Scouting at NHL.com, "Ryan has unreal hockey sense and is really good with the puck. He plays in all situations and is one of those skilled offensive guys with good size. He can play physical in traffic and not be dominated."
From the War Room
Eldon MacDonald, THW:  A few words on Ryan Donato:
Mr. Easy – Watch the video below and see how Ryan makes the impossible look easy. Shooting, passing, eluding the defender, Mr. Easy at your service.
Genes – Coach at Harvard next year, 13 year NHL veteran Ted Donato and yes, he is also Ryan's Dad. Coach at Dexter this year, Dan Donato and yes, he is also Ryan's uncle.
Offense – Elusive skating, velvet hands, elite vision combined with drive, energy and determination. Bottom line – elite scorer. What he lacks in top line speed he makes up for in mobility and agility.
Defense – Two way player who doesn't give up, 200 foot player, 5 on 5, PK, PP.
Draft placement –  NHL scouts (Bob MacKenzie's rankings) have Ryan mid second round. However, these rankings are an average of many scouts – meaning there will be some higher and some lower than Bob's ranking number. I am betting that one of those teams will be drafting Ryan a lot closer to the first round than Bob's ranking; maybe even first.
Video