by Eldon MacDonald (edited by @ChrisRalphTHW)
Alex Peters
THW's NHL Draft War Room Rankings – Apr-14: #43
THW's NHL Draft Rankings – The Next Ones Edition (aka Chris's List): #51 (March 2014)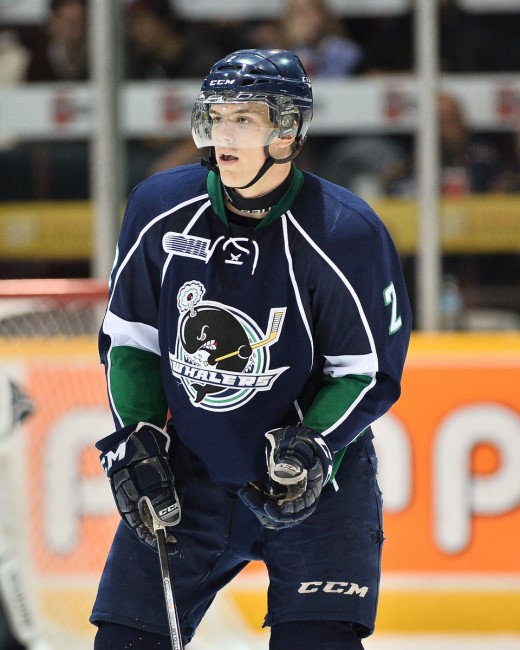 Hashtag: #TheRock
Team: #2, Plymouth, OHL
Position: Defense
Shoots: Left
Height: 6'4
Weight: 205 lb.
Born: Goderich, ON, 2-Jul-96
Twitter: @alpeters96
Stats
Other Rankings
41 – Bob MacKenzie, Jan-14
56 – Craig Button, Mar-14
72 – NHL Combined – Final, Apr-14
[Your quintessential draft resource:
Worth Retweeting
http://t.co/dTmaEKMf2A
#30 Alex Peters @alpeters96
Elite shutdown upside for next level… mobility, size & physical play. Veteran presence

— ISS Hockey (@ISShockey) April 13, 2014
Alex Peters may end up playing 35 minutes tonight. A defence first defender with strong positioning. Aggressive, good gap control.

— Sean Lafortune (@SeanLafortune) November 9, 2013
https://twitter.com/PWhalers/statuses/423514266717536256
Playoffs 2014 http://t.co/7ELQQLsRFx

— Alex Peters (@alpeters96) March 21, 2014
Defenseman Alexander Peters of Plymouth is topic of long debate here. Peters was No. 36 on CSS midterm ranks

— Mike Morreale (@mikemorrealeNHL) March 26, 2014
Profiles
Contains All the Prospects Profiled in This Series]
Interview
Quotable
Quote 1: Brock Otten – CHL Top Prospects Game Performance Review at UltimateHockeyNetwork.com, "Thought Peters was great. He had a couple of terrific one on one defensive plays that showed his potential to develop into a great stay at home at the next level. Moves well, has size, plays hard, and is smart. All good things. He also never stood out in a negative way with the puck, which suggests he was able to avoid pressure on the forecheck and make good decisions."
Quote 2: Dan Marr, NHL Director of Central Scouting, at BlogMLive.com, "Peters is learning that less is better. By that, I mean he's learned to simplify his game. He starting to put himself in positions where he's not going to get burned or give the puck away. Defensively, he's always been pretty sound. I think he's a pretty reliable guy that the coach can put out in any given situation."
From the War Room
Eldon MacDonald, THW:  A few words on Alex Peters:
The Rock – He has the size, physicality, defensive acumen and skating skills to be that shutdown defenseman that you are looking for, the rock of your defense.
Genes – Younger brother of Justin Peters, goalie for the Carolina Hurricanes.
Defense – Size, skating ability, hockey sense, temperament for defense. Add a willingness to clear the net, a willingness to do the dirty work in the corners, a willingness to play the game with physicality and an active stick and you have potential rock on your blueline. Add a good outlet pass and then you have yourselves a good defenseman, like Alex Peters.
Offense – Yes, Alex has the big slapshot, but offense is never likely to be his bread and butter.
Draft placement – A rock solid big defensive defenseman, like Alex, should give good value, early to mid second.
Video