Head coach Ken Hitchcock saw his contract with the St. Louis Blues extended through the 2014-2015 season last week, and Kirk Muller was hired on as an assistant, but was all of this just a cover up to avoid the truly burning questions with the organization today?
The Coaching Changes
With Ken Hitchcock's renewed contract comes a couple of other familiar coaching faces. Brad Shaw and Ray Bennett will also see their time with the Blues extended barring a total collapse during the season next year, while goalie coach Corey Hirsch and assistant Gary Agnew saw their time in St. Louis end in a blaze of fury (well a blaze of unexciting play at least).
Tough to hear about asst. coaches Gary Agnew & Corey Hirsch not returning. Both good people. Best of luck to both in the future. #stlblues

— Lou Korac (@lkorac10) May 7, 2014
This coaching change has some fans wondering what exactly the Blues front office's end game is. Firing Gary Agnew seems to be a no-brainer as he was in charge of the power play that dwindled throughout the season  and became non-existent in the playoffs. However, was Corey Hirsch really at fault, or was that a just a way to smooth things over with Ryan Miller and the rest of the Blues goaltending crew, is Brian Elliott out the door, and will Kirk Muller be able to effectively play an assistant coaching role?
Rambling Thoughts Running Through Fans' Heads
There's no doubt that Corey Hirsch has had a roller coaster ride of a career with the Blues since joining the organization in 2010. His way of teaching Blues goalies has been impressive overall, but not very consistent to say the least. His said style seems to give goaltenders good stretches of consistency, but never seems to develop their skill sets into true All-Star statuses. Brian Elliott was named to the 2012 All-Star team, the same year he split the Jennings Trophy (awarded to the goalie or team that allows the fewest goals all season) with Jaroslav Halak, but that seems to be a one time deal at this point in both of their careers.
Associate head coach Brad Shaw & assistant Ray Bennett will also return. Assistants Gary Agnew & Corey Hirsch (goaltending) will not be back — Jeremy Rutherford (@jprutherford) May 7, 2014
Did Hirsch deserve to go, possibly. But was he the main issue with the team that needed to be dealt with immediately, no. Gary Agnew very well may have been the biggest problem for the Blues by season's end, but why are Brad Shaw and Ray Bennett constantly overlooked now that they've managed to keep their jobs through 3 head coaching changes (and almost a 4th)?
Brad Shaw is THE Problem
Here is a guy who was brought in from a mediocre New York Islanders team in 2006 to take over some of the on ice systems, and in zone play.  Since then the Blues have seen many players come and go, yet there have been a couple of constants that still remain. First is a lack of primary scoring, which the Blues started to overcome this year between the likes of Alexander Steen, TJ Oshie, Jaden Schwartz, and Vladimir Tarasenko among others. This is a problem that will alleviate itself as Schwartz and Tarasenko continue to develop.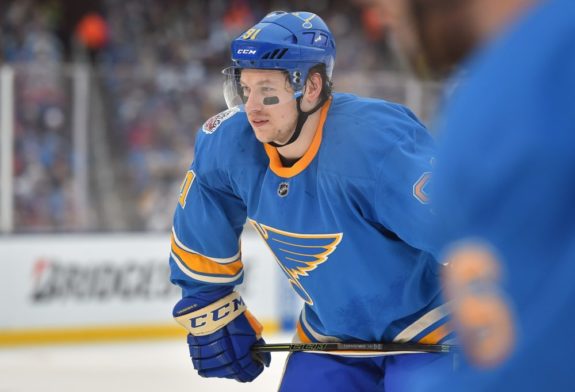 The other constant has been Brad Shaw's lackluster (or inconsistent) on ice systems. He helps run the power play from ice level, something fans have seen no creativity, work ethic, or drive from in numerous years (with the exception of when Ken Hitchcock first came to St. Louis and "fixed" the problem, temporarily), and a lack of net front presence that sees most shooting lanes easily blocked by the defending PK units. Brad Shaw has also had a hand in our defensive zone coverage, one that seemed impenetrable for most of the season, the same one that crumbled in the playoffs and left Ryan Miller out to dry on numerous occasions.
St Louis Blues name Brad Shaw Asst Coach July 11, 2006 #stlblues http://t.co/Hqlv8BPND6

— STL Blues History (@STLBlueshistory) July 11, 2013
Finally, Brad Shaw has a history of coaching woes that has followed him through the ranks. He has rarely been the head coach of a team with a record over .500, and has never coached a team that has made it past the second round of the playoffs, with the exception of the 1996-97 Detroit Vipers of the old IHL who won the championship with Shaw as a player/assistant coach. This is a problem that has reared its ugly head far too many times over the past 2 decades to continue to be overlooked.
Pack Your Bags, Pre-Flight
If the organization is willing to terminate Gary Agnew's contract, then why is Brad Shaw still considered to be in good standing? The two work together often, and seem to have similar ideas of what should be happening on the ice. These ideas have failed the team and fans repeatedly over the past several seasons, and now that the Notes are looking to grab Lord Stanley's Cup for the first time ever it's time to shake things up even more.
New #STLBlues Asst. coach Kirk Muller joined @TMASTL today to talk about his new position and look towards next year http://t.co/8B1Zrbz7UP — InsideSTL.com (@InsideSTL) May 14, 2014
(Assistant) Captain Kirk
The hiring of Kirk Muller is a welcome sign of things to come, but begs the question: why is Doug Armstrong still so focused on personnel who once played for the Dallas Stars? Hopefully he knows something the fans don't (which is a very likely possibility). As far as Muller joining the team goes, it's great to have such a seasoned vet behind the bench but will it get the team past their playoff woes, only time will tell.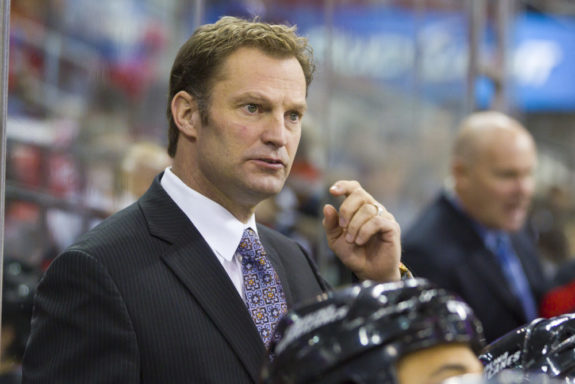 Muller played 1349 NHL games, was a Canadian Olympian, an NHL All-Star multiple times, and has even won a Stanley Cup as a player and a coach. However, most of his coaching career has been spent on losing teams with sub-par power plays. Hopefully he will mesh well with Ken Hitchcock and the rest of the Blues coaching crew, but the struggles for fans seems as if it will continue unless the players take matters into their own hands next season.
Like what you've just read? Follow me on Twitter: @pep30.
Mike has covered the St. Louis Blues and Tampa Bay Lightning in depth for The Hockey Writers since 2013. He is also a contributing writer for KSDK News Channel 5, the St. Louis area NBC affiliate, and has been a credentialed media member of the Blues since 2014. Follow him on Twitter @pep30.