by Eldon MacDonald (edited by @ChrisRalphTHW)
John Quenneville
THW's NHL Draft War Room Rankings – Apr-14: #58
THW's NHL Draft Rankings – The Next Ones Edition (aka Chris's List): #40 (March 2014)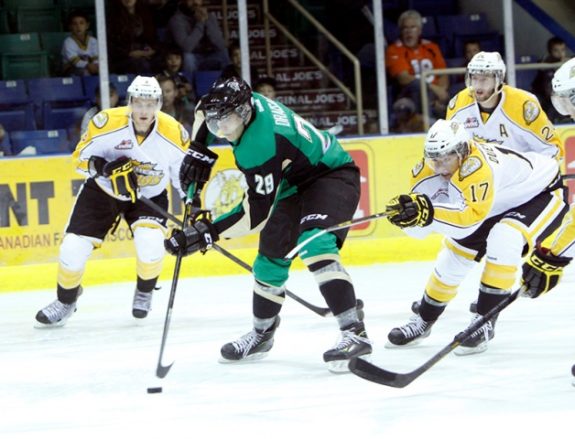 Team: #15, Brandon, WHL
Position: Centre
Shoots: Left
Height: 6'1
Weight: 182 lb.
Born: Sherwood Park, AB, 16-Apr-96
Twitter: @jaquinder88
Stats
Other Rankings
29 – NHL Combined – Final, Apr-14
39 – Bob MacKenzie, Jan-14
44 – Craig Button, Mar-14
[Your quintessential draft resource:
Worth Retweeting
One of the best days of my life. Reunited with the big bro @Triple_P_Pete #deadly

— John Quenneville (@jaquinder88) November 6, 2013
@bdnwheatkings C John Quenneville takes 5-game point streak (5 goals 8 pts) into tonight. Brother Peter Q is 2-7-9 in 7 January games #bdnmb

— James Shewaga (@JamesShewaga) January 22, 2014
Edmontons John Quenneville, who was chosen by Bdn in the 3rd round, is a cousin of Chicago Blackhawks head coach Joel Quenneville

— Brandon Wheat Kings (@bdnwheatkings) May 5, 2011
Profile
Check out Wheat Kings duo John Quenneville and Jayce Hawryluk in this prospect profile (via @CRoatis): http://t.co/1WwLHKsFe4 #NHLDraft

— FCHockey (@FCHockey) March 23, 2014
Contains All the Prospects Profiled in This Series]
Quotable
Quote 1: Andrew Eide at THW, "Quenneville has flown under the radar somewhat this season but has turned into a consistent scorer for the Wheat Kings. He has 21 goals and 45 points through 46 games making him a hair under a point-per-game player.He has good size and is hard to play against and most scouts are projecting him to be a second round pick in the NHL Draft."
Quote 2: John Quenneville, himself, at LubersLounge.Blogspot.ca, "I knew coming into the season that I had to make up a lot of ground for last year, I missed a lot of games and didn't have the season I wanted to. I think I've come out to a first half and little bit of the second half of the season that I've played well and I've gained a lot of confidence."
Quote 3:
On Brandon C John Quenneville: "I think his game will really translate well to the pro game."

— Mike Morreale (@mikemorrealeNHL) March 26, 2014
From the War Room
Eldon MacDonald, THW:  A few words on John Quenneville:
Mr. Industrial – OK, Mr. Industrial grows on you after a while. At first, you may not appreciate all the things he does to make his team successful. He doesn't have those "wow" you type skills but he does play with a "hardness of purpose" along with "a hardness in his physical play" that sets him apart from most in the pack.
Offense – While not a first liner and maybe not a second liner, John provides his offense (point a game in the WHL) from both his industrial work (corners and blue paint) and his open ice skills – hard shot, soft hands, decent top gear, excellent puck protection in traffic, good vision.
Battle – John battles for the puck at all ends of the ice, along the boards in the cycle, in front of the net. However, it is the hardness of how he does it rather than what he does that starts to make him special. And yes, he will drop the gloves too, if necessary.
Improvements to make – John's top gear is fine but his effectiveness would be enhanced if he improved upon his first couple of gears. As with most players his age, some additional weight and strength would add to the industrial side of his game.
Draft placement – John is a second rounder on most lists. However, I think there will be considerable interest for a player who possesses the skill set that John does (decent size, two way, willingness to be physical, secondary scoring) towards the end of the first in this draft. John's main competitors are Connor Bleackley and Brendan Lemieux. I think one if not two of these three will make it to the first round. The scouts' memories of John's performances in the key games of the U18 WJC will go a long way in making sure John is the one to be considered first.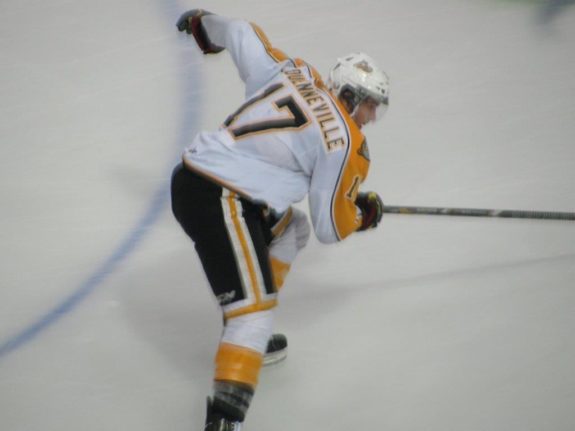 Video