As we move into February the 2014 NHL Draft season is in full swing. The World Juniors have finished along with the CHL Prospect game and now scouts and draft-nicks will start to argue and slot guys up and down their draft boards.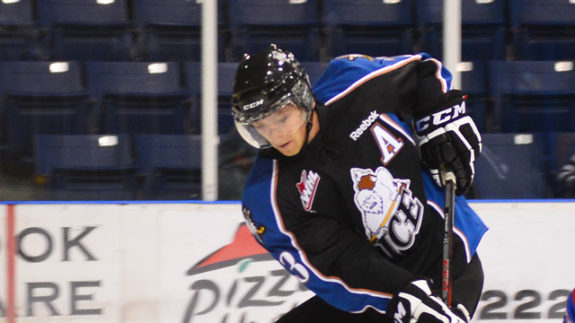 Last year the WHL was well represented in the first round of the NHL Draft as eight guys were nabbed in the first round. This year's crop of WHL prospects may not be as deep as last year but there are still a number of highly ranked prospects that will be picked from the ranks of the WHL.
Here are the top ten 2014 NHL Draft prospects playing in the WHL:
1. Sam Reinhart
Forward, Kootenay Ice
6'1" 183 pounds
Reinhart came into the season projected to be one of the top picks in the NHL draft. When the mid term Central Scouting report came out he had slipped down the list somewhat but is still a player to be watched. Reinhart has 24 goals and 61 points after 38 games with the Ice and is still the best prospect in the WHL.
Reinhart has a high hockey IQ to go along with elite vision and play-making ability and is the kind of player that can make those around him better. As a late birthday he comes into the draft a bit more polished than other prospects as he already has 181 games in the WHL under his belt.
2. Leon Draisaitl
Forward, Prince Albert Raiders
6'1" 209 pounds
Draisaitl burst on the WHL scene last year as an import player from Cologne, Germany. He potted 21 goals in his rookie season and was one of the reasons that Prince Albert had high hopes for their season. While the Raiders have not fared as well as they perhaps hoped, Draisaitl has been great.
Through 42 games he had 19 goals and a career high 59 points which puts him in the top 20 of WHL scoring. Draisaitl has good size, good hands and is a tremendous play maker which should make him an attractive prospect and he should go early in the first round.
3. Virtanen, Jake
Forward, Calgary Hitmen
6'1" 210 pounds
It seems almost every NHL team is looking for a power forward these days. Jake Virtanen may be one they will take a look at this year. He is physical and will throw his body around the ice to create space and chances.
He can skate well and has the hands to finish as evident with his 31 goals scored in his first 49 games with the Hitmen. Virtanen will surely go in the first round of the draft as he is a big body who plays an NHL type style already.
4. Julius Honka
Defenseman, Swift Current Broncos
5'11" 175 pounds
Honka is another import player in the WHL who could end up being drafted pretty high. He is not the biggest guy and not a punishing defender but he can skate and he can score. He burst on the scene in the WHL and made a lot of noise early and continues to score consistently.
Honka has 12 goals and 40 points through the Broncos first 41 games so far this year which puts him second in the WHL in rookie scoring. Defensemen who score in junior often go on to be successful NHLers and Honka is a guy who could fit that bill.
5.Haydn Fleury
Defenseman, Red Deer Rebels
6'3" 198
Rebels defenseman Haydn Fleury has already surpassed his offensive totals from a year ago with 34 points in the Rebels first 49 games. Fleury is another in the long line of defensive prospects to come out of the WHL in recent years.
He's a strong skater, can move the puck and is often described as a two-way defenseman who has a good shot and plays physically in his own zone. His stock has been on the rise and many feel he will end up going somewhere in the first round.
6. Nikita Scherbak
Forward, Saskatoon Blades
6'2" 174 pounds
Scherback has come into the WHL via Moscow this year and been impressive. He has 25 goals and 64 points in his first 51 games for the Blades. He is the leading rookie scorer in the league and ninth overall in the WHL scoring.
Scherback was a steal in the import draft as he somehow lasted to the second round. He is highly skilled, can play on your special teams and has adjusted quickly to the North American game. His stock could continue to rise as the draft draws closer.
7. Chase De Leo
Forward, Portland Winterhawks
5'10" 175 pounds
De Leo may not be the biggest player on the draft but there may not be many that work as hard. De Leo goes all out every shift, has great hands and is versatile to play in almost any situation for you. As a late birthday the California native is in his third full season with Portland which has exposed him to high-stakes playoff runs.
De Leo has found his scoring touch this year as he has 29 goals through 51 games to go along with his 26 assists. He is a big game player who had an impressive playoff run for the Winterhawks last year. Its those types of intangibles that is going to make some team fall in love with him.
8. Conner Bleackley
Forward, Red Deer Rebels
6'1" 195 pounds
Bleackley's stock has risen since the beginning of the season and many now project him to be a mid to late first round pick this summer. He has good size, a good shot and has seen his goal total jump from nine last year to 22 through 48 games this year.
He's a physical player who scouts say is a decent skater and has good hockey smarts. Will his stock rise even higher?
9. Brycen Martin
Defenseman, Swift Current Broncos
6'2" 185 pounds
Martin is described by scouts as a solid defense-first defenseman who can move the puck. He's a 'steady-Eddy' type of blueliner who makes smart plays and rarely puts his team in a bad spot.
He doesn't have the flash as other WHL defensemen do but he has the skills to be a solid NHL prospect.
10. John Quenneville
Forward, Brandon Wheat Kings
6'1" 186 pounds
Quenneville has flown under the radar somewhat this season but has turned into a consistent scorer for the Wheat Kings. He has 21 goals and 45 points through 46 games making him a hair under a point-per-game player.
He has good size and is hard to play against and most scouts are projecting him to be a second round pick in the NHL Draft.