In NCAA Hockey, once a player has been given a game misconduct penalty, the league officials can't go back and review the infraction in question and make the proper changes.  In other words, the officials can add to the penalty, but they can't reduce or rescind the call, even if the official erred on the play.
What's done is done.
This past weekend, Minnesota Gophers defenseman Ben Marshall was given a five-minute major penalty and a game misconduct. In reviewing the video, it would appear that the on-ice officials erred in their judgment and penalized Marshall for a legal shoulder-to-shoulder check. Right or wrong, Marshall will be unavailable for Friday's game against the Michigan State Spartans.
http://www.youtube.com/watch?v=k4ZfE6RBIYI
Minnesota Gophers head coach Don Lucia is not happy with the decision. I guess I don't blame him either. He's going to lose one of his key players for a game, due to a questionable call by the on-ice officials.
Marshall's punishment is result of Saturday's game misconduct called after a hard check on Bulldogs' Austin Farley in open ice. The referees huddled and determined it was a hit to the head. Marshall disagreed as he was escorted off the ice.

Lucia thought the replay showed it wasn't a hit to the head and voiced his support for using video review when determining major penalties. Currently replay is only used to review goals, if necessary.

NCAA rules state, any player who receives three game misconduct penalties in the same season, including exhibition games, shall not be permitted to play in the team's next game. Each additional game misconduct will result in another one-game suspension. (Jason Gonzalez, Star Tribune) 
This is where the NCAA gets it wrong and should follow the NHL's protocol.  It's a no-brainer. I believe the NCAA Ice Hockey Committee should adapt the NHL's rule on reviewing misconduct penalties. In this situation, if a team has a problem with a call that the officials have made, they can submit a request to the NHL and have the play reviewed. Why can't college hockey have this rule? There's no reason division I college hockey shouldn't have this rule in place, too. Officials are human and make mistakes.
 Any request by a Club to have a game misconduct reviewed and rescinded by the League must submit their request in writing to the League's Hockey Operations Department within 48 hours of the conclusion of the game in which the game misconduct was assessed. Failure to submit the written request within this time frame will automatically result in the game misconduct being upheld and no further review of the incident will be considered or entertained. This does not apply to infractions addressed under Rule 29 – Supplementary Discipline.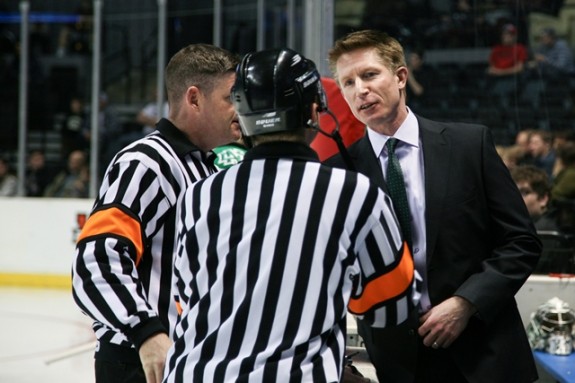 NCAA needs some kind of video review on major penalties
I am also a proponent of using video review for major penalties. In these types of situations, I would like to see the on-ice officials review the video to make sure that they're getting the call correct before they kick a player out of a game. Is that too much to ask? Last year, UMD hockey radio voice Bruce Ciskie addressed this issue.
At this point, I'd argue that what is best includes the automatic video review of any major penalty before play resumes after the call. Is it going to slow the game down? Sure, but there are ways to mitigate that, even if only a little bit. Make sure that if it's a league that takes TV timeouts, there are rules to allow for a timeout to be taken a little earlier than scheduled if it's going to coincide with a video review. Remember, TV timeouts aren't meant for players to get rest. They exist to benefit television and only television (well, radio, too). If leagues are more flexible with their timing, it could help with the issues that come along with adding to the list of plays that can be reviewed.
This is a subject that I feel strongly about and I the think the NCAA should want to improve the game and give the college hockey conferences another chance to right a wrong by the on-ice officials.  Again, officials are human and at times make the wrong call. I must ask the question, do we have too much pride as a sport to admit when the on-ice officials make a mistake?