While goalies such as Thatcher Demko, Blake Weyrick, and Alex Nedeljkovic may be headlining the top-rated goalies for the 2014 NHL Entry Draft, that doesn't mean that there aren't any potential diamonds in the rough to be found. Over the last couple of years, goalies such as Anthony Stolarz and Evan Cowley might not have been the most well-known names in their respective drafts, but they were both selected straight out of the NAHL, and this year likely won't be any different.
Individuals such as Thomas (Chase) Perry and Kasimir Kaskisuo are two of the three North American Hockey League goalies that will hope to be drafted this year, and while both goalies made the CSS midterm rankings, the latter netminder has been making waves this season. As a member of the Minnesota Wilderness, Kaskisuo has played to the tune of a 1.41 GAA and .947 Save Percentage during the current hockey season, and has impressed many in his first hockey campaign in North America.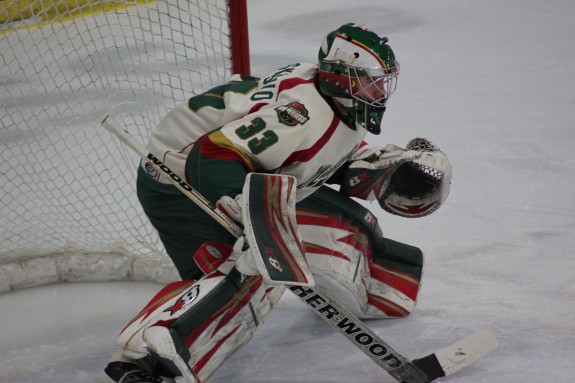 Despite the fact that Kaskisuo is currently nursing an injury, the goalie's body of work this season has been nothing short of astounding – especially considering the fact that he has made a seemingly flawless transition to North American hockey. Recently, The Hockey Writers had a chance to sit down and have a conversation with Kaskisuo, and the goalie gave some insight into his play, transition to North American hockey, and hopes for the upcoming draft.
The Hockey Writers: Going from the Jr. B SM-sarja to the Jr. A SM-liiga must have required lots of hard work on your part. What was it like to steadily progress through the Finnish hockey system?
Kasimir Kaskisuo: For me, I lost my whole Junior-C season due to injury, so I started the normal SM league level playing junior straightaway. The season went well and I was playing with players that were my age and one year older. I had a pretty good season and I was pretty happy that I made the under-20 team after that year even though I would've been playing on the under-18 team, so I think that helped me a lot in terms of playing with older guys for a full season.
THW: What has the transition been like going from playing in Finnish leagues to playing in North American leagues such as the NAHL?
KK: I don't think there's too big of a difference. Like everyone else would say, rink size is probably a bit smaller, which affects little things like getting the puck to the net and it [the game] being a little bit simpler for a goalie. I would say there's more traffic in front of the net and players just driving the net harder.
THW: What has been the biggest learning experience thus far as a member of the Minnesota Wilderness?
KK: I would say just getting a fresh start playing in North America on a new team after playing for the same organization for nine years in Finland. Getting a fresh start and getting to play a lot of games – that's getting my confidence up and that's what is showing up right now.
THW: You've already committed to the University of Minnesota-Duluth for the 2014-2015 NCAA season. Were there any other schools that were interested in you or that you were considering, and what influenced you to choose that school and hockey program?
KK: There was a lot of attention and I visited a couple of other schools too. It's a great hockey program (University of Minnesota-Duluth), and it had everything that I was looking for in a school. After that it was all about putting everything on paper. It was a tough decision, but it made a lot of sense.
THW: At 20 years old, you're older than most of the other goalies eligible for the 2014 NHL Draft, do you think your age and experience playing the goalie position gives you an upper hand of some sort in this draft?
KK: Well, I certainly hope so. For goalies it's mostly about playing games and getting that kind of experience. There aren't going to be too many surprises in a game, so you have to be in there and go through all of that stuff. That's a big thing for goalies – just to be comfortable in net – and if there are little distractions going and you're experienced, then you're going to get through those [situations] easier.
THW: What would you say would be your greatest asset or strength to teams looking at you for the upcoming NHL Entry Draft?
KK: Probably my technique. I try to be pretty calm and relaxed in the net, not make many extra movements, and always have a chance to make a save.
THW: Do you have a favorite NHL goalie or SM-liiga goalie that you like to watch or learn from?
KK: I like Kari Lehtonen – who plays for the Dallas Stars. He has always been my favorite player and he played for Jokerit before he went to North America, so he has always been the number one guy for me.
THW: Out of NHL goalies, who would you say that you resemble the most or try to be like?
KK: I don't try to mimic goalies too much. Of course, I like to watch the different things that goalies do, but if I would have to say someone that I relate to, it'd probably be Carey Price. He's pretty calm in net and has the same type of technique and I just like the way that he plays, so I think he's pretty close to how I play.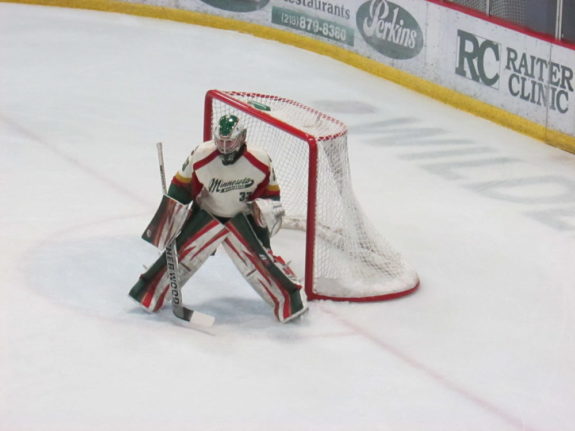 Kasimir Kaskisuo might be relatively new to North American hockey, but the goalie sure hasn't shown any adverse effects while transitioning between leagues. Not only does Kaskisuo possess immense talent that could make him a very intriguing prospect, he already has the composure of a well-seasoned goalie – something that many his age struggle to master. Regardless of what happens to Kaskisuo on draft day, the goalie has already paved a road for himself that will likely see his hockey career extended to the professional level sooner rather than later.