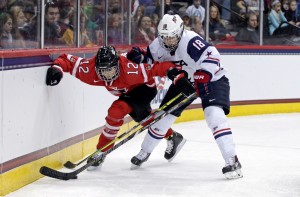 Accompanied by her dad, six year old Lyndsey Fry arrived for her first open skate at an ice rink in Chandler, Arizona.  The elder Fry planned to rent his daughter a pair of figure skates for her first foray onto the ice, but Lyndsey would have none of that.  Already inspired by "The Mighty Ducks" movies as a young child, she was determined to pursue hockey, not figure skating.
"We rented hockey skates, and I have never had a figure skate on my foot," Fry says.
Now 21 years old and with three seasons on the Harvard women's ice hockey team under her belt, Lyndsey Fry is on her way to to Sochi next month, the first ever native Arizonan to compete for Team USA hockey at the Winter Olympics.
If you missed: We're excited for AZ native & Yotes fan Lyndsey Fry was named to the USA women's Olympic hockey team! pic.twitter.com/lGc7Oylvel

— Arizona Coyotes (@ArizonaCoyotes) January 2, 2014
Launching A Hockey Life In The Desert
Growing up in the warm Arizona climate by no means stymied a determined Lyndsey Fry from pursuing her hockey dreams with gusto.  She spent her younger years playing within the Chandler Polar Bears youth hockey system and was twice named most valuable player, earning respect from almost all-male teammates and coaches.
"I played with the boys until I was a freshman in high school," Fry recalls.  "Here and there, there would be a girl on the team but it was pretty much just me."
Some boys on opposing youth hockey squads would occasionally greet Fry with snickering and pointing during pregame skate and the game's opening minutes.  However, with not even a scintilla of intimidation, Fry never hesitated to provide her own unique riposte as the only girl on the ice, although it wasn't the reaction initially anticipated.
"They gave me crap but I was always able to back it up on the ice," Fry said.  "They would talk smack to me but I didn't really care.  I was a lot taller than most of them and I was a big hitter."
Onward to USA Hockey and Harvard
Fry's stalwart play in her native Arizona captured the attention of USA Hockey, and she eventually migrated northwards to Colorado after being invited to their player development camp.  During her four year stint in the Centennial State, accolades began piling up quickly.  Fry was named camp MVP in both 2008 and 2009.  In 2008, she earned her first national hockey medal , snagging a bronze with USA Hockey's Colorado Select Under-16 AAA squad.  She then joined the U.S. National Under-18 team and helped them capture a gold medal at the world championships in 2009, followed by a silver medal in 2010.
Despite Lyndsey Fry's unwavering commitment to hockey during her high school years, she also excelled academically and graduated class valedictorian.  She was then awarded a hockey scholarship to Harvard, where she's currently double-majoring in history and science.  Fry has continued to tear things up on the ice during her NCAA career, being named to the All-Ivy League second team both her sophomore and junior seasons.  One of her most memorable college hockey performances was a four goal game against Yale to conclude her sophomore campaign.
A Close Bond Never Broken
During her time at camp, Lyndsey Frye forged a close friendship with another highly talented young prospect and teammate, Colorado native Liz Turgeon.  Like Fry, Turgeon was cutthroat competitive on the ice.  When Team USA failed to seize the gold medal at the 2010 world championships, the downtrodden duo vowed to play together again at the Olympics.  However, despite the mutual determination, fate dealt a cruel hand nearly one year later, as Turgeon was killed in a car accident.  However, Lyndsey Fry is not one to capitulate to even the most tragic circumstances.  The loss of her close friend seems to have exponentially intensified her craving for a gold medal in Sochi.  It's all part of fulfilling the pact made with her friend in that losing locker room nearly four years ago.
"She's up there and she is just cheering her butt off because she wants our gold medal just as badly as I do," Fry insists.  "I know that she's going to be in my ear pushing me to just be the best that I can be in Sochi so we can win that gold.  This experience has meant so much for me as far as it relates to her."
Lyndsey Fry and Team USA Prepared to Conquer Sochi

Of course, given Lyndsey Fry's intensely competitive persona derived from a young age, she's not content with being a mere participant in Sochi next month.  Along with her teammates, Fry is staunchly resolute about bringing a gold medal back home to the states.
"We want to go over there and just focus on our game and what we're doing and what we've been preparing for," Fry said.  "If we do that and if we stay consistent with everything, we're going to be ready to compete and beat any opponent that we face.  The biggest focus is just sticking to what we know and sticking to our game because that's what's going to work for us."
Fry also insists that playing alongside veteran teammates, such as Julie Chu (who will be playing in her fourth Olympics), provides immense help since they've been there before and know first-hand what to anticipate, as well as what's necessary to win.
"They can just prepare you for anything," Fry   It's just great to hear from [veteran players] because they want to instill changes from the last time so they get a different result.  I think it mentally prepares the first timers, which I appreciate so much."
As for what she specifically provides to Team USA, Fry says that "I'd like to think I'm the player that has to put the hard hat on and just battle.  I might not go out there and score any pretty goals, but you're going to see me digging in the corners like crazy."
Colossally high stakes await Lyndsey Fry and the rest of Team USA in Sochi.  They enter the Olympics perched atop the IIHF world rankings, but stiff competition awaits.  Several European countries (i.e. Finland, Switzerland, and Sweden) have developed successful women's hockey programs in recent years, thus transforming themselves into serious contenders.  Of course, Team Canada remains the most formidable opponent, aiming for its fourth consecutive Olympic gold medal.  The always heated rivalry between Team USA and Team Canada played itself out at the end of a scrimmage last month in North Dakota, when the females on both sides proved that when necessary, they can scrum at least as well as any NHL team.
When asked about this episode, and what might happen if the teams encounter each another again in Sochi, Fry says she anticipates that because both teams will be primarily fixated on winning gold and staying out of the penalty box, there probably won't be any carryover.  Nonetheless, she and her teammates aren't about to let their guard down if Team Canada attempts to exact retribution and fails to let bygones be bygones, even with Olympic medals at stake.
"Nobody wants to take a stupid penalty," Fry insists.  "It's hard for me to imagine something happening, but then again, you never know what somebody's going to do and who on your team you're going to have to protect.  We're not going to let anyone push us around, and I'm sure that's the mentality they have, so we'll just have to see."
For now, Lyndsey Fry and her teammates await in eager anticipation for their opportunity to shine on the world stage
"There are so many strengths to our team.  At this point, we're tweaking some things but we're ready to go and feel very prepared.  I'm sure every country does, and it's going to be a great tournament."
As for young girls who have aspirations to one day excel at ice hockey, Lyndsey Fry offers some rather simple and straightforward advice, drawing upon her own experiences as that one-time gritty six year old who insisted on wearing hockey skates when she first ventured onto the ice.
"Have fun and just let yourself fall in love with the sport.  It's a great game.  Learn at a young age that hard work will pay off for you, and you'll be so surprised with how far life can take you."