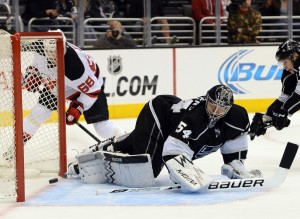 In a season where pretty much everything has gone wrong, it's hard to find bright spots, or anything really worth celebrating. Going into their game against the San Jose Sharks, the Oilers had won two games in a row. They were searching for their third straight victory, and fifth win in the month of January, but were facing a formidable foe in the Sharks. San Jose, despite dropping a 1-0 decision to the Kings on Monday are one of the best teams in the NHL.
But the Oilers weren't fazed by their opponents lofty place in the standings. If Edmonton is one thing, they're resilient. Despite everything that has happened to this team over the course of the season, they came out hard. Defenceman Justin Schultz opened up the scoring midway through the first period. Sharks goaltender Antii Niemi was also on his game, closing the door until the third period when Taylor Hall scored his 19th of the season. Jordan Eberle sealed the deal with a powerplay goal late in the game.
The previous record for most saves in a regular season shut-out happened not so long ago. Coyotes goalie Mike Smith had 54 in a win over the Columbus Blue Jackets on in April 2012.
Ben Scrivens was diplomatic as always, thanking his teammates for doing the work in front of him.
Very noble of Scrivens not to point out the fact that his team allowed one of the most dangerous offenses in the league to direct nearly 60 shots his way. Coach Dallas Eakins was a little more honest.
"Ben won it on his own… hopefully I don't have to see that again" -Dallas Eakins #PostGame

— OilersNation (@OilersNation) January 30, 2014
When the Oilers traded for Scrivens a couple of weeks ago, they were hoping that he could be a possible solution to their goaltending woes. A free agent this summer, the Alberta native has made no commitment as to whether or not he will re-sign here. On the one hand, there's a very real chance he will be given the reigns as the teams number one goalie, something he has yet to experience in his NHL career. On the other hand, staying in Edmonton means more nights of a bombardment of shots as the team continues to fine tune its defensive structure.
But, future plans can wait. Scrivens broke an NHL record, and while for the coach it may not the best kind of record, it's still something to savor for the 27 year old.
Twitter was ablaze during the game, and afterwards as well. Here are some of the better ones:
Ben Scrivens' face for at least the next three to four days. pic.twitter.com/vYzkXvjpFZ

— Chris Peters (@chrismpeters) January 30, 2014
Too bad @scrivens_30 couldn't make it all the way to 60. Nice try though. #59

— Producer Tim (@TVProducerTim) January 30, 2014
That was like Ben Scrivens was the hero in a zombie movie, except the zombies were both the ceaseless shots and also his teammates

— Bruce Arthur (@bruce_arthur) January 30, 2014
I've seen enough *drafts a $6M per year contract for @scrivens_30 *

— Craig MacTavish (@FakeOilersGM) January 30, 2014
Had a dream last night that I tried to pick up Ben Scrivens at a bar. I got shutout. #Scrivensed

— Shane (@Snipemares) January 30, 2014