It is no secret that the lack of offensive punch, especially on the power play, has been one of the keys to the Canucks' mediocre play in 2013-14.  Vancouver currently ranks 22nd in the league in goals per game and the power play is an embarrassing 28th in the NHL.
One of the reasons for the decline in offense has been the lackluster play of Daniel Sedin.  Daniel has 13 goals and 27 points in 52 games, numbers that place him 87th in the league in goals and 41st in points.  These are not horrible numbers for an average player – in fact, he his tied with his brother Henrik for the team lead in points.  But this is a player who in 2011 won the Art Ross trophy as the league's leading scorer, not an "average" grinder.
So what has caused the decline in Daniel's productivity?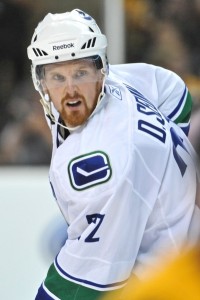 The Duncan Keith Incident
One possible explanation for Daniel's decreased offense is connected to the incident that occurred on March 21, 2012.  The Canucks were playing one of their arch nemeses, the Chicago Blackhawks.  Daniel was the victim of a vicious elbow to the head by Blackhawk defenseman Duncan Keith.  Some have speculated that the hit was in retaliation for an incident earlier in the game when Sedin hit Keith, but no matter what the motivation, the shot to Daniel's head was illegal and had devastating consequences.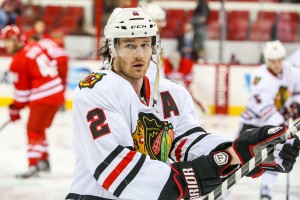 Though he briefly returned to the game, the hit resulted in a severe concussion that forced Daniel to the sidelines for the remainder of the regular season and the first two playoff games against the Los Angeles Kings, a total of twelve games.
Keith received a five game suspension for his actions, a penalty minimized by his lack of prior offenses.  As Brendan Shanahan put it, "Regardless of Keith's assertion that the intent on this play was to impede Sedin's progress as opposed to a retaliation for an earlier hit, Keith's hit was still dangerous, reckless and caused injury."
Sedin's Numbers since the Hit
The numbers posted by Daniel Sedin before and after the Keith hit are telling.  In the 100 regular season games before March 21, 2012, Daniel scored 44 goals and had 69 assists, for a total of 113 points.  In his 100 regular season games since the hit, he has tallied 25 goals and 56 assists, totaling 81 points.  That works out to a 43 percent decline in goals and a 19 percent slide in assists.  His overall points have decreased almost 30 percent.
Is There a Connection?
One of the first things any practitioner of statistical analysis will tell people is that "correlation does not equal causation."  In other words, just because one event followed another does not mean the second event was caused by the first.  So just because Daniel's precipitous decline in scoring occurred after the Keith cheap shot does not mean the hit was the cause.
Only Daniel, and perhaps his doctors, know if the concussion he suffered has caused lasting effects on his play.  There could be physical impacts that are diminishing his play.  According to Dr. Maryse Lassonde, a neuropsychologist and the scientific director of the Quebec Nature and Technologies Granting Agency, even when the symptoms of a concussion appear to have gone, the brain is still not yet 100 percent normal.  Dr. Lassonde found that, "There is abnormal brain wave activity for years after a concussion, as well partial wasting away of the motor pathways."
Again, there is no way to know for sure whether Daniel's skill has suffered because of the concussion he received.  It is also possible that even if his physical skills have not diminished, it may have caused him to approach the game differently, also playing a part in declining production.
Other Possible Causes
Of course it is possible that advancing age has been more of a factor in causing Daniel's decreased scoring. Sedin turned 33 last September, an age at which many athletes start to see a decrease in performance.  A recent study found that "both forwards and defencemen exhibit near peak performance over a fairly wide age range going from about 23 to the early 30s for forwards…"
Daniel is squarely in the range when one would expect to start seeing a decrease in performance.  Therefore, it is possible his struggles have nothing to do with the hit and more to do with slowing reflexes.
The fact that Daniel's twin brother also plays for the Canucks means there is a built in "control group" to examine to see if someone who did not suffer a concussion has also seen a decline in production.  In the 98 games he has played since Daniel was concussed, Henrik has scored 20 goals and 68 assists for a total of 88 points.  In the 98 games prior, Henrik scored 18 goals and tallied 83 assists, for a total of 101 points.  His goal total has risen slightly while his assists have gone down 18 percent.  Henrik's total points are down 13 percent since the end of the 2012 season.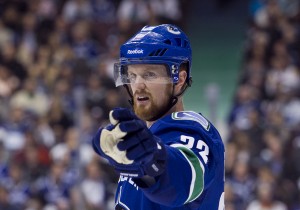 This decrease is smaller than Daniel's, 13 percent versus 30 percent.  It is also possible that Henrik has seen a decrease in assists because Daniel is not scoring as much.  So it is possible that Daniel would have seen a decrease strictly due to age, but perhaps it wouldn't have been as large without the effects of the concussion.
Jim Jamieson of The Province also speculates about the increased ice time Daniel has been playing this year under new coach John Tortorella.  The Sedins and Ryan Kesler have been playing significant minutes all season, and the players might simply be wearing down.
The Canucks as a team has also seen their offense dramatically decrease over the last two seasons, so it is possible the team as a whole is not performing as well and the Sedin's output is affected by an overall malaise in the team.
Conclusion
The hit Daniel Sedin took on March 12, 2012, was especially brutal.  Whether this hit has caused long term impacts to Daniel's effectiveness not something that can be determined with any certainty.  But the data does seem to suggest that his play has declined since the incident, and that the normal decrease one might see in a finely conditioned, skill oriented forward should not have been quite so severe.
This decrease is certainly of concern for fans and the organization.  The team does not have a wealth of goal scoring talent to draw from in replacing Daniel's output and the salary cap prevents much in the way of trades or free agent signings to bolster the frontline talent.
Additionally, the Sedins just signed contract extensions for four years at $7 million per year, a significant amount for a player who may not be functioning at an elite level. The Canucks hope Daniel can return to the productivity he exhibited just a short while ago, or the team may be fighting an uphill battle to stay competitive over the life of the twins' contracts.