The outcome obviously wasn't what they expected or preferred, but after their weekend at the new Yankee Stadium (aka the House That Jeter Built in these parts) the New Jersey Devils players felt very fortunate to be a part of the NHL Stadium Series that brought outdoor hockey to New York City for the first time ever. The disappointment of a 7-3 loss to their rivals the New York Rangers will always stain the game day memory, but the magnitude of a game in front of 50,105 fans and the experience of playing a game outdoors is something that will never be forgotten by the participants.
The Devils and Rangers make their way to the ice from the dugouts:
Saturday started with the Devils stepping on to a hockey rink that stretched from third base to first base on the Yankee Stadium field and during breaks in their drills some of the players could be seen looking around at the scenery in the home of one of baseball's most iconic franchises. Most players the Hockey Writers spoke with after practice had never been to Yankee Stadium and others (understandably so for those growing up in Europe) had no knowledge of it before this season or had never even heard of the New York Yankees.
Damien Brunner told us so in our Q & A
No Black Eyes, Just Eye-Black
With concern about the glare reflecting off of the ice from sunlight (or stadium lights) a majority of the Devils wore eye-black under their eyes, like baseball players usually do during day games. Even though they thought it looked cool, the players weren't really sure if it was working or not, since it was their first experience with it. "I'm not exactly sure what that did," Ryane Clowe told us with a sly smile, "but it looked pretty good." Stephen Gionta, echoed Clowe's comments when asked if he would wear it again during the actual game. "I think so; I used it today…I don't know if it works or not," he said while laughing, "I didn't go out there without it, so I don't know. It does look cool; you have to go for the look."
Another Devil, Damien Brunner, was worried if he still had some on his face after showering and putting his suit on when he met the media. "Is it still on?" he asked with a childish grin when THW asked him about using the eye-black. "The sun was not too bad today so maybe we didn't need it as much as we might tomorrow if it's brighter outside; we'll see how it goes."
Our Room Is Nice, But This Room is Unreal
With an arena less than ten years-old, the Devils home at the Prudential Center is quite spacious and state-of-the-art in every possible way that you could imagine. But as they told us, Yankee Stadium took things to the next level with the spaciousness and amenities that come along with being owned by a billion-dollar franchise. "This is awesome. This dressing room takes it to a whole different level; I mean our dressing room at Prudential Center is obviously first class with everything and we feel like it's really our home," said Brunner. "But this is three times as big! It's fun being here and seeing how they spend their days at this stadium; it's great and fun and we really appreciate this. I love it."
Clowe told us the night before how much of a baseball fan he was, so being able to go behind the scenes at Yankee Stadium was a true treat for him. "Yeah, it's pretty exciting; I read some books and watched documentaries on Mickey Mantle. So to see him in a few pictures here, and Babe Ruth…this is pretty surreal actually," he said while glancing around the locker room. "The history here is amazing, I don't think you get the full grasp of it until you come here so this is awesome. I'm a big baseball fan in general so to walk out there in Yankee Stadium, I was pretty excited about this."
Steve Bernier knew a little bit about Yankee Stadium, but had never been there; and was blown away. "When you see all of pictures of the great players that played for the Yankees," he said with his eyes wide open, "it's fun to be around here and see their set up. It's a great set up for them and it was very special to be here in their locker room."
Cold and Ice
After their practice none of the Devils complained about the ice, but they did mention how cold it was when they first stepped out of the dugout for practice. "You try out a couple of things during practice to kind of get a feel for what you are going to wear underneath your gear or whatnot," explained Gionta who started practice with a mask that made him look like mini-ninja. "Other than that I think you just kind of play it by ear. It was a little cold when we first got out there, but once you got moving it was fine." His teammates echoed those sentiments, confirming that once they started skating around, the cold wasn't an issue at all.
"It was a great feeling skating outside," said Brunner. "The ice was really good; it was a little warmer than it will probably be tomorrow, but it was still pretty cold. After about ten minutes it was okay and I felt good." Clowe was prepared for the worst and pleasantly surprised: "I actually thought it would be colder to be honest; once I got out there my ears were a bit cold, but after that I felt fine."
Excitement, Followed By Disappointment
The actual game couldn't have started better for New Jersey, jumping out to a 3-1 lead with just under four minutes left in the first period — buoyed by two goals from Patrik Elias (including the first ever goal at Yankee Stadium). "I thought we had a pretty good first (period) and we came out of it with the lead there; and it just didn't go our way from there," said a visibly-disappointed Gionta afterwards. "It's definitely not how we wanted it to go; I don't even know how to explain it."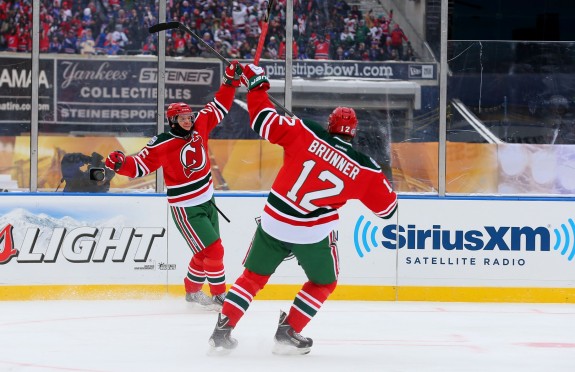 The Rangers went on to score the next six goals — including a four-goal second period that seemed to suck the life out of the Devils and sent Martin Brodeur to the bench for the third period. The silver lining in all of this for most players was the likely once in a lifetime experience of playing a hockey game in a baseball stadium (that finished with a football score). "It was pretty cool when it started snowing (in the second period), playing hockey in the snow is one of those experiences you will definitely remember," said Devils captain Bryce Salvador. "It definitely brings back memories; I think for a lot of us when we started playing (professional hockey) I don't think any of us would have imagined we would be playing games outdoors, when it's snowing, in the NHL. So it was a great experience."
Highlights of the Stadium Series game at Yankee Stadium on January 26:
Bernier was still excited about the experience, even after his team lost in such a crushing way. "That was amazing when it started snowing, I think we had the perfect weather and once it started snowing you couldn't ask for a better environment and day," he said. "This was my first time here and this is a wonderful place. The fans came out, they were loud and everything was good for a perfect day for us. Obviously it would have been a more perfect day if we had won, but overall it was fun."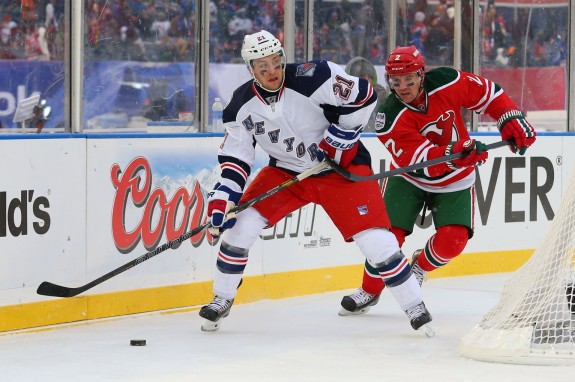 For the first time all season, the Devils pulled their goalie and Cory Schneider came out of the bullpen to relieve Brodeur; New Jersey was the only team left in the NHL that hadn't made an in-game goalie switch this season. After being a bit disappointed not starting, but understanding the circumstances, the Red Sox fan was happy he got to play on the ice at Yankee Stadium, even if it was in a mop-up role. "I think the build up, the hype and the spectacle of it was well done; the crowd was really great. They were really into the game and that builds the intensity up," he said. "I think you just kind of try to soak it all in, looking around and just taking it in. The Rangers played under the same conditions we did. Both teams had to deal with the elements and they were the better team." Before he exited the Yankees locker room he added one more quote: "I think we'd all like to thank the fans who made it out today and kind of braved that weather and helped to make it as amazing as it was."
The Rangers & Devils shake hands following the game:
Salvador lamented over losing the two points in the standings to a division rival, but did his best to put a positive spin on things. "The amount of odd-man rushes we had (against us) tonight was probably more than we had over the last ten games," the captain said. "We'll look at that and see what was going on; it might be just one of those games where the game part of it we will put it behind us and move forward and try to just remember the experience."
Dan Rice can be reached via Twitter: @DRdiabloTHW or via Email: drdiablo321@yahoo.com