After missing 14 games with a knee injury, Damien Brunner returned to the New Jersey Devils lineup on January 21 and finished with a goal and two assists in a 7-1 rout of one of the NHL's best teams, the St. Louis Blues. Brunner was signed by the Devils during the summer to bring offense to New Jersey and he has been one of their streakiest players this season: nine goals/16 points in 33 games played. His return now hopefully balances the team's lineup as the coaching staff now has a solid third line with a Brunner-Dainius Zubrus-Patrik Elias to take some pressure off the top two lines.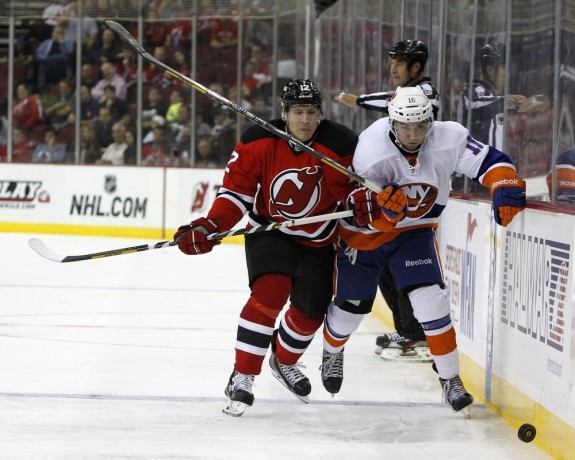 "I knew he was chomping at the bit to get back in (the lineup)," said coach Peter DeBoer. "When you are rehabbing for as long as he has, and under the circumstances he left us under — he was playing so well, such a disappointing injury. We really hoped he would come back with a little bit of (scoring) pop, and tonight he did that."
Damien Brunner dekes & scores a gorgeous goal in the game before he got hurt:
After the Devils scored a touchdown against the Blues, the Hockey Writers caught up with Damien Brunner to talk about his rehab, his successful return, the upcoming outdoor game and why he chose to sign in New Jersey.
The Hockey Writers: You couldn't have dreamed of a better performance (1g-2a) in your first game back right?
Damien Brunner: No. Honestly I was just happy to come back (to the team); I wanted to skate as hard as I could, like get the legs going like I did the last ten days on the ice. I felt a little rusty at times but I got through the game and I hope I can progress every game. Game rhythm is a little different — hands, legs, stops and starts; it's not the same as it is in practice. You put an opponent in there and he makes some movements you didn't deal with before, but I felt okay, nothing bad.
The Devils had seven different goal scorers, including Damien Brunner:
THW: Tonight your team was just about at full strength, is this kind of what you expect from the lineup?
DB: Well I don't expect us to win every game 7-1, but I think it was a good, total team effort. We beat a really good hockey club in the St. Louis Blues tonight, maybe we scored too much, but maybe it's good for our confidence; we'll take the goals.
THW: So it was worth driving 90 minutes in the snow to get here today?
DB: (laughs) I've got some good music on my iPod so; it actually wasn't too bad.
THW: Was it weird looking up in the stands tonight and not seeing too many people due to the weather?
DB: Yeah, but at least we made it really count for the ones who came tonight. The snow was terrible, it took me 90 minutes to get here; I think some guys took even longer. Usually it takes me 30 minutes to get to the arena. I didn't want to risk anything so, there wasn't a lot of traffic and maybe I could have went faster – left and right and left – but I didn't do it. It's kind of funny how we didn't have a lot of people in the stands and we're not a high-scoring team and they got to see us score seven goals! (cracks up laughing)
THW: The people that did make it here made some noise tonight though…
DB: YEAH! They were great.
THW: Are you excited to play in the outdoor game later this week?
DB: Definitely. I can't wait; it's been a while since I played outside. I remember spending hour after hour when I was young in my hometown on an outdoor rink. It's so exciting; I'm really looking forward to it.
2014 Coors Light NHL #StadiumSeries at Yankee Stadium is less than a week away! Watch a time lapse of the rink build! http://t.co/fc5kXDDlX9

— New Jersey Devils (@NJDevils) January 20, 2014
THW: Have you ever been to Yankee Stadium before?
DB: No…..I didn't even know it was a baseball stadium.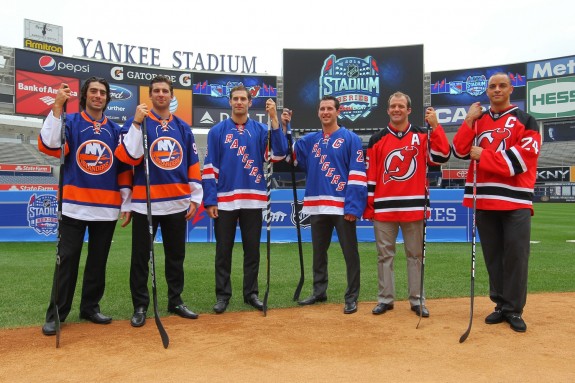 THW: You were playing really well before you injured your knee; was it in a way depressing because you were on such a hot streak with four goals in five games?
DB: Actually no, you know what, I was really happy that I played that good before I got hurt because before that I had a 17-game struggle. I played terrible; I mean I was fighting hard to get out of that. Imagine if I had gotten hurt after 16 terrible games, I don't know man; I would've been down. I think it helped me to get back faster knowing that I played good hockey before I got injured.
THW: How exciting is it to have a full lineup now and see the potential you have four-lines deep?
DB: I knew when I came here we would be a defense first-leading to offense team, with a lot of structure and obviously it's on me to bring some creativity too. I started really good this season, the first ten games, and then I had a really bad slump. I hope I really can get back to my best game and finish this season strong.
THW: What went into the decision to sign with New Jersey over other teams interested?
DB: It's seems like such a long time ago now; I had a good talk with Lou Lamoriello and then (snaps fingers) I decided after talking with him on the phone that I want to come here and I want to make this team. I came to training camp and after three or four games they signed me; I was really happy about that.
THW: What's it like playing on a line (like you did tonight) with a player like Patrik Elias?
DB: It's great; he's a great player, he has almost 1,000 points in the NHL (Elias is currently at 957). It's not only him, this locker room is great and the guys can't be better than the guys in this locker room. We have a great atmosphere here all the time, we all stick up for each other; it's fun to be around those guys that bring that positive energy every day.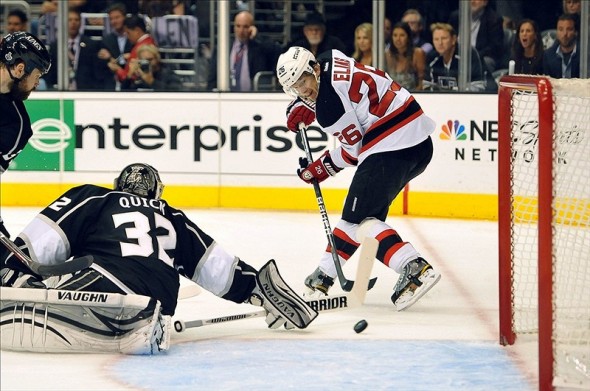 THW: You guys put up seven goals for Cory Schneider tonight, after only scoring only seven in his previous six starts; what gives?
Like I said earlier, 7 goals tonight equal total #Devils had scored for Schneider in his past 6 starts combined.

— David Satriano (@davidsatriano) January 22, 2014
DB: Yeah (laughs), I'm happy for him. Maybe I wish we could have split them for him so he could've gotten three or four extra wins. I don't even want to know how many games we have lost where he has only allowed one goal. It's a joke (laughs), totally unfair to your goaltender.
Dan Rice can be reached via Twitter: @DRdiabloTHW or via Email: drdiablo321@yahoo.com
Dan Rice is in his 9th year of reporting for THW & has covered NJ Devils home games for 15+ years at various websites. He began his journey working for legendary broadcaster/writer Stan Fischler from 2002-04 & completed an internship at the ECHL; he also has been writing features for the NWHL (nwhl.zone) website since 2016.