It's no secret around the American Hockey League that the Hershey Bears are playing their best hockey in 2014. They recently passed the midway point of the 2013-14 season with the early highlights of the New Year including wins against Eastern Conference powerhouses Springfield and Manchester.
Their recent success at Giant Center has been remarkable as they head into this weekend's games with a six game home winning streak. After struggling in their home rink last season, the Bears have pulled out to a 13-6-1-3 in front of the Bears' faithful in the 2013-14 campaign, with 15 games left at home this campaign.
Along with their continued home success, Hershey received some help roster wise this week. Philipp Grubauer was assigned to the Bears from Washington presumably to get playing time during the NHL Olympic Break and to give the Capitals a two goalie tandem with Braden Holtby and Michal Neuvirth for the time being. Gritty defenseman Steve Oleksy cleared waivers and was also assigned to Hershey as the Capitals look to bring some mobility to their blue line. As a result of his demotion, Capitals defensive prospect Nate Schmidt was recalled to Washington.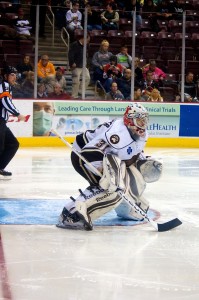 The return of Oleksy should help the Bears' defense as a whole as they look to improve. Their offense has been steady for the majority of the season, but their defense has been second, ranking in the second half of the league in goals against per game. Their regular defensive pairs could be Cameron Schilling-Tyson Strachan, Julien Brouillette-Steve Oleksy and Chay Genoway-Patrick Wey. Oleksy will also bring some quality minutes to their improving penalty kill.
Below is a weekend preview of Hershey's games with some news and notes on the team from throughout the week.
January 24th and 25th vs. Syracuse (17-15-2-4)
The Bears play the Crunch for the fourth and fifth times this season on Friday and Saturday night, as they look to improve their record against Tampa Bay's AHL affiliate. They're 1-2 against Syracuse to this point in the season as they look to climb up the East Division standings.
While the Crunch don't do anything phenomenally statistically they have been finding ways to win and sit two games above .500. They've been strong when tied after two periods which has earned them some tough wins, going 7-2-1-2 in that situation. Their goaltending tandem of rookie Kristers Gudlevskis and Cedrick Desjardins has been average, but the pair has almost split their starts in net identically.
Road Record: 10-7-2-2
Goals per Game: 2.63 (22nd)
Goals Against per Game: 3.00 (20th)
Power Play: 17% (16th)
Penalty Kill: 80.9% (19th)
Offensive Leaders: Vladislav Namestnikov (28 points), Brett Connolly (26), Cedric Paquette (25), Evan Rankin (15) and Dmitry Korobov (15)
January 26th vs. Wilkes-Barre/Scranton (24-12-1-3)
Another home contest against their biggest rival should give Hershey a significant boost in the finale of their three games in three nights stretch. The Bears are 2-4-1-0 against the Baby Pens this season with more big games upcoming against Pittsburgh's AHL affiliate.
Wilkes-Barre/Scranton plays a tough nosed, hard checking game almost always and their goaltending and defense are an almost impossible challenge. They allow a league best 25.30 shots per game and rookie goalie Eric Hartzell (7-2-1)has played well with fellow net minder Jeff Deslauriers (16-10-2, 2.36 GAA, .903 SV %), sporting a 1.92 goals against average and .926 save percentage.
Road Record: 12-4-1-2
Goals per Game: 3.00 (9th)
Goals Against per Game: 2.45 (2nd)
Power Play: 14.6% (27th)
Penalty Kill: 84.1% (9th)
Offensive Leaders: Tom Kostopoulos (27), Harry Zolniercyzk (24), Nick Drazenovic (23), Brendan Mikkelson (22) and Phillip Samuelsson (17)
Bears Links
You can follow Matthew on twitter @m_speck and email him at mspeck21@yahoo.com with any questions or comments.