Like the proverbial light at the end of the tunnel or an anniversary or birthday marked on your calendar, the upcoming game between the New Jersey Devils and New York Rangers at Yankee Stadium as part of the NHL's Stadium Series has been looming on the horizon since the calendar turned to 2014. After the Devils won a crucial game against the Washington Capitals, the players immediately turned their focus to playing a hockey game outdoors in the House That Jeter Built.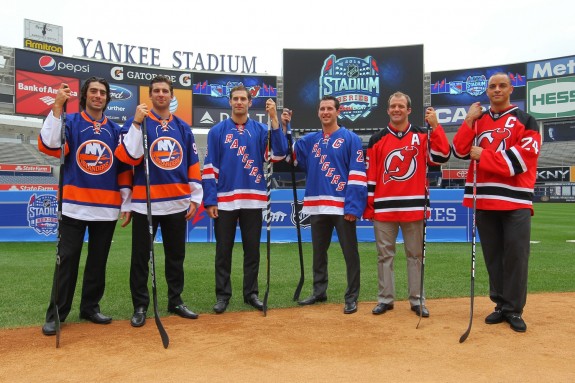 Stephen Gionta, whose older brother Brian already has an outdoor game under his belt (the Heritage Classic in Calgary), admitted he is extremely excited about playing the first outdoor NHL game in New York City. "Absolutely!" said Gionta responded with a smile when asked about the event. "Now that this game is over (against the Caps), it's hard to not to look ahead to that, especially against the Rangers, in Yankee Stadium; it's going to be a fun event."
"I have not been there before; this will be my first time and I'm looking forward to it," he told us and then confirmed he is a fan of the New York Yankees biggest rival. "I am, I am a Red Sox fan,' he explained with a mile-wide grin, "but that's all right. My dad's a Yankees fan, and he'll be coming (to the game) so it'll be pretty cool for him."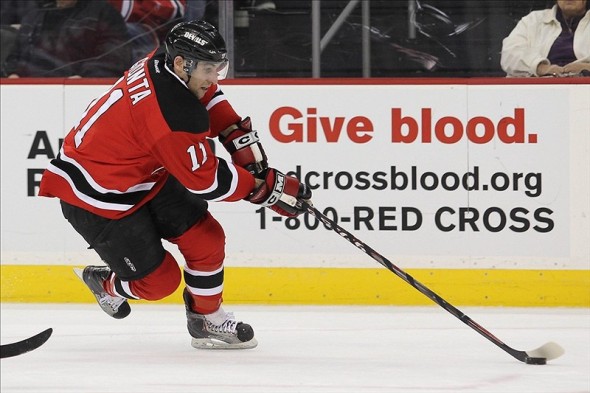 Another player the Hockey Writers caught up with to gauge their excitement level was Ryane Clowe who also explained how he did a little prep work with his kid. "I'm pretty excited; it's all new to a lot of us so I'm looking forward to it. I think we've been excited all week, but not trying to think about it too much," said the 31-year-old Newfoundland native who played outdoors as a boy all the time. "Now I think the guys are really excited about tomorrow, to get to skate in a relaxed environment; with your families too. Really for the first time test it out and see what it's all about, so we'll have a better idea come game time. I've been outside a few times with my daughter the last couple of days, and… I was freezing (laughs) — that's all has been going through my head — what it's going to be like; but it'll be fun."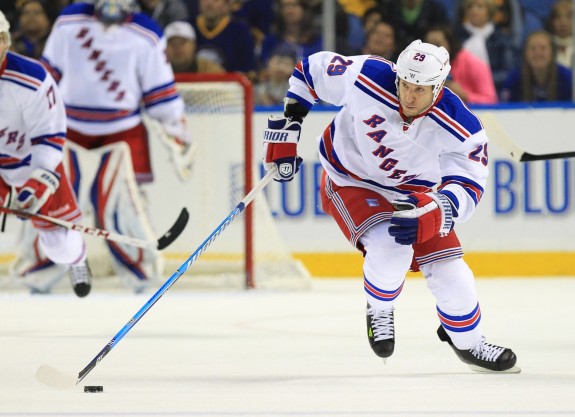 He also told us how fortunate he feels to be able to experience the event in only his first season with New Jersey; and how much he will really enjoy it as a 'huge' baseball fan.
"I always hoped, if I had stayed in San Jose, we joked around that they should have one at AT&T Park (in San Francisco) because it gets really chilly there by the Bay in the wintertime. But now they have one in LA this year, so who knows maybe they will bring one to Northern California," said Clowe. "But we were always a little bit jealous because we were like playing in this weather we'll never get an outdoor game. I'm pretty fortunate it worked out this year. "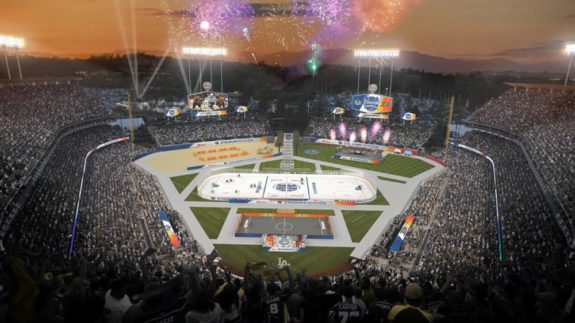 "I'm a big baseball fan; I've been to Yankee Stadium before. We went there for the playoffs one year when I was with San Jose and we came to town," he told us as his eyes lit up with excitement like a kid in Toys 'R Us. "I'm really excited to get a chance to look around the locker room and look at all the history there. It's something that, yeah you play these events at certain stadiums, but you know Yankee Stadium is right up there with the best of the best."
Most of the players admitted they were also glad that they had a day to practice at the outdoor rink as a chance to soak in the experience and enjoy the day with their families before focusing on what is a very important game in the standings against a division rival with 30 games left in their season.
Dan Rice can be reached via Twitter: @DRdiabloTHW or via Email: drdiablo321@yahoo.com
Dan Rice is in his 9th year of reporting for THW & has covered NJ Devils home games for 15+ years at various websites. He began his journey working for legendary broadcaster/writer Stan Fischler from 2002-04 & completed an internship at the ECHL; he also has been writing features for the NWHL (nwhl.zone) website since 2016.