For Lightning fans November 11th 2013 was a day to forget. Star forward Steven Stamkos suffered from a broken tibia during an intense division match-up with the Boston Bruins. Many fans watched in horror as one of the leagues toughest men attempted twice to stand up on his own, before being taken off on a stretcher. For many Lightning fans the season was over, but the players in Tampa Bay took it only as motivation to keep playoff hopes alive until Stamkos could return.
Lightning Bounce Back Without Stamkos
Ever since Stamkos broke his leg in the game against Boston, Tampa Bay has been battered with injuries. Players such as Ben Bishop, Ryan Malone, Keith Aulie, andRadko Gudas have all missed multiple games due to injury.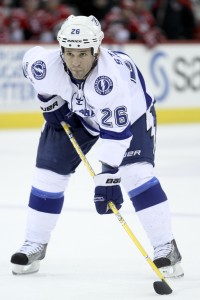 The Lightning's rookies have stepped up to play a major role in the success of the team without Stamkos. Rookies Tyler Johnson and Ondrej Palat have been playing with veteran and team captain Martin St. Louis. Johnson continues to impress many as he is currently 2nd among rookies in points. Palat has also put up very respectable stats with 11 goals and 15 assists. Other rookies who have made a major impact include forwards Nikita Kucherov, J.T. Brown, and defenseman Radko Gudas.
The rookies haven't been the only ones to step up for the bolts. Even captain Martin St. Louis has worked to help fill the empty hole left by Stamkos. Marty has scored 51 points in 51 games so far and even recently had a 4-goal game against San Jose. Victor Hedman continues to be a reliable defensemenfor the Lightning, even improving his offensive aspect this season. Hedman has managed 10 goals and 19 assists in 44 games. The Lightning have added a wide variety of goal-scorers to their lineup this season.
Stat Pack: #TBLightning currently have eight players with at least 10 goals so far this season, the most of any team in the NHL.

— Tampa Bay Lightning (@TBLightning) January 23, 2014
Who has been the most vital player in contending with the absence of Stamkos? There is no question, Ben Bishop. At the beginning of the season Bishop was expected to be splitting the time in net with Anders Lindback. However, only weeks into the season it became clear Bishop would be the stand-alone goaltender for the Lightning. Lindback has continued to struggle all season when he does get the chance to play. Bishop currently leads the league in save percentage with .934 and is second in the league in shutouts with four.
Stamkos Set To Return Before the Olympics
The question being asked by many is when will Stamkos be ready to come back? No timeline has been set since the injury, however there were reports only days after the injury that Stamkos would be eying a return on February 6th. This date is still looking like a very realistic goal for the star center.
In mid-January Stamkos participated in his first morning skate since the injury. ESPN posted this: "Steven Stamkos joins morning skate"
In an interview after practice on Thursday, January 23rd he stated "Today was a big step in that. I did every drill and I could keep up, the pace was good. I thought today was a great day.'' Stamkos has still been practicing wearing a red no-contact jersey, but he is expected to be cleared for contact in the near future.
Stamkos: "I always said as soon as injury happened, I want to come and play for Tampa Bay, but the goal was shooting for Sochi for sure."

— Missy Zielinski (@Missy_Zielinski) January 23, 2014
Assuming that Stamkos returns in early February his role, as well as his playing time, will likely be minimized until after the Olympics. After much experimenting, the Lightning have found a large amount of success in their lines. Stamkos entering the lineup will completely alter those lines, therefore coach Jon Cooper will likely prefer to rotate him in for other centers until he is one-hundred percent.
After watching the Lightning continue to compete as one of the best teams in the league for three months without Stamkos, it will almost be scary to see them play with him. If all the players that stepped up to fill his role continue to produce, this team is not only a Stanley Cup contender, but could even be a favorite.
Nothing can stop Stamkos from pushing to get back, but nobody knows how long it will take before we see the old Steven Stamkos again. Physically we can expect that Stamkos will recover fully although he does now have a permanent metal road in his tibia. Mentally, the center may never be the same. It is completely possible that Stamkos will lose his confidence in driving to the net and fear re-injuring himself. We can only hope that we will see the confident, goal-scoring Steven Stamkos that we all know when he returns to the ice.