Happy New Year everybody! Welcome to the first Colorado Avalanche fan mailbag of the year of 2014. Let's take a look at what things are on the mind of the Colorado Avalanche faithful lately.
Besides personnel, what is the difference between this team and the 2010 team that just rode a hot goalie into the playoffs?
Well, to be fair, the Avalanche are definitely riding a hot goalie right now. Semyon Varlamov is playing some fantastic hockey and has been a huge reason for the success of the Avalanche. But, other things that are happening now that that 2010 team never had. One of the biggest differences under Patrick Roy that was never a positive under Joe Sacco is the defense. The defense under Roy still has some work to do, but it has shown far greater consistency than the defense under Sacco ever did. This team also shows a great deal of resilience. Joe Sacco's teams always rolled over when challenged, but this year's team manages to rebound after bad periods and has made a habit of scoring rebounding goals very quickly after they have been scored on. The attitude on this team is simply the biggest difference and they are gaining confidence as the season progresses. A very welcome change from the Joe Sacco years.
Who should we trade for to help improve the defense?
I'm a fan of two names in specific. I've always been a proponent of getting Dmitry Kulikov from the Florida Panthers. He has such great range, is a really smooth skater and has a deceptive shot that seems to have eyes. The other guy I like the idea of is Dan Girardi from the New York Rangers. He's another veteran guy that would fit well with what Patrick Roy likes to do. There are a lot of options and I have mentioned some potential players the Avalanche should target in this piece from a couple months ago.
Who do you think is the better defensive forward, Landeskog or O'Reilly? Will either one day win a Selke?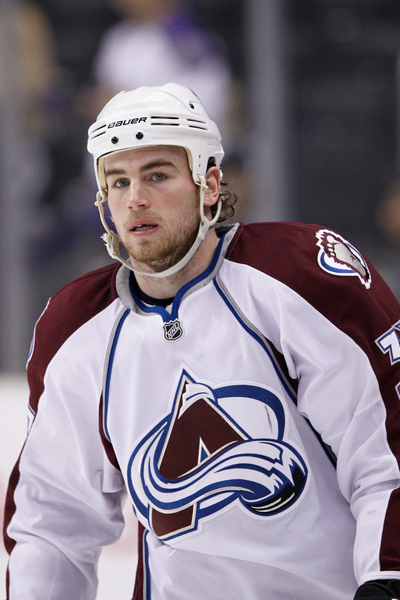 While defense is definitely a more underrated part of Landeskog's game, I've got to go with Ryan O'Reilly when it comes to who is the better defensive forward. O'Reilly is just such an impressive 200-foot hockey player who can steal the puck from somebody at any moment in time. He is seventh in the league in takeaways right now, with 49, wins nearly 53% of his faceoffs and plays wing at the same time and has done all of this without taking a single penalty minute thus far in the season. It's absolutely uncanny that a guy can be this disruptive on the ice for the opposition without taking at least a couple of penalties here or there. As far as the Selke is considered, O'Reilly should absolutely be in consideration for it but it's hard to overcome guys like Patrice Bergeron and Pavel Datsyuk for this award. As the years go along, though, and the Avalanche continue to become a more prominent team, it wouldn't be surprising to see O'Reilly's, or even Landeskog's name continue to come up for Selke consideration.
Who is more likely to be traded, Stastny or O'Reilly? And which one would you trade?
Based on pure circumstances, the easier one to trade right now is Paul Stastny because the Avalanche can't trade Ryan O'Reilly until February 28th, which would be one year after the Avalanche matched the offer sheet from the Calgary Flames. The Avalanche will be able to trade O'Reilly at the deadline if they are so inclined, thanks to the Olympic break. That being said, I'm going to cop out with the second part of the question because I wouldn't trade either of these two. They are both young players that are important to the future of the Avalanche. To trade one of these players would not do anything to help this team unless you got something really big in return.
What type of contract would you like Varly getting?
Well, it's not a secret that Varlamov has been the Avalanche MVP so far this season, and he should be rewarded accordingly. It's definitely time to start paying him like a legitimate starting goalie in the NHL. Varlamov is on pace for well over 30 wins this season, he could even get up to the 40 win mark. I gave a break down of what I think the Avalanche should pay Varlamov in an extension in this piece here, which comes down to about four or five years at with a cap hit between $4.5 and $5.5 million a season. Varlamov has absolutely earned it.
Do you think the Avs will make any moves at the deadline? And if so, who do you think gets the boot?
I think it's very possible that the Avalanche will make a move at the deadline. It's no secret that the Avalanche need a little bit more help on the blue line, especially if they want to make a deep run in the playoffs; and both Patrick Roy and Joe Sakic have shown their ability to make moves that they think will improve the team since taking over the hockey operations of the Avalanche. So if the right deal comes around, I can definitely see the Avalanche pulling the trigger on a deal, or two. Players that I think might get traded are varied. Ryan Wilson has been awful and is a liability of late, any deal that gets him out of the lineup right now is a good one, and this is sad for me to write because I really like Ryan Wilson. I can see the Avalanche parting ways with either Tyson Barrie or Stefan Elliott, both have big up sides that could gain the Avalanche an improvement on the blue line. The other player that I could see the Avalanche moving would be P.A. Parenteau. Parenteau has been up and down this season and has had some less than good defensive stretches. He still has enough offensive skill that, as a part of the right package, could net a good return for the Avalanche. Draft picks are also a possibility for the Avalanche who would have to have something really bad happen to not make the playoffs at this point.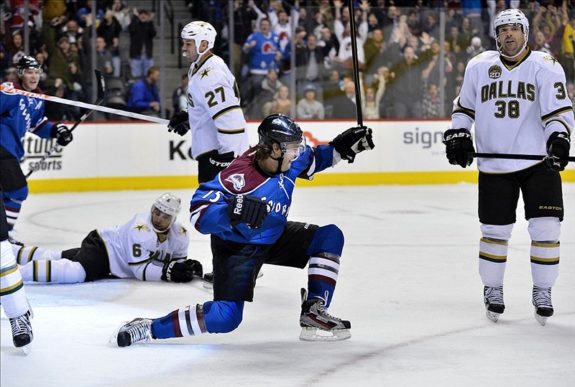 Would the Avalanche give O'Reilly higher salary than Duchene, or would they trade him?
This is a fantastic question, and one that has been looming since last March. O'Reilly has been fantastic of late, just scoring his career high 19th goal of the season against Florida. His current contract has him making $6.5 million this season, with a cap hit of $5 million. If the Avalanche end up having to qualify him, as he will be a restricted free agent again at the end of this season, they will have to offer him a contract of $6.5 million, which O'Reilly could just take for another year. If I am the Colorado Avalanche, however, I would offer O'Reilly the exact same contract that they gave to Duchene but structure it in revers. Give O'Reilly $6.5 million next season, $6 million the following three seasons, and then $5.5 million in the final season. This is a really simple way to hopefully avoid another situation with contracts that we had last time. Granted, this time the Avalanche management has changed, so hopefully it won't come down to the middle school type of confrontation we saw time.
I'm a Denver native who has been a fan of the Avalanche since they came to town and a fan of the game before that. I started writing my own blog a couple years ago before moving to Bleacher Report and becoming a Featured Columnist there. You can also find me the Burgundy Brigade Podcast