Since the year 2003, the Colorado Avalanche have been on what seems like a futile effort. They've had some success, won some playoff series, but the thing that they have never been able to do since 2003 is find a goalie that will be a long-term number one. Ever since Patrick Roy retired, the Avalanche have gone through a number of goalies, hoping that all of them would be the answer. David Aebischer, Jose Theodore, Peter Budaj, Craig Anderson and Brian Elliott have all given it a go in the Colorado Avalanche crease, but none of them managed to have any type of staying power. Now, in the 2013-2014 season, it seems that the Avalanche have finally found their man in Semyon Varlamov.
Tough Start
The Avalanche first acquired Varlamov on July 1st, 2011 through a trade with the Washington Capitals. The move was questioned because Varlamov was a restricted free agent that had already voiced his desire to not play for the Capitals anymore and had made plans to go back to the KHL rather than stay in Washington. The trade was just one of many moves from then General Manager, Greg Sherman, that made people in Colorado scratch their heads. Still, Varlamov's potential was clear, but a lot of uncertainty surrounded him because of injury issues he had experienced while in Washington.
During his first season in Colorado, Varlamov showed he could be durable enough to handle the number one role, playing in a career high 53 games. The issue that still remained was consistency. Some night Varlamov played amazing hockey, while other nights he appeared to be completely lost. Varlamov even lost his starting role to veteran goalie J.S. Giguere at one point during the season. By the end of the season, Varlamov had earned his starting role back and was the biggest reason the Avalanche were still in the playoff picture as long as they were. His numbers were much like the team that year, okay. He went 26-24-3, had four shutouts and posted respectable goals against (2.59) and save percentage (.918) numbers. The question remained consistency.
Varlamov's second season with Colorado was disastrous. Not so much because Varlamov was just consistently bad, rather that the team itself was completely horrible. The Avalanche, as a whole, fell completely apart in front of him, constantly leaving him out to dry. This season left some of the media in Denver to say that Varlamov had no place on the team anymore and needed to be jettisoned if the Avalanche were to have any chance at being a contender again. Luckily for Varlamov, and the Avalanche, Patrick Roy had other ideas.
Varly's Resurgence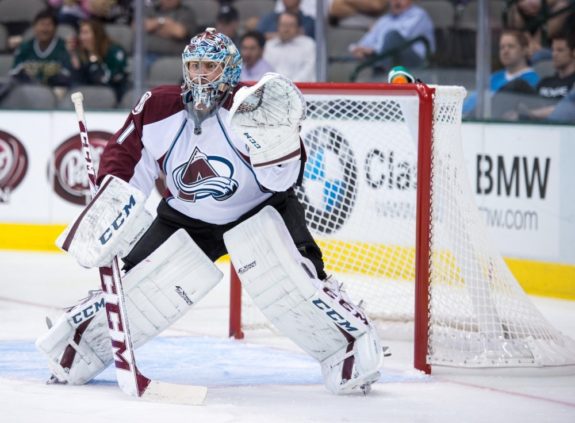 Varlamov came into the 2013-2014 NHL season knowing that it was going to be a make or break season for him. If the Avalanche were going to hitch their wagon to him, so to speak, he needed to prove that he could handle things, and so far that is exactly what he has done. One of the biggest reasons for Varlamov's success has been the presence of a real goalie coach in Francois Allaire. Thanks to Allaire, Varlamov is learning to be more patient and rely more on his good positioning than his fantastic physical ability.
The result has been a lot of wins and some pretty amazing numbers, especially at the beginning of the season. Varlamov's save percentage is currently at a career high of .926 with a save percentage better than all of his years as a professional except for one, at 2.37. The only year he played with a better goals against average, he played in only 27 games, so this is easily Varlamov's best season as a starter. With Colorado's win on Wednesday night against Ottawa, Varlamov has hit the 20 win mark for the second time in his career. With a little less than half of the season remaining, it seems a foregone conclusion that Varlamov will finally be able to crack that 30 win mark as a starter, something that a playoff team absolutely needs from their starting goalie. His overall record sits at 20-8-4.
Pay The Man
Varlamov has earned a new contract from the Avalanche, and the Avalanche should make every effort to get him signed to an extension before the end of the season. Even though Varlamov is going to be a restricted free agent again this season, there is still no reason for the Avalanche to wait to get this done. There is especially no reason for the Avalanche to go through arbitration when it is clear that Varlamov is a guy that they need to keep.
Currently, Varlamov's contract is a very small $2.83 million cap hit. Now it is time for the Avalanche to pay him like a starting goalie in the NHL should be paid. I'm not saying that they need to go into Henrik Lundqvist territory by any stretch of the imagination, but a raise is definitely in order. If you go through and calculate the average cap hit of starting goalies, which capgeek.com allowed me to do, the average starting NHL goalie will have a cap hit of a little more that $4.3 million. The elite goalies will be up in the $6 million – $8 million range, Varlamov isn't near there yet. Varlamov is in the second tier of goalies in the NHL, the very good but not the best of the best yet. In this case, a contract with a cap hit between $4.5 million and $5 million a season seems like a perfect fit for the Avalanche. With the NHL salary cap to go up next season, there is no reason that the Avalanche and Varlamov shouldn't be able to work this out and still keep other players on the roster as well.
At long last, it finally appears that the Avalanche have found their guy in net. Barring injury, or Joe Sacco somehow working his way back into the organization to destroy the goalies much like he did Craig Anderson, the question that hasn't been answered for the past 11 seasons, "Who will replace Patrick Roy?" finally seems to have an answer. And that answer is Semyon Varlamov.