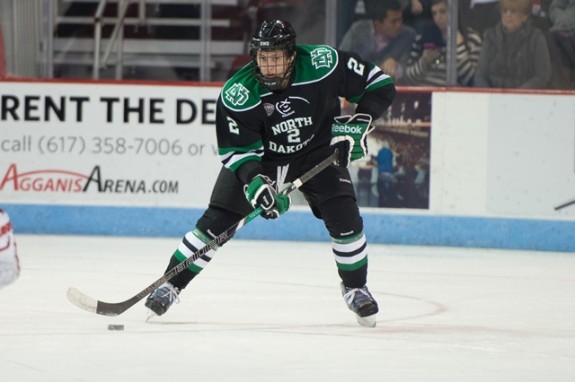 At the halfway point in the 2013-14 season, University of North Dakota freshman defenseman Troy Stecher has made an immediate impact on the ice. The 19-year old freshman has also emerged a vocal leader on and off of the ice as well.
After game earlier in the season, the freshman defender called out his teammates for a sub-par performance.
"People like to label us as a young team, but that's not an excuse now, we've been here two months," said North Dakota defenseman Troy Stecher after UND was swept at home by the Saint Cloud State Huskies.
After a lackluster performance during last weekend's exhibition game, Stecher again expressed his feelings about the team's play.
"I don't know where to start," Stecher said. "We come in here. We're spoiled. We get to go to a Canucks game. We get wined-and-dined last night. We think we're going to walk all over these guys. That was our first mistake and it cost us a hockey game."
Blunt and straightforward comments like that have endeared the freshman defenseman to the UND fan base and his teammates.
While the freshman defender from Richmond, British Columbia has been vocal at times off of the ice, the 5-foot-11 and 175 pound defender has been pretty good on the ice as well, scoring (1g-5a—6pts) in 18 games.
Coach Hakstol takes notice of Stecher's play
During the Wednesday press conference, head coach Hakstol was asked about his impressions of Stecher's play during the first half of the season.
"It's think it's been pretty good," Hakstol said. "He competes. He loves to play. He's not afraid to play in any one situation. He makes mistakes, but it's out of effort. They're effort related mistakes, they're aggressive mistakes. I think that's a great way to grow and develop."
Coach Hakstol continued, "By being on your toes, by being aggressive leaning forward – not being back on your heels. I like what Troy has done so far. He's become a very important player for us. We look for him to continue to improve and be a more reliable player for us."
Coach Hakstol said this about his outspoken freshman defenseman, "He's a great personality. Much like he is on the ice. I think what you see, is what you get. He says what's on his mind. Yet, he's thoughtful about it. Energy wise, he's become a leader for our team as a freshman, because he always goes out and competes."
"Players around him tend to feed off of that type…off of that style of player.  He's just got to keep doing the things he's doing. Not worry too much of leading everyone around him right now. That will come more with time. He just got to keep competing, stay on his toes, and push the envelope."
Fellow teammates taking notice of Stecher's strong on-ice performance
Senior captain defenseman Dillon Simpson has been impressed with the freshman defenseman's play so far this season.
"He's been good," Simpson said. "He's been a consistent player for us. You know what you're going to get from him every night, he battles hard, and he does what's asked of him."
UND goalie Zane Gothberg is impressed with Stetcher play on the blue line as well.
"Stechy (Troy Stecher) brings a lot of things to our D corps. His grittiness, his tenacity, probably sums it up. From a guy that's undersized as pro scouts or some scouts might say. It's really neat to see what he brings, both offensive and defensively. Because he can make plays on the blue line, he gets the puck up first pass all of the time. He's really gritty in front of the net."
While he's only been here for a short time, Troy Stecher is making an impact on the ice at UND, and the fans and his teammates have taken notice. It appears that the sky's the limit for the defenseman from Richmond, B.C., and he only gets better with each game he plays. The fans at North Dakota are very happy that the undersized defenseman decided to go to North Dakota instead of Nebraska-Omaha.

Eric is a 1996, 1999 graduate of the University of North Dakota. Eric covers the University of North Dakota Hockey and Division I college hockey. Eric is the Contributing Editor for Inside Hockey.