The Czech roster is usually compiled of players who grind out wins and provide timely scoring throughout any international tournament. The 2014 Olympics will be no exception.
The lineup, which was announced on Monday, is chalked full of never-say-die players such as Patrik Elias, Michael Frolik, David Krejci and, of course, five-time Olympian Jaromir Jagr. But the Blues' most dynamic player on the roster found his name etched in as a top center: Vladimir Sobotka.
Although the Czech selection committee omitted defenseman Roman Polak and AHL Chicago forward Dmitrij Jaskin, the Czechs will find that the Blues can provide plenty in the quest for gold, personified by one player.
Fellow THW writer Mike Poepping (MP) and I (JP) take a look at Sobotka's selection, as well as the noninclusions of Polak and Jaskin.
What does Sobotka provide the Czechs?
JP: When head coach Ken Hitchcock was hired in November 2011, he moved Sobotka to a checking role on the left wing. He quickly learned his mistake.
"Playing him on the wing is a waste. He's too far away from the play," Hitchcock said a month later. "I think Sobotka is a center iceman. Bad coaching put him on left wing. When the coach came here and put him on left wing, that's bad coaching. He's got way more speed at center ice, he hits holes, he creates problems on matchups for people, he's more effective offensively as a center iceman. He needs to play in that position."
That's Sobotka in a nutshell. Acquired from Boston in exchange for defenseman David Warsofsky at the 2010 NHL Entry Draft, Sobotka has rapidly become one of the more important players on the Blues' roster due to his tremendous work ethic and ability to slide into any line or situation.
Although he is finally gaining notoriety across the league, the Blues centerman has flown under the radar throughout his NHL career (acquired for a defenseman who made his NHL debut this season and ranks No. 10 on the Bruins depth chart of NHL prospect defenders at HockeysFuture.com). But on the Czech roster, Sobotka fits in behind Martin Hanzal and Tomas Plekanec, but that doesn't mean he can't play a first-line role. Power-play and penalty-kill minutes are likely in Sobotka's future.

MP: Sobotka has been the firecracker of the NHL since his time with the Bruins in the mid- to late-2000s. He was quickly discovered as a faceoff master, and was used in many different special teams situations, but was never really given a chance to shine with Boston. When he joined the Blues in 2010, he had a little bit of a rough start but truly found a home in St. Louis in his second year with the team (2011-12).
His ability to hustle and create plays from his hard work is second to none, and he currently sits in a tie for 29th overall in plus/minus with a plus-14, which is no simple task. His 62.8% faceoff win percentage is a big reason why the Blues find themselves with amazing puck possession numbers so far this season and why they are on such a tear as of late. This is why it comes as no surprise that he will be representing his country and Team Czech Republic in Sochi. Although some experts see him on a wing instead of at center, I would suspect that the Czechs will take advantage of his faceoff prowess throughout the tournament.
Sobotka's play will be essential to the success of the Czech, as his scoring provides the perfect secondary touch the team will need to make a push for medal contention. He may very well end up on a line with current and former world hockey superstar Jaromir Jagr, who recently passed long-time Pittsburgh Penguin teammate Mario Lemieux for seventh on the NHL all-time points list. I can definitely see a great connection between Jagr and Sobotka if they do play on the same line as Jagr has a knack for finding open ice and he's still got his impressive scoring touch, and Sobotka is usually first to the corners where he digs pucks out and finds open teammates in scoring areas. This combo seems like a no-brainer to me, and it should lead to great success for Team Czech Republic.
Defensive Snub: Roman Polak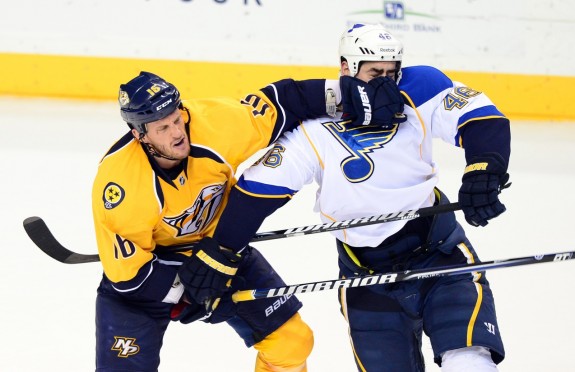 JP: The Czechs have rolled out some top defensive defensemen over the years, including Jiri Slegr, Roman Hamrlik and Marek Malik. Polak is no exception, providing a big body to knock around opposing forwards and a quick stick that has proven to be vital to the Blues' penalty kill.
But Polak has been listed on the Blues' injured reserve since Dec. 21 with a lower-body injury. It's likely this affected his chances of making the Czech team. However, he is expected to be healthy by February.
With his skill set, accompanied with his performance for the Czechs in the 2010 Winter Games, Polak has to be the next in line in case of injury for his native country. If not, the Czechs would be making a dire mistake.
MP: Although Polak was left off of the Czech's initial roster, if anyone goes down, expect him to get the call up. He continues to be a stalwart defenseman in his own zone, and has even chipped in on offense more than usual in 2013-2014. He has already surpassed his 2012-13 numbers; gaining 7 points in 34 games played, and has an impressive plus-7 mark, showing how good he is around the Blues net.
Polak has helped the Czech Republic internationally in the past, and would be a great addition to their defense should the need arise. He has really been focused on team play this season, and being the player the Blues need him to be, which would translate very well into the Olympics where you play for your fellow countrymen.
Offensive Snub: Dmitrij Jaskin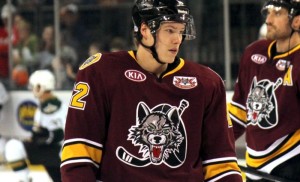 JP: Every player on the Czech roster participates either in the NHL, KHL or the Czech Extraliga (top league in the Czech Republic) on a full-time basis. Simply put, Jaskin does not regularly compete in the best league in North America. Adding him to a roster that will play against the supposed best players in the world could be a liability. The Olympics are not time to improve your play and prove you belong; it's the time to prove you are the best in the world. Adding Jaskin would bring even more scrutiny when considering players such as Jiri Hudler and Radim Vrbata were also omitted from the roster.
Jaskin has skills, there is no doubt about that. Playing top minutes with the Chicago Wolves of the AHL will help him grow to a regular NHLer. By 2018, he will be ready to compete for a spot on the Czech Olympic roster.
MP: Jaskin is going to be a force in all three zones. He has the hustle and awareness to find open areas of ice, but he has the drive to roll his sleeves up and get dirty. This makes him a huge asset to the Blues future, and has to impress Czech Republic hockey officials. Though he didn't make the team for the Sochi Games in 2014, expect him to be a star on their 2018 roster. I wouldn't be surprised if he ends up being a more successful version of Patirk Berglund, who as many know, is a key member of Team Sweden. The bottom line with Jaskin is this: he's big, he's strong, he's got great vision on the ice, and he's got hands. Give him a couple more years to develop and the results may be breathtaking.
How the Czechs will fair
JP: The Czechs always seem to enter the Olympics with the same expectations as USA and Sweden – behind Canada and Russia, but above Finland and Slovakia. As the past has shown us multiple times, these expectations are rarely met.
The biggest question mark for the Czechs is the goaltending. With Tomas Vokoun left off the roster due to long-term injury, the net is likely to be manned by Ondrej Pavelec, the only NHL goalie on the roster. But he may not be the best choice, despite his experience, as he is considered by many to be the lesser of the two goalies on the Winnipeg Jets roster (Al Montoya being the other netminder). KHL standouts Jakub Kovar (Avtomobilist Yekaterinburg) and Alexander Salak (SKA St. Petersburg) make up the other ⅔ of the goaltending.
If Jagr and Ales Hemsky can lead the offense, though, the Czechs will not be an easy win by any means. Zbynek Michalek and Marek Zidlicky make up two of eight noteworthy defensemen, meaning that the defense can hang with almost any offense that steps on the ice.
The Czechs definitely have the talent to place for a medal.
MP: Overall, the Czech Republic is primed to have a great run in the 2014 Sochi Games, but I don't feel they are medal contenders. While their starting goalie Pavelec should give them great back-end support, and their forwards are a mix of NHL stars new and old (including the ageless wonder Petr Nedved… say what?), I think their defense is too young and too old in all the wrong places. This makes me think they will play a lot of close games, but not get the desired end results. Look for them to finish around where they did in the 2010 Vancouver Games: sixth or seventh overall.
If you like what you just read, feel free to discuss this with us on Twitter!
Jeff Ponder: @jponder94
Mike Poepping: @pep30
Be sure to check out the other parts of this series highlighting the Blues heading to Sochi:
Part 1: Team Russia
Part 2: Team Sweden
Part 3: Team Finland
Part 4: Team Slovakia
Part 5: Team Czech Republic
Part 6: Team Canada
Part 7: Team USA
I am a former NHL media member and reporter for the St. Louis Blues, working for various media outlets. Currently, I am an NHL News Writer and Editor for The Hockey Writers. I live in St. Louis and work as a freelance copywriter in numerous industries.