When the Philadelphia Flyers acquired Brayden Schenn in the summer of 2011, many believed they were getting the best prospect in the world.  After all, Schenn was coming off a 2011 World Juniors performance that still stands as the most dominant so far this millennium where he put up 18 points in 7 games, and played three of those games with a separated shoulder.  When you're the main piece in a trade where the team you're going to trades their captain and franchise player, there are going to be high expectations.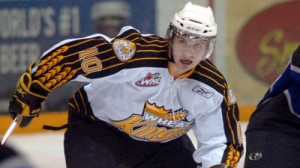 Brayden Schenn's First Two Seasons in Philadelphia
Brayden Schenn hasn't met the expectations that most people have had for him because they were so lofty.  He showed flashes in each of his first three years in Philadelphia.  In the 2012 playoffs, he was a force to be reckoned with in the opening round against the Penguins.
He was physical, speedy, instinctive, and a highly effective player.  After laying those two big hits, he added a goal and two assists as the Flyers took a 1-0 series lead over the Penguins.  He finished those playoffs with nine points in eleven games after a regular season with eighteen points in 54 games.
The next season, Schenn showed more flashes of brilliance.  Throughout the season, he was shuffled between playing left wing and center after playing center for his entire career.  He had a month of impressive play between February 1st and March 2nd, where he managed six goals and eleven assists for seventeen points in sixteen games.  What position was Schenn playing during that entire point-per-game sixteen game streak?  Center.  Seventeen of Schenn's 26 points last season came during that stretch at center.  The other nine points came during the other 31 games of the season where Peter Laviolette was constantly juggling him between wing and center.
This offseason, the Flyers shocked the hockey world when they signed Vinny Lecavalier.  A long-time center himself, the move implied that Schenn was going to have to make the permanent transition to wing.  With Claude Giroux occupying the top spot and Sean Couturier firmly entrenched as the shutdown third line center, Schenn appeared destined for the wing.
The Emergence of Hartnell-Schenn-Simmonds
On December 8th, it was announced that Lecavalier would miss 3-4 weeks with a back injury.  It was the third separate injury that caused Lecavalier to miss time this season.  Three days later, the Flyers faced off against the defending champion Chicago Blackhawks, and were resoundingly defeated by a score of 7-2.
After that game, everything changed in Philadelphia.  Coach Craig Berube switched up the top six, putting newcomer Michael Raffl on a line with Claude Giroux and Jake Voracek, and placing Brayden Schenn in between Scott Hartnell and Wayne Simmonds.  The results have been staggering to say the least.  The top line immediately caught fire, ripping off a combined 22 points in the first four games since they were put together.
For the second line, there was more of a delayed effect.  They stayed together by default because the Giroux and Couturier lines were playing so well together, and no one of the 4th line was worthy of promotion.  In their first four games together, the trio combined for just one goal and four assists, nothing compared to the first line.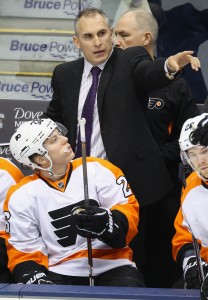 After a few practices and four games together, the line caught fire.  In the nine games since then, Simmonds has twelve points, Hartnell has nine points, and Schenn has nine points.  Every member of the line has been playing at a point-per-game pace.  They have done it through hard work and grit.  The line has been very effective below the dots, grinding on the boards and working the cycle where their big bodies are dominant.  Not only has the line played well, but the team is 10-2-1 since losing to the Blackhawks.
Schenn was given a chance to prove himself at center, and he's taken the bull by the horns.  In the two most significant stretches where Brayden Schenn has been allowed to play center as a Flyer, he's combined for 26 points in 25 games.  Thankfully, Craig Berube has taken notice of Schenn's elevated play at center, and kept him there even when Vinny Lecavalier returned to the lineup.  When the Flyers let Brayden Schenn play center, he dominates.  Does it make sense to invest in a depreciating Lecavalier at center, or a young, appreciating asset like Schenn at center?  The answer is simple.  If Schenn stays at center, the Flyers will profit.
Brayden Schenn's Offense in Context
Despite not meeting some of the lofty expectations set by fans, Brayden Schenn's development as a Flyer has been encouraging.  His exploits at center are impressive, as detailed above, and he's seen consistent growth in his game.  His points-per-game has increased each year, from .33 in 2011-12 to .64 in 2013-14.  His even strength points per 60 minutes is second on the team among regular players, behind Simmonds.  His ESP/60 has also increased every year he's been in Philadelphia, from 1.22 to 1.95 this season.
This year, Schenn has averaged 15:43 in combined even strength and power play time, and produced 28 points.  Mike Richards has averaged 15:46, and has 28 points.
Bill Schoeninger is a Philadelphia Flyers writer and current Boston University student studying business. Coming to THW from Hometown Hockey, Bill follows and writes about the Flyers, Boston University Terriers, and NHL Draft prospects. Follow him on twitter @BSchoeninger17