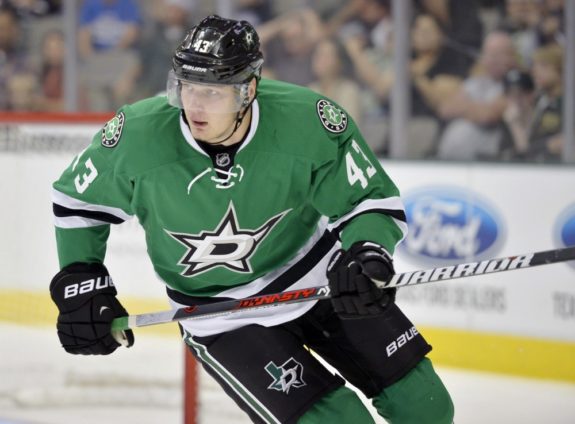 Roughly one year ago, on January 5th, 2013, Russian forward Valeri Nichushkin dealt a crushing blow that resonated throughout the Canadian hockey world.
Nichushkin, playing for Russia's 2013 World Junior Championship team in overtime in the Bronze medal game against Canada, dashed down the right side of the ice, cut past defenceman Ryan Murphy, and then powered through the crease while sliding the puck past goaltender Malcolm Subban. The goal gave the Russians a thrilling 6-5 victory to win Bronze, while simultaneous ending Canada's streak of 15 consecutive tournaments where they won a medal.
A year and two days later, it's astonishing how far the young Russian forward has come.
On January 7, 2014, Nichushkin, only 18 years of age, was named to Russia's 25-man roster for the Sochi Olympics, alongside such high-profile forwards as Alexander Ovechkin, Evgeni Malkin, and Pavel Datsyuk.
From the Russian junior ranks, to a 3rd line role on their WJC team, to the KHL, then immediately to Dallas after the team drafted him 10th overall in the 2013 NHL Entry Draft, where he started on the 4th line and has now worked his way up to a regular spot on the top line with Jamie Benn and Tyler Seguin.
You certainly don't see something like that very often in the NHL.
While it seems like so unlikely that a player could move up the ranks of the hockey world in such a short amount of time and at such a young age, any doubts are instantly erased when you watch Nichushkin on the ice.
Standing 6'4," Nichushkin certainly doesn't look like an 18 year-old when he's playing, showcasing the strength of a man ten years his elder when engaging in puck battles. But what makes Nichushkin stand out from other big forwards is that he also plays the game with fleet-of-foot skating, blazing speed, and soft hands. Such a combination of size and skill is something that NHL general managers dream about.
His talents have allowed Nichushkin to shine in his NHL rookie season, currently sitting with 22 points in 42 games, tied for third on the Stars and firmly in the thick of the NHL's rookie scoring race at seventh. While his defensive game raised some concerns prior to his draft year, Nichushkin is an effective and consistent back-checkers for the Stars, with a shiny +12 rating to show for it.
As if the challenge of helping to guide the underdog Stars to a playoff spot, and maybe a shot at the Calder Trophy, weren't enough to focus on, Nichushkin can now add Olympics Gold medal hopes to that list. Although early indications make it seem like the Chelyabinsk native will be more of a depth option for the Russians than a go-to forward, Nichushkin has been consistently exceeding expectations for the past year. If any 18 year-old can make a splash on the international stage for a powerhouse hockey country, Nichushkin certainly seems like the type of player that would be able to do it.