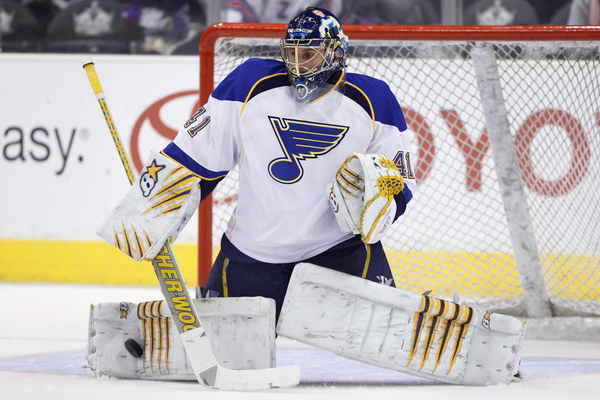 It's been no secret that St. Louis Blues starting goaltender Jaroslav Halak would be a member of Team Slovakia heading to the 2014 Sochi Olympic Games, but no it's officially official.  The Blues netminder will most likely start between the pipes for his home nation as he does for the Notes, and will look to build on an impressive 2010 Olympic campaign.  Here Fellow The Hockey Writer Jeff Ponder (JP) and I (MP) look at why Halak will have a big impact in Sochi.
Jaroslav Halak's Competitive Edge
MP: A few months ago (and a few weeks apart) Jeff and I posted seperate articles outlining the importance of Jaroslav Halak's play with the Blues, such as his ability to bounce back from undesirable losses and his stellar play to start this season.  What we didn't cover was his impressive track record when it comes to big games, and the playoffs.  When Jaro was first called up by the Montreal Canadiens during the 2007-08 season he already owned the best stats in the AHL, and he wasn't done there.  He backstopped the Canadiens team to a playoff spot and even played in 2 postseason games that year, but it wasn't yet his time to shine.  As the next few seasons rolled on Halak got a taste of the NHL experience and knew he wanted to be a star in the league.
When 2010 came around he was thrust into the limelight by challenging franchise goalie Carey Price (a 2014 Team Canada member) for the starting spot (and winning it) with the storied Montreal team.  His play in the 2010 NHL playoffs, where he led the Canadiens to a last minute playoff spot and then to two playoff series victories over rivals Pittsburgh and Washington, was only overshadowed by his amazing performance in the Olympic games earlier that same year.  In Vancouver Halak was able to overcome most every obstacle in his path, and led the Slovakian National team to the Bronze Medal game, where they were barely edged out by Team Finland.  All of these situations were big reasons why the Blues knew he would be their go-to goalie in years to come.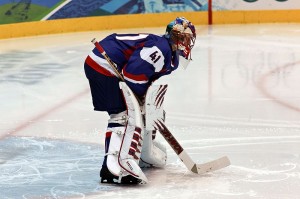 JP: Halak had a storybook year in 2009-2010, leading the drive for the Montreal Canadiens through the 2010 Stanley Cup playoffs. He was monumental in the Habs' elimination of the Washington Capitals and Pittsburgh Penguins to thrust the eighth-seeded team to the Eastern Conference finals. Although his team lost to the Philadelphia Flyers, it stood out as one of the most miraculous runs by a goaltender in NHL postseason history. Since that time, Halak, 28, has led the Blues to numerous victories over the years. He has proven to be a big-game netminder, but has also struggled at times. If he can regain his 2010 form, Slovakia will be happy with the results it sees
Why Jaroslav Halak is the Most Important Piece to Team Slovakia
MP: The above heading may seem bold when you glance at the Team Slovakia roster which has stars such as Marian Hossa, Zdeno Chara, and Marian Gaborik gracing its top lines, but Halak's previous Olympic play has been that good.  Add in his playoff prowess we discussed earlier and now you can see why he's so important to Slovakia (and why he's such a big piece of the Blues success this season).  His ice awareness this season has been better than ever, and his work ethic is now next-to-none.  He has had some injury problems in the past, and is currently coming back from flu-like symptoms (see Tweet below), but expect him to be ready for Sochi.
Halak's ability to block shots in tight and his will to stay in position in all situations is why he is primed to lead Team Slovakia to another impressive Olympic run.  He may not have the firepower around him to medal, but he will not be easy to beat, or hung out to dry by any means.  If he can keep his eye on the puck through traffic, and control his rebounds he will be among the best at the Sochi games as he was in Vancouver.
Jaroslav Halak: Injury: Halak (illness) should be good-to-go for Tuesday's game. | With Jake Allen being reass… http://t.co/jGKqkYR2Gq

— Daily Faceoff (@DailyFaceoff) January 5, 2014
JP: Any chance that Slovakia has falls in the hands of Halak. Although both Peter Budaj (Montreal) and Jan Laco (Donbass HC, KHL) are far from insignificant in their respective leagues, Halak is the sure-fire starter and he was picked for his past transgressions on the international stage, as well as in the NHL playoffs. He served as the starter for Slovakia in the 2004 and 2005 World Junior Championships, then found his way to the starting gig in the 2010 Olympics.
There, Halak shined with 156 saves on 173 shots against, amassing an impressive .902 save percentage for a Slovakian club that finished with a 5-3 loss to Team Finland in the bronze medal game. Despite not finishing with a medal around their necks, the Slovakians still skated away as victors. Fourth place was the highest that the national ice hockey team has finished in its five Olympic appearances.
Where Will Slovakia Place in Sochi?
MP: Though they do have some NHL superstars throughout their roster, I don't think they have enough to pull themselves into medal contention.  I do think that every game will be a close one, but in the end I feel that Team Slovakia, even with Jaroslav Halak's puck stopping abilities will finish out of the top 5.  They may surprise and push for a medal, but there are simply too many other teams primed for Gold in 2014.
JP: For the sixth Olympic Games in a row, Slovakia will step in as the underdog. The hockey world will be shocked yet again if this team battles for medal placement. More so than any other Blue heading to the 2014 Olympics, Halak is the X-factor. If he can prove to stand up in tight-score situations, the Slovaks will yet again find themselves upsetting very good hockey teams. Mix in the talented forwards up front, led by Marian Gaborik, Marian Hossa and Richard Panik, with the top-end defense from workhorse Zdeno Chara, and the Slovak roster looks to be a frightening lineup.
However, depth will be the glaring problem. If Halak falters, the club will be forced to rely on Budaj, who has appeared in just three Olympic contests and six NHL playoff games. The talent drops off from the top-six forward group and behind Chara, Lubomir Visnovsky and Andrej Sekeras, the defense might fall suspect to the high-powered offenses that other teams will roll out. If the team can pull away with a ranking higher than fifth, it should once again be considered a victorious finish for this Slovak-speaking squad.
Be sure to check out the other parts of this series highlighting the Blues heading to Sochi:
Part 1: Team Russia
Part 2: Team Sweden
Part 3: Team Finland
Part 5: Team Czech Republic
Part 6: Team Canada
Part 7: Team USA
Like what you've just read?  Follow us on Twitter:
Mike Poepping: @pep30
Jeff Ponder: @jponder94
Mike has covered the St. Louis Blues and Tampa Bay Lightning in depth for The Hockey Writers since 2013. He is also a contributing writer for KSDK News Channel 5, the St. Louis area NBC affiliate, and has been a credentialed media member of the Blues since 2014. Follow him on Twitter @pep30.