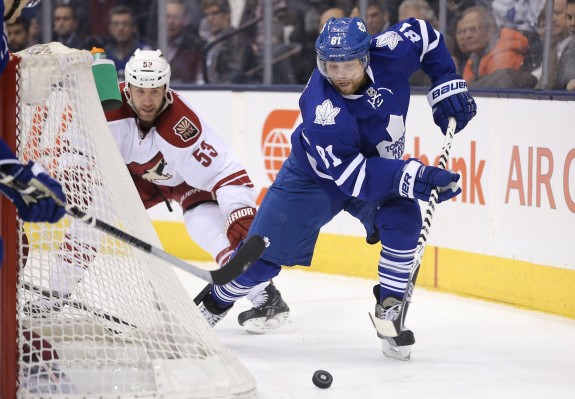 Many Toronto Maple Leafs fans seem to hold the belief that their team is headed straight for the bottom of the Atlantic Division standings. From one angle, it's easy to see where those fans are coming from; the team has put together a couple ugly outings against the Rangers and Islanders. But in reality, the Maple Leafs still have plenty of time and the players to get the job done.
The Maple Leafs currently sit fifth in the Atlantic Division, two points inside the playoff picture thanks to the newly-adopted wild card system. Sitting directly below them is the team they will face Thursday night and a team they recently defeated to wrap up 2013, the Carolina Hurricanes. Above them? Another team they recently defeated, the Detroit Red Wings.
For now there is no need for Toronto Maple Leafs fans to worry about any teams except for those around the Leafs. If you're one of those worried Leaf fans, you should be quick to remind yourself this is a team that nearly upset the Boston Bruins in the playoffs last year, learned from its mistakes and improved its roster heading into 2013-2014. That, combined with a world-class goaltending duo and top-notch players, should be enough to make anyone feel confident about their team.
Strong Goaltending
Unfortunately, many Toronto Maple Leafs fans and hockey followers in general are jumping on Jonathan Bernier's back for the weak performance he's put on in his last two games. What those fans fail to realize is that, despite the fact he was pulled and didn't have his strongest game on Saturday against the Rangers, he still managed to make 27 saves. Before you begin to tear at a goalie, be sure to double check the shot totals of the game first; Bernier was pulled after 36:35 of play and had faced 32 shots.
Every goalie will struggle from time to time. This isn't Bernier's first go around in the league — 2013-2014 is his sixth campaign. Not only does he have some experience under his belt, but Bernier also has the support of James Reimer to fall back on if need be. Yes, it still makes sense for the Leafs to ship Reimer out of town, but they might as well make use of his services while they can.
Now is the perfect opportunity to give Jonathan Bernier a rest and see what James Reimer can do for the time being.
Game Changing Players
Unlike many teams, the Toronto Maple Leafs are lucky enough to carry three forwards who have the ability to break a game wide open at a moment's notice: Phil Kessel, James van Riemsdyk and Joffrey Lupul. Mix their talents with defenders Dion Phaneuf, who can shut down the opposition's best on any night, Cody Franson and his solid two-way game, and Jake Gardiner's ability to hit the long-bomb pass in the blink of an eye, and you have yourself a talented core of young stars.
The Maple Leafs have seen the above-named go to work multiple times this season. Kessel and van Riemsdyk played particularly well together in 2013 and will undoubtedly carry that strong play into 2014.
Once one of the Maple Leafs' top players breaks the game open, coach Randy Carlyle has enough options to keep the momentum going; Tyler Bozak, Nazem Kadri and Mason Raymond to name a few.
Toronto Maple Leafs fans seem to be forgetting the three consecutive wins their team put together to close out December and open the New Year. Are the Leafs the Atlantic Division's best? Certainly not. But they remain a young team with loads of potential to improve their standing and qualify for the post-season in 2014.
Follow Lukas (@LukasHardonk) on Twitter for more Maple Leafs coverage. Also 'Like' THW Maple Leafs on Facebook and follow along on Twitter (@THW_MapleLeafs).