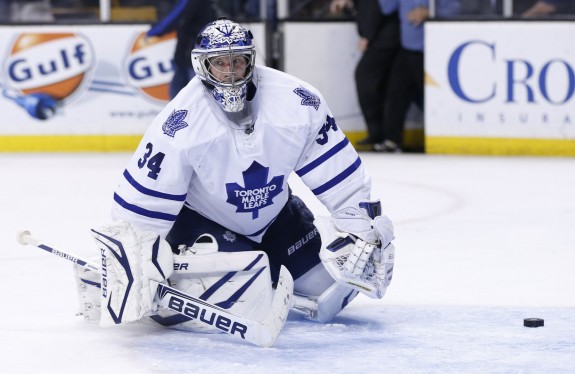 You can ask just about anyone — Jonathan Bernier is the Toronto Maple Leafs' top goaltender.
When the Maple Leafs traded Matt Frattin, Ben Scrivens and a second round draft pick to the Los Angeles Kings to get Bernier back in June, media and fans alike began to over-analyze the newly-found "goalie controversy" in Toronto. James Reimer was the incumbent No. 1 during the shortened 2012-2013 season, leading the Maple Leafs to the playoffs and just minutes away from a first round upset over the Boston Bruins.
Now many are wondering when the Toronto Maple Leafs will trade James Reimer.
Jonathan Bernier or James Reimer?
In case you haven't noticed lately, Jonathan Bernier has been on somewhat of a roll when it comes to starting games. The 25-year-old has started six straight for the Maple Leafs, making Reimer's last start December 19 against the Detroit Red Wings. And as Michael Roberts points out, there's a reason for that:
The team appears to play calmer and with an added boost in confidence with Bernier between the pipes compared to Reimer. There's no question Bernier has better rebound control along with significantly better puck-handling abilities, but for whatever reason it just seems Toronto plays harder in front of Bernier. It's not like the team is deliberately playing bad with Reimer in net, but it just appears as if the players on the ice believe in Bernier more than they do Reimer.
Not only do the Maple Leafs feel confident with Bernier in net, but Bernier seems to feel confident himself; he has allowed more than two goals just twice in his last six starts and more than three goals just once. Over that span, Bernier has a .934 save percentage to go with three wins and two losses past regulation, giving the team points in five of their last six contests.
So we've established that Jonathan Bernier has been the stronger of the two in net this season and it didn't take any in-depth analysis. Let's not take away from James Reimer as he owns a .923 save percentage this season, but the fact that we didn't have to do much digging to discover who should be and who is the Maple Leafs' No. 1 goalie should tell you something.
Should the Maple Leafs trade James Reimer?
Surely the Maple Leafs would love to have both Bernier and Reimer in the lineup. Two goaltenders who are capable of taking the No. 1 job and running with it is a great duo to have on your roster, especially when the season is down to the wire and playoff battles begin to heat up. But a time comes when players get frustrated, salary cap space is wasted, and trade assets can no longer be ignored.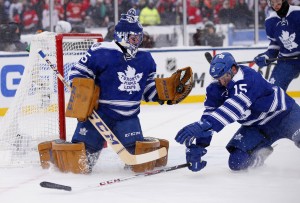 What cannot be ignored is the fact that James Reimer is set to become a restricted free agent at season's end. Restricted or unrestricted, a free agent is a free agent and there is the possibility of the player moving. The Maple Leafs would still benefit from a team handing Reimer an offer sheet and failing to match given that they would receive compensation through the entry draft, but that compensation wouldn't be quite equal to what the team would receive via trade on or before March 5 — the NHL trade deadline.
If the Maple Leafs elect to re-sign Reimer rather than trade him, they run two risks:
Match an offer sheet that is much too lucrative and/or lengthy and doesn't fit the team's salary cap budget.
Bernier once again outplays Reimer, resulting in wasted time and money while having to deal with the fact that Bernier will also be a free agent in 2015.
Of course there is the possibility of falling to both risks; the offer sheet is too much and too long, followed by a season of Bernier outplaying Reimer.
Bad situation.
James Reimer has played very well once again this season. His goals against average may not show it but there's a reason that statistic is largely ignored these days. Focus on his .923 save percentage and you have yourself a goalie that hasn't played as poorly as a hockey newbie would think his 2.89 GAA indicates. Already a goalie that could be a starter on just about any NHL roster, Reimer is only 25 years of age and has shown through his career — even now — that he has plenty of potential to improve even further.
When is the best time to trade James Reimer?
As noted above, the Maple Leafs could keep Reimer around for another year by re-signing him at season's end assuming he's not too fed up and frustrated with the current strategy that sees Jonathan Bernier's name as the team's starting goaltender just about every night. Or they could say away with that plan and cut straight to it.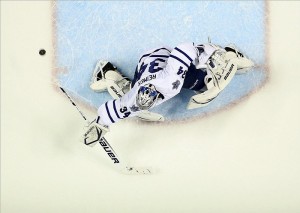 Moving Reimer prior to this year's March 5 deadline would provide them with a few benefits. First off, the compensation the Maple Leafs would receive via trade for Reimer is rather enticing. Toronto is in need of depth and have been in need all season. Moving Reimer to a team in need of a goalie as the playoff race approaches would allow the Maple Leafs to acquire the third line forward they could use. This, of course, would push one of Frazer McLaren or Colton Orr out of the lineup, something that would be nothing but beneficial to the team's success.
If the Maple Leafs choose not to trade Reimer this year and wait for him to agree to the contract they offer in the summer provided no other teams send him an offer sheet, it's likely Reimer would sign with Toronto before the deadline expires, only to continue his frustration through the season. And who could blame him?
When it's all said and done, the Toronto Maple Leafs only really have one option: trade James Reimer this season. Otherwise, the stakes are simply too high.
Follow Lukas (@LukasHardonk) on Twitter for more Maple Leafs coverage. Also 'Like' THW Maple Leafs on Facebook and follow along on Twitter (@THW_MapleLeafs).