2014 World Juniors
Make no mistake, a player's performance at the 2014 World Juniors is far from a guarantee about what his NHL future could look like.  For most fans, it's a chance to see their favorite team's prospects play live in a game for the first time.  A six game trial while playing with completely new teammates and system is not the end-all of a prospect.  At the same time, the World Juniors can serve as a springboard for some previously unknown players, giving them the attention that they deserve as prospects.  For others, there are high expectations that they are not able to meet for whatever reason.
With the caveat that this does not mean their future as prospects is over, here are the five most disappointing efforts from the 2014 World Juniors:
Canada's Bottom Six
This unit has been grouped together because touching on each one of them individually would simply be repeating myself.  Canada takes the unique approach of selecting a mix of player skillsets when picking the team, instead of taking the 13 most talented forwards available.  One big complaint of Hockey Canada is that they are leaving very skilled players home.  As a result, they load their top six with skill players, and populate the bottom six with grinders, two-way players, and penalty killers.  In 2014, this strategy was an utter failure for the Canadians.
The bottom six, for the most part, consisted of Taylor Leier, Josh Anderson, Frederik Gauthier, Kerby Rychel, and Scott Laughton.  Others like Sam Reinhart, Connor McDavid, and Bo Horvat spent some time in the bottom six, but those five above players were pretty much exclusively in the bottom six.  Throughout the tournament, they failed to make an impact in any meaningful manner.  They generated essentially no offense whatsoever, and did not provide the energy and physicality you would expect from that mix of players.  That group of five players combined for just one goal and two assists in the tournament, with each playing seven games.  Anthony Mantha had 11 points by himself.  They were supposed to give Canada a superior group of penalty killing forwards, but Canada finished a mediocre fifth in penalty killing.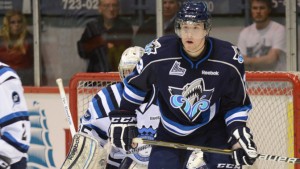 Laughton and Rychel were expected to provide secondary scoring to supplement the loaded top six, but they provided no offensive spark.  Frederik Gauthier was able to win a couple of faceoffs, but was invisible otherwise.  Anderson and Leier were just invisible.  As a result, many are calling for Hockey Canada to change their approach to selecting the team, including Corey Pronman.
My plan to fix CAN's U20: 1. Don't overreact 2. Simplify your decisions 3. Re-evaluate goalie choice process 4. Toss the grind line.

— Corey Pronman (@coreypronman) January 6, 2014
On 4: top three teams played their best players all situations. Teravainen on PK. Lindholm and Wennberg on PK. Grigorenko on PK.

— Corey Pronman (@coreypronman) January 6, 2014
Canada has the deepest pool of forward talent to choose from.  They should take advantage of it, and start taking the best hockey players they have.
Leon Draisaitl
On the surface, Draisaitl's stat line of two goals and four assists in five games seems pretty impressive.  Playing for Team Germany as an 18 year old draft eligible player, he had little offensive talent to work with, and was at a huge disadvantage.  But dig a little deeper, and it was actually a pretty poor performance from him.  Four of his six points came against Norway in the relegation round, meaning he mustered just two assists in games against real hockey nations.  Meanwhile, his teammate Dominik Kahun managed four goals and three assists, with only two of those points coming against Norway.  Draisaitl struggled on faceoffs, winning just 48.65% of the draws he took.  He also received two game misconducts in the tournament, one for a high stick against Norway, and the other for a hit from behind against the United States.  He will still be a top ten pick in the upcoming 2014 NHL Draft, but a great performance could have boosted his stock even further.
Norway leading Germany 3-0. Leon Draisaitl's poor tourney continues, as he got another game misconduct.

— Corey Pronman (@coreypronman) January 2, 2014
Marko Dano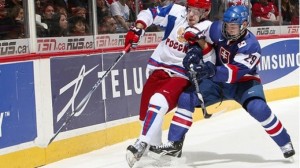 Going into the 2013 World Juniors, Dano was relatively unknown.  A strong tournament that included nine points in six games catapulted him into the conversation in the 2013 NHL Draft, where he was selected 27th overall by the Columbus Blue Jackets and Jarmo Kekäläinen.  Expectations were high for Dano going into the tournament, but he failed to meet them.  Instead, the line of Martin Reway, Milan Kolena, and David Griger stole the show for Slovakia.  They were electric on the power play, scoring eleven of Slovakia's seventeen goals in the tournament.  Dano, on the other hand, was an afterthought, contributing just a goal and one assist in five games.  Dano played well away from the puck, but Slovakia really could have used his scoring depth behind their top line.
North America's Goaltending
Going into the tournament, there were polar opposite feelings on the US and Canada's goalies.  The US was confident, after all Jon Gillies had been one of the best goaltenders in all of college hockey since he began his freshman year at Providence.  Canada, on the other hand, was filled with criticism.  Many fans were upset with Canada's decision to take only two goalies, and many thought that Tristan Jarry and Eric Comrie were more worthy selections.  After all, they both had save percentages above .920, whereas Paterson and Fucale both hovered around .900.  In the end, both disappointed.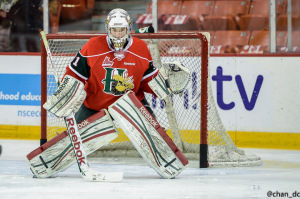 Gillies was not bad, but he was very average.  He made the routine saves, but didn't make the tough saves to bail his team out or win games by himself.  In the World Juniors, average goaltending will not win you gold.  Anthony Stolarz had a shutout against Germany, but was barely tested the entire game.  Fucale and Paterson were erratic throughout the tournament, never inspiring much confidence.  In the end, Paterson and Gillies ended with save percentages under .900, and Fucale was just above at .902.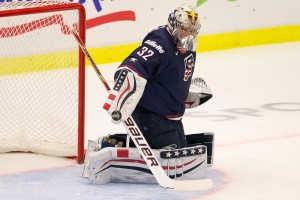 Danny O'Regan
After a very impressive freshman campaign where he was second among freshmen in points (behind USA linemate Riley Barber), expectations were high for O'Regan.  If there was a weak spot for Team USA this year talent wise, it was at center.  O'Regan played between Nic Kerdiles and Riley Barber on the USA's top line, but only managed one goal in the entire tournament.  His linemates combined for thirteen points.  O'Regan did get hurt in the tournament, forcing him to miss one game against Germany.  But when you're playing with the two best offensive players on the team, you have to do better than one goal in the whole tournament.
These players may have disappointed at the 2014 World Juniors, but the tournament is likely just a blip on the radar.  They are all very good prospects that likely have lengthy NHL careers ahead of them.