In other professional sports every player's equipment is tailored to their liking. The same standards hold true in professional hockey. There is one piece of equipment in hockey that goaltenders have complete control of and that is the design and theme of their helmets. A goalies mask often tells a story or pays homage to their country, personal background or team they're assigned to.
Have you ever wanted to know why goalies pick a certain design or paint scheme? Well this article is here to give you an insider's look into the designs and paint schemes of John Gibson, Igor Bobkov, and Brad Thiessen who are currently assigned to the top development club of the Anaheim Ducks, the Norfolk Admirals.
John Gibson teamed up with DaveArt in Sweden the same company that designs and paints Anaheim's Viktor Fasth's, and Frederik Andersen's masks.
"Gibby" went with the paint scheme called "The haunted insane asylum
Ducks on the loose." Gibson described his mask, as having some mean faces. John also said that he was pretty
laid back on the design and the only request he asked of DaveArt was to put his hometown of Pittsburgh on the back. As far as the turnaround time on his mask, it only took a month.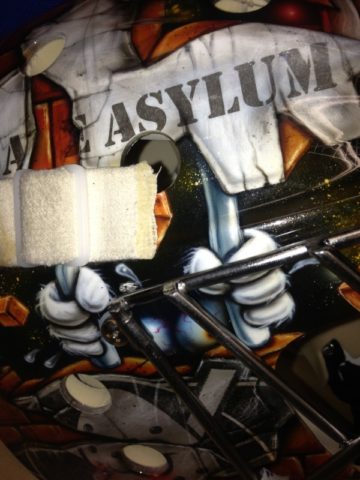 Second year goalie Igor Bobkov teamed up with DaveArt on his mask also, but his theme took a different route.  Bobkov's lid is pretty mellow compared to Gibson's.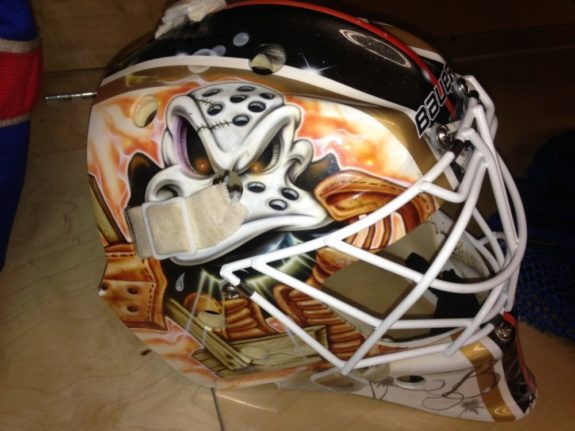 According to Igor, on the left side of his mask he has a Duck logo and the right side he has a duck as a logo with pads, gloves and a stick. The lower part of Bobkov's mask has his nickname, "Bobber". On the back Bobber wanted DaveArt to put every country's flag where he's played including Russia his homeland, Canada where he played his junior hockey, and the United States where he is splitting time between AHL Norfolk and ECHL Utah.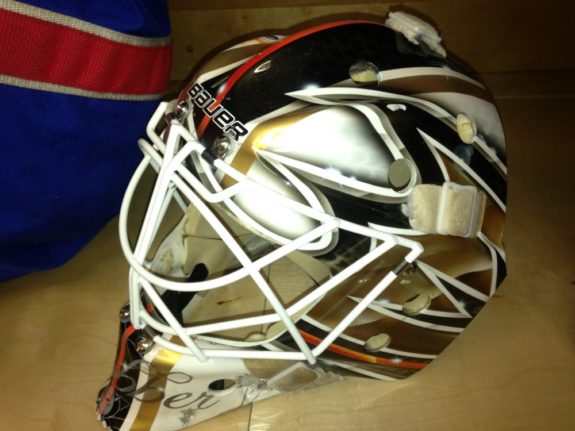 Brad Thiessen may steal the hearts of many Norfolk faithful's with the attention to detail and the historic design behind his mask. Thiessen struck an idea about a design as he chatted with a member of the Admirals equipment staff. Brad thought he should highlight the military because of the Navy's presence in Norfolk.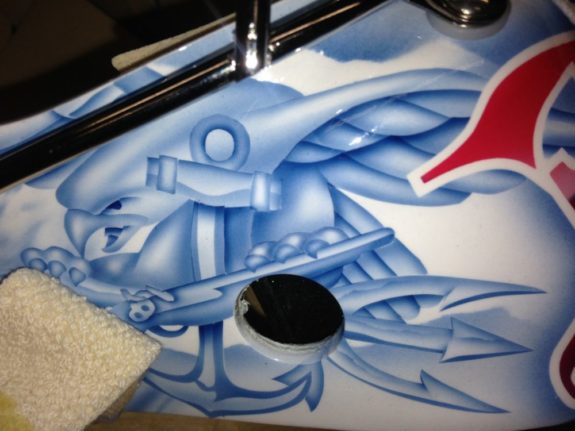 Thiessen chose Marc Bernier's company Griff Original as his designer. Thiessen told Bernier about the military presence and Bernier painted the Navy emblem, a Navy ship, and a fighter jet. The other side features a colonist as Thiessen explained that this area was one of the original places where English colonists dropped anchor.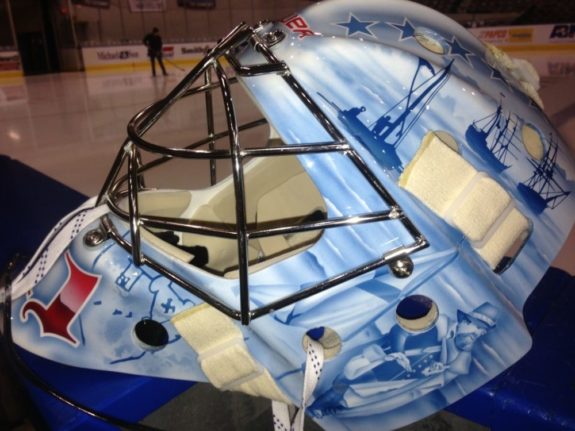 On the back Thiessen has a Canadian flag that displays his heritage, an emblem that displays his college alma matter Northeastern University, and a verse from the Bible, Philippines 4:13, "I can do all this through him who gives me strength."
Now that you know the stories behind the masks, come out to the next Norfolk home came on January 17, and view these magnificent works of art in person.
Follow Ted on Twitter @Bauerhockeydude