The St. Louis Blues will have a lot to look forward to when the Sochi Winter Olympic Games arrive.  Here, The Hockey Writers' Jeff Ponder and I will look at Blues players who may play for host nation Team Russia in February, and how they match up with their teammates and countrymen.  Jeff is abbreviated JP and I am abbreviated MP.
Russian Blues Gearing Up for Sochi
The Blues will have at least one representative on Russia's game day roster, and it's no secret who that will be.  However, the organization does have another member that was invited to Team Russia's orientation camp and a few who may just crack the roster in 2018.  We will focus on three Blues stars that have the brightest chance at making the team.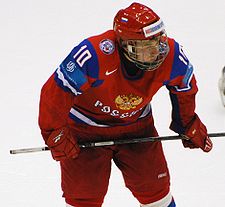 Vladimir Tarasenko:
MP: The man beast/solid steel wall who doesn't like to be called Tank was officially invited to the Team Russia camp in late summer, and has only showed signs of improvement since then.  His overall ice awareness makes him a pest for any opposing team, and his amazingly quick shot release fools goalies around the globe.  He has been a standout for Russia in World Juniors past (he has medaled with them twice, including captaining the Gold medal winning team and being named a tournament all-star in 2011), and has shown that he can play with the best the world has to offer.
He is still young and learning the game at the NHL level so his involvement in Sochi may be limited, but look for him to be a set-up guy on a very powerful Russian squad.  He may even surprise all of us and have a really great Olympics since he'll be back on international ice, I wouldn't put it past him.  He's a player that loves to contribute, and has had success in a leadership role for his country before.  Look for Vladimir Tarasenko to turn some heads in Sochi and to contribute to Russia's success on their home turf.
JP: If Tarasenko were left off the Russian Olympic roster, chances are that riots would be taking place in Sochi. Ok, not literally. The Blues have been better off with a healthy Tarasenko in the lineup this season. After lighting the lamp on a consistent basis to begin his career, 5 goals and 12 points in his first 17 games, the Russian prodigy was sidelined with a concussion and never truly returned to form during the remainder of 2012-13.
But he has been a vital piece to the Blues' core this season, playing with multiple line combinations yet still producing at a noteworthy rate. Posting 22 points in the first 40 games of your second NHL season is nothing to sneeze at. Tarasenko has proven in the past that he can contribute while playing with Olympic shoe-in Ilya Kovalchuk (remember him?), as well. Along with center Viktor Tikhonov, the three forwards were SKA St. Petersburg's top line during the NHL lockout. A reunion would mean only triumph for Russia and the experience could only benefit Tarasenko's future career with the Blues.
The @StLouisBlues (and Vladimir Tarasenko) were firing on all cylinders Thursday. Watch this falling goal: http://t.co/47SucwFkIk

— NHL (@NHL) January 3, 2014

Konstantin Barulin (no image available):
MP: Many Blues fans may have never heard this name before, but you will soon enough.  Konstantin Barulin was drafted by the Blues with the 84th pick in the 2003 draft, and has been playing in the KHL since 2008.  He is a solid goaltender, backstopping his current Kazan Ak-Bars team to a 2nd overall spot in the league this season.  He is continuing on an impressive developmental course that has lasted 6 seasons in the KHL thus far, and could battle Semyon Varlamov for the final roster spot which is no simple task (he could also battle Evgeni Nabakov for that final spot, but as with Team USA and Ryan Miller, previous Olympic success weighs in big time).  He has also seen some quality action during international play in the past, tending the crease for Team Russia in 2 World Championships (2010 and 2011).  Barulin may not make the team this Olympics but he was invited to the camp, showing that Team Russia officials are liking what they have seen from him over the past few seasons in the KHL.
JP: Barulin is currently taking the KHL by storm. Through Jan. 2, 2014, Barulin recorded a 14-7 record, to go along with a .935 save percentage, a 2.06 GAA, and 5 shutouts. His heroics in goal have been the biggest factor in Kazan Ak-Bars' earning that second place spot in the league (2nd out of 28 teams). Russia's goaltending is fairly stacked with NHL talent, though, as 2012-13 Vezina Trophy winner Sergei Bobrovsky heads a group of talented goaltenders.
He battles Nabokov (Islanders) and Varlamov (Avalanche) as the front runners for the starting position. But Barulin was invited to the Russian Olympic orientation camp roster for a reason.  If he can continue to shine in the KHL and prove that he can lead his team to glory, he could snag a third-string goalie spot and earn his chance to play for his native country. With Sochi serving as the host city, the 29-year old netminder will continue to work for his chance to prove himself in international play.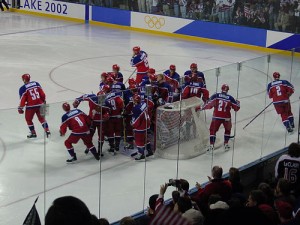 What to Expect From Team Russia in Sochi
MP:  I don't think there's going to be many surprises here.  Given Team Russia's firepower and depth, mixed with playing on their home soil, should give the team quite a boost in every game they play.  Most of their players have success internationally, and adding in an Olympic Gold is definitely on all of their minds.  With amazing playmakers such as Pavel Datsyuk, Evgeni Malkin, Alex Ovechkin, Vladimir Tarasenko, Slava Voynov and the list goes on…look for the Russians to make a strong push for the Gold.  Do I think they have the team to win it?  Yes, but I don't think they will.  I believe they will end up with Silver this year as their defense is slightly lacking, and thier goaltending could be a cause for concern if they get flustered (yes I know I am speaking about the reigning Vezna Trophy winner).
JP:  The Russians have as good a chance as anyone to place for a medal. The home-ice advantage really does drive a team to finish strong in the Olympic Games (see Canada, Vancouver 2010). But that is not the only reason that the Russians are favorites. The goaltending is solid with Bobrovsky and Varlamov leading the way. The defense is led by a slew of stingy skaters, including Anton Volchenkov and Slava Voynov. The offense is as prolific as they come, with Alex Ovechkin, Evgeni Malkin and, of course, Tarasenko playing big roles. It will be Gold or bust for the Russians.
Like what you've just read?  Follow me on Twitter: @pep30 Follow Jeff Ponder too! @jponder94
Be sure to check out the other parts of this series highlighting the Blues heading to Sochi:
Part 2: Team Sweden
Part 3: Team Finland
Part 4: Team Slovakia
Part 5: Team Czech Republic
Part 6: Team Canada
Part 7: Team USA
Check out our partners at TiqIQ for the best deals on St. Louis Blues tickets for all 2013-14 games.
Mike has covered the St. Louis Blues and Tampa Bay Lightning in depth for The Hockey Writers since 2013. He is also a contributing writer for KSDK News Channel 5, the St. Louis area NBC affiliate, and has been a credentialed media member of the Blues since 2014. Follow him on Twitter @pep30.