The Blues will likely be providing Sweden with one of the league's top shooters and a reliable center with a scoring touch. But there may be more coming from the Blues' roster.
After we took a look at how the Blues will contribute to the Russian roster, Mike Poepping (MP) and I (JP) will dive into the Swedish Blues players and what their chances are of playing in the Winter Games.
Alexander Steen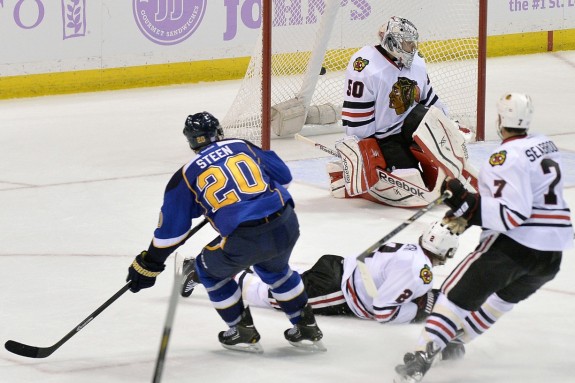 JP: When Steen was invited to the Swedish orientation camp in August, he already had a good chance to make the final cut. After all, he served the Swedish club for two U-20 World Junior Championships and in the 2007 IIHF World Championship. But his outstanding start to the 2013-14 season secured his place on the roster. His 24 goals and 38 points leads the Blues, despite only playing in 35 of the team's 41 games.
The only reason Steen would be left off Team Sweden's roster is if he cannot recover from his current concussion. Steen left the Blues' Dec. 21 matchup with the Edmonton Oilers in the second period with an upper-body injury and was then placed on injured reserve on Dec. 28. As with any concussion, there is no timetable for his return.
But if Steen can return in time, his two-way play and penalty-killing expertise will be vital to Sweden's success. With the firepower provided by the Sedins, Henrik Zetterberg and Johan Franzen, Steen will likely be relied on for his defensive play. But his ability to provide offense from the bottom-two lines (where he has served the Blues for most of his tenure) could be the difference between medal placement and going home empty handed.
MP: Steen always plays his international hockey with his family's home country of Sweden. He barely missed being a part of the 2010 Vancouver Games, and he has been enhancing his game ever since.
His on-ice prowess has been felt the league over this season and his 24 goals are still ranked second best in the show, even though he hasn't played since December 21. Though he is currently out with a concussion, he should be a game time decision for the team in Sochi. If he is able to make the trip to Russia, expect him to be a pivotal player for the Swedes, and expect him to start slow, but finish strong.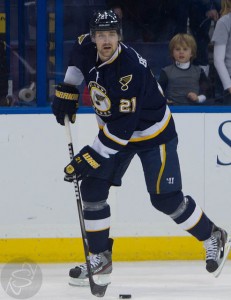 Patrik Berglund
JP: The Blues' 25th overall pick in the 2006 draft has slid in on the third line for most of the season. On a game-by-game basis, Berglund has provided his team with depth up the middle and a solid effort in the faceoff circle (48.9 percent). He's spent most of the season in between Vladimir Tarasenko and Jaden Schwartz.
The Swede has posted just six goals and 11 assists in 38 games this season, but as I wrote about a month ago, he is providing the club with more than just goal support. His game has translated from potential top-line threat to two-way skater with a scoring touch. He is used by head coach Ken Hitchcock on the power play (averages 1:38 per game) and on the penalty kill (averages 1:32 per game).
Berglund fits in his national team's lineup as a fourth-line center behind Henrik Sedin, Nicklas Backstrom and Henrik Zetterberg. But with Sweden's stacked lineup, along with Hitchcock's willingness to play him on the wing in the past, Berglund could find himself playing on either a scoring line or a checking line in the quest for gold.
MP: Berglund has been riding a roller coaster throughout this season, and has been slowly declining in production over the past few. He has played very well at times and has been better without the puck, but he is very relaxed in the offensive zone. He is slated to make Team Sweden for the Sochi games, but I wouldn't be surprised if the team's officials decided to go a younger route with someone such as Gustav Nyquist instead of him.
In the end I think he'll get to represent his country this February in Sochi, but he'll need to really bear down to make an impact.
Magnus Paajarvi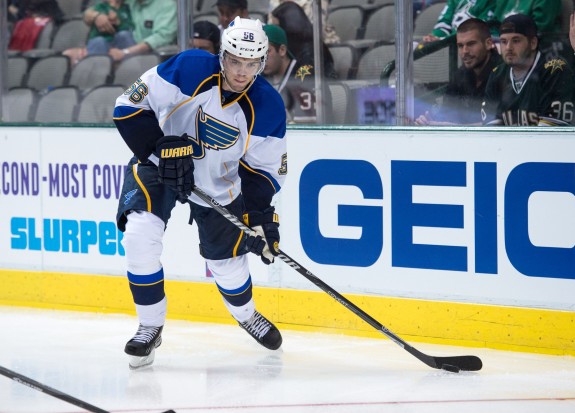 JP: Paajarvi has largely been used as the 13th forward on the Blues' forward unit. Acquired in a trade with Edmonton in exchange for David Perron over the summer, the 2009 first-round pick possesses swift hands, daft skating ability and a commendable willingness to fight for loose pucks in the corners.
Then why is he not a lock to make Team Sweden?
It still has not all come together for the 22-year old. Part of the reason he is yet to be considered a top forward for the Blues is because the Blues were set to enter the season and, although Paajarvi is no slouch in his own zone, he doesn't fit in well on a checking line. Playing in only 22 games this season does not help his chances of making the Olympic squad.
His best chance in making the team falls in pairings. If the Swedish selection committee feels that the team is best served with grouping teammates together, Paajarvi could be included in hopes that he and Berglund will recreate their magic from the 2011 World Championships in Slovakia. Sweden took home second place in the tournament and the two forwards combined for 12 goals and 17 points in nine games played.
MP: Paajarvi is a real up-and-comer in the league, and makes a great addition to a physical line. However, he can do more than help out a third or fourth line given the chance. He has the ice awareness and skill set to be a second line winger in the NHL if he continues to develop, and is given the right opportunities to capitalize.
His involvement with Team Sweden has been a success story in the past, when he helped their World Junior team to a Bronze medal in 2010. Due to his lack of regular playing time over the past few seasons, I don't think he will crack the roster for the 2014 Sochi Games, but I would expect him to be in the mix for 2018.
What to Expect From Team Sweden in Sochi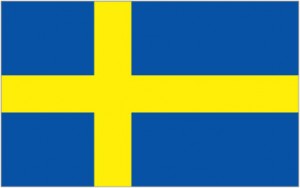 JP: Sweden has placed for a medal in just two of the last five Olympic Games, but both were gold medals (1994, 2006). It would be no surprise to see Sweden place in this tournament, especially with 2011-12 Vezina Trophy winner Henrik Lundqvist between the pipes. But with Russia playing on home ice and Canada always the favorite, another gold might be out of reach. Silver or bronze are definitely not insurmountable feats for the always difficult Swedes.
MP: Overall, I think Team Sweden is primed to have a great Olympics. I think the style of play they maintain will give them a shot at a medal, but ultimately I don't think they'll get one. I think due to their aging team and goaltenders who are going through adverse situations this season, I feel that they may play for a Bronze at best, but it won't be an easy fight.
If you like what you just read, feel free to discuss this with us on Twitter!
Jeff Ponder: @jponder94
Mike Poepping: @pep30
Be sure to check out the other parts of this series highlighting the Blues heading to Sochi:
Part 1: Team Russia
Part 3: Team Finland
Part 4: Team Slovakia
Part 5: Team Czech Republic
Part 6: Team Canada
Part 7: Team USA
I am a former NHL media member and reporter for the St. Louis Blues, working for various media outlets. Currently, I am an NHL News Writer and Editor for The Hockey Writers. I live in St. Louis and work as a freelance copywriter in numerous industries.