There is something more at play here than a lack of goals.
True, center Patrik Berglund is the go-to guy for Blues critics to find errors and general problems. After all, the Swede was drafted 25th overall in 2006 with his offensive upside being the main factor. After amassing 188 points in 358 career games, he has just one goal and eight assists in 24 games this season.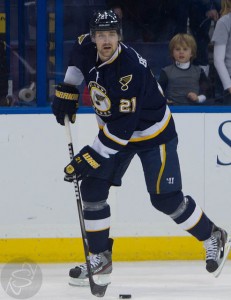 Does this seem to affect his relationship with head coach Ken Hitchcock?
"Just because he's not scoring doesn't mean he's not a good player," Hitchcock told Jeremy Rutherford of the St. Louis Post-Dispatch in mid-November.
This comment came after Berglund was forced to sit out the Blues' 4-1 loss to the Washington Capitals on Nov. 17 with an undisclosed upper-body injury. "He's a good player for us right now," added Hitchcock. "It really showed (in the loss) how much we missed him."
Berglund missed two more games with the injury, which included road wins against the Buffalo Sabres (4-1) and the Boston Bruins (3-2, SO). He returned in a 6-1 drubbing of the Dallas Stars on Nov. 23 at Scottrade Center, notching an assist on T.J. Oshie's third-period goal.
Berglund has not been the offensive dynamo that the Blues brass thought it was adding to the forward arsenal. Far from it. So what exactly was Hitchcock's team missing with Berglund out of the lineup?
With David Backes emerging as the team's top center and newcomer Derek Roy fitting in nicely on the second line, Berglund has been demoted to the third line – a spot he seems most comfortable since joining the NHL in October 2008. He has mostly spent time this season with youngsters Jaden Schwartz and Vladimir Tarasenko, but his linemates have also included the likes of Brenden Morrow, Chris Stewart and Magnus Paajarvi.
The center has averaged 16 minutes, 3 seconds of ice time per game, ranking fifth among forwards. This means that Berglund may not be slotted on the roster's top-six forward group but is receiving top-six minutes.
The reason? Berglund's role has changed. The days of "The Kid Line" with David Perron and T.J. Oshie are long gone.
Take a look around. Blues advertisements feature Oshie. NBC Sports is billing Alex Steen. David Backes is the face of Team USA in the upcoming Winter Games. Berglund has become a behind-the-scenes guy who personifies exactly what Blues fans love in their players: hard work.
It is difficult to find a stat that best exemplifies this attribute… except faith and trust from the coach. Berglund currently is tied with Vladimir Sobotka for fifth among average shifts per game by a forward (23.4). He also ranks third in faceoffs taken (311) and third in faceoff winning percentage (47.6). His 21 takeaways ties him for second on the roster.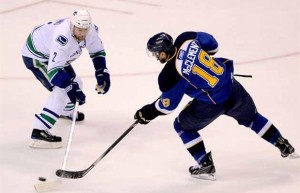 The Swede's history with the Blues mirrors that of a former fan favorite who even spawned a movement for Frank J. Selke consideration. The Blues' 57th pick in the 2001 draft, Jay McClement joined the Blues after the 2004-05 lockout. The center accumulated 76 points in 148 games with the Blues' AHL affiliate, Worcestor IceCats, spanning over two seasons. Before that, he was a standout with the Brampton Battalion of the OHL.
Looking to make the team more desirable to a potential buyer, general manager Larry Pleau moved some marquee players, leaving McClement as a front runner for a top-line spot. He was unable to fit in well on the first line but began to shine seasons after when he was placed in a third-line role. The rest was history and the "Silent Jay for Selke" campaign took off.
But Berglund is not just a typical bottom-six forward. In fact, his linemates usually fall into the same category. The Blues boast a surplus of forward depth and the skill spills over to all lines. Just last night, Berglund and Paajarvi connected for the Blues' fourth and possibly prettiest goal of the 5-1 victory.
Berglund also added a bit of comedy to the match, which is quickly circling around the internet. A post could not be written about him without including this gem:
The critics still ring in that the 6-foot-3, 217 lb. forward isn't enough of a force in the offensive zone. Once again, the good coach doesn't seem to mind.
"He's really competitive on the puck," Hitchcock said after Berglund returned from his injury. "I think when you play against teams like Washington and Boston, you get a real good look at what happens when you don't have size in the lineup … because they do. I thought it really showed on the road trip."
The naysayers will continue to do what they do best, but Berglund will continue to do the small things to keep his team atop the NHL standings.
I am a former NHL media member and reporter for the St. Louis Blues, working for various media outlets. Currently, I am an NHL News Writer and Editor for The Hockey Writers. I live in St. Louis and work as a freelance copywriter in numerous industries.