The past two weeks, fellow THW writer Mike Poepping and I have taken a look at the Blues selected to participate for their home countries in the 2014 Winter Olympics. Every player will be a vital cog in the success of their native land, providing steam to the engine as the teams chug along toward the ultimate goal: an Olympic gold medal.
Although the other seven Blues could skate away with their own stories of success after the Games end, the three most vital to their teams could be the ones who will suit up in the red, white and blue. Announced on Jan. 1, David Backes, T. J. Oshie and Kevin Shattenkirk will represent Team USA come February. The three Americans provide important skills to the success of their NHL team and will look to do the same for two weeks with fellow Americans at their sides.
Mike (MP) and I (JP) dive in deeper to the Team USA selections: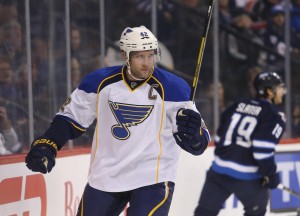 David Backes
JP: Switched from right wing to center a few years ago, Backes has thrived on the top line this season along with linemates Oshie and Alexander Steen (Sweden). It took 48 games to record six goals in 2012-13; this season, it took just seven games to reach the same mark. Through the Blues' first 45 games, Backes has recorded 17 goals and 35 points.
The Blues captain is expected to provide a top-six role for Team USA, but his most dire role will come on the penalty kill. Backes has asserted himself as one of the league's best two-way forwards, receiving a Selke Trophy nomination in 2011-12.
Expect to see Backes receiving the most minutes among forwards throughout the tournament. USA will need it when battling the high-powered Canadians and Russians.
MP: What can you say about Backes that hasn't already been displayed in his offensive resurgence this season? He has been the same all around captain he has always been, leading by example and focusing on the task (whatever it may be) that needs to get done to ensure a Blues victory. However, this season we have also seen Backes put up numbers that rival his best year in the league, earning 35 points in 40 games this season (to put that in perspective, he only had 28 points in all 48 games of the shortened year last season).
Backes is expected to be the very same player for Team USA, and his lead-by-example attitude is sure to help the group come together for the Sochi Games. His offensive prowess this season will translate well to the international game, and playing with a chip on his shoulder from 2010 should give him the determination to fight for every puck, and to make plays in front of the net as he does in St. Louis.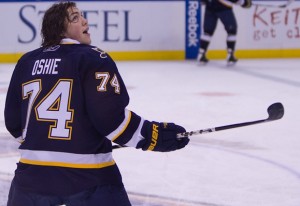 T.J. Oshie
JP: Serving most of the past three seasons as Backes' linemate, Oshie seemed like an obvious choice for the selection committee. In Kevin Allen's "behind the scenes" piece about the selection process, USA general manager Kevin Poile voiced the overall opinion.
"They think the intangibles put him above the other guys," Poile said. "The one thing they are asking for is Oshie."
The Blues' current point leader has been a lock in the shootout for his club. He is tied for second in the NHL among players who have shot five or more attempts, sporting a 66.7 success rate (four goals on six attempts). One on one, Oshie is as dangerous as anyone in the NHL.
Along with Backes, Oshie has become a top penalty killer for the St. Louis team. Although he will be relied on for offensive creativity as well, Oshie will be expected to help shut down the opposing forwards.
MP: Oshie was on a mission to make the Olympic roster this go round after barely missing the cut in 2010. He has evolved into a truly complete player, and has actually flown under the radar this season, quietly racking up points while Steen and Backes took charge. With both linemates missing some games due to illness and injury, Oshie has filled the gap nicely, and has been red-hot as of late (nine points in his last 10 games).
I believe he will carry his current fire on the ice to the Sochi Games, and I think he will be a true asset for Team USA. His in-your-face style of play will give him an edge over the competition because it will not be easy to separate him from the puck, and he is always looking to make a skilled play to an open man in a scoring position. I would even suspect he may get to play with teammate Backes and continue their NHL chemistry on the international ice where there is more room to maneuver. Oshie was a pivotal piece to Team USA's roster in three separate IIHF World Championships (2009, 2010, and 2013), and he will be again in Sochi.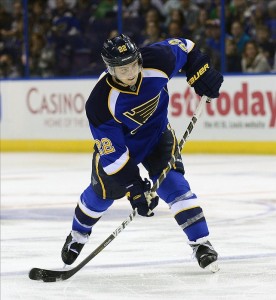 Kevin Shattenkirk
JP: When the names were being announced one by one on New Years Day, the hockey world was shocked to see numerous skaters picked ahead of Keith Yandle, who was considered a lock to make the team. However, Shattenkirk was not one of those in question.
Since he arrived in the NHL with Colorado during the 2010-11 season, Shattenkirk has dazzled opposing teams with slick passing and sorcery while weaving his way into the offensive zone. The smooth-skating defenseman instantly found his way into the everyday Blues roster when acquired in February 2011. The New York native has played in 199 of a possible 201 regular-season contests since joining the Blues.
The only drawback of Shattenkirk's game is that his willingness to lead the offensive rush sometimes leaves him in a vulnerable position if the play goes the other way. But his quick feet and commendable work ethic allows him to rejoin the play, no matter where he is on the ice.
Shattenkirk is one of three right-handed defensemen selected to the roster. With the other two being Justin Faulk and John Carlson, it is likely that the Blues defenseman will see plenty of power-play time. In five-on-five, Shattenkirk will likely find himself on the second pairing with Ryan Suter and Ryan McDonaugh possibly filling in on the first pairing.
MP: Shattenkirk was just as nervous as Oshie when the Team USA roster was being announced. He knew he was up against some of the top defensemen in the world while waiting to see if he would crack the roster, and while there is some controversy over d-men left off of the team (Yandle), he had nothing to worry about. Shattenkirk was selected for Team USA because of his overall ice vision, and his silent ability to gain assist after assist, game after game. He can find open ice, receive passes, and make smart plays all in the blink of an eye, and has a knack for finding someone open in a scoring position.
That's not his best quality, either. His defensive-zone coverage is among the best in the world, which is a major reason the St. Louis Blues are ranked third in the NHL for goals against (allowing just 2.18 per game) and second in plus/minus (at an impressive plus-45). He has shown the USA Hockey officials that he can play top minutes against the best in the world, and he seems primed to do so in Sochi. He may get burned to the outside a couple of times early in the tournament, but expect him to be a real contributor for the American squad.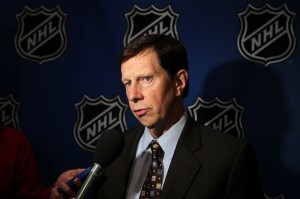 How Team USA will finish
JP: The Americans were the first to announce their roster, making them an easy target for scrutiny. Bobby Ryan, Kyle Okposo and Keith Yandle were the notable omissions while Max Pacioretty, Blake Wheeler and Brooks Orpik were the questionable selections. But Canada and Czech Republic left off some noteworthy talent from their lineups as well (Martin St. Louis and Joe Thornton for Canada, Jiri Hudler and Radim Vrbata for the Czechs). Seeing each roster on paper makes Team USA look a little more appealing.
Much like the Finnish roster, USA will be driven by its goaltending. Ryan Miller provided the Americans with stellar netminding in 2010 and, if given the chance, he'll do it again. However, it looks like Jonathan Quick will be minding the crease at least to start. His performance in each of the last two postseasons cement him as a truly big-time goaltender.
The last time the United States captured gold was one of the most iconic runs in sports history. Just like any recent Olympic Games, Team USA enters the tournament as a fine choice to contend for the ultimate prize.
MP: Now just to warn all of our readers, I'm going very bold with this prediction. I think that Team USA has the perfect mix of guys to upset the Russians on their home turf, if everything goes according to plan. I think they have the leadership, grit, scoring proficiency, and back-end support to bring home the gold. Add in the bitter taste in their mouths from Vancouver in 2010, and you have a volatile mix of excellence. It will be incredibly tough to get by the Russians, Swedes, and Canadians in particular, but in my eyes this team is ready for the challenge that awaits them in Sochi.
If you like what you just read, feel free to discuss this with us on Twitter!
Jeff Ponder: @jponder94
Mike Poepping: @pep30
Be sure to check out the other parts of this series highlighting the Blues heading to Sochi:
Part 1: Team Russia
Part 2: Team Sweden
Part 3: Team Finland
Part 4: Team Slovakia
Part 5: Team Czech Republic
Part 6: Team Canada

I am a former NHL media member and reporter for the St. Louis Blues, working for various media outlets. Currently, I am an NHL News Writer and Editor for The Hockey Writers. I live in St. Louis and work as a freelance copywriter in numerous industries.