Since taking over for Bobby Clarke in November of 2006, Paul Holmgren has been one of the most active general managers in the NHL.  If there is a quality player out on the trade market, you can bet that the Flyers' name will be among the list of teams that are interested.
This is a double-edged sword.  On the positive side, the Flyers have been a perennial contender during Holmgren's tenure as GM.  On the negative side, he has been criticized for being impatient and unwilling to let his team gel and develop.  As a result, he's found himself, at points, with little to no cap space and an empty prospect cupboard.
Without further adieu, here are the top 10 Paul Holmgren transactions as Flyers GM in no particular order:
Signed Danny Briere to an 8 year, $52M deal on July 1st, 2007
Do not let the fact that Briere was bought out of the final two years of this deal fool you, this contract was a very valuable move for the Flyers.  Despite the fact that Briere failed to meet the expectations that fans had in the regular season, Briere was money in the playoffs.  In his tenure as a Flyer, Briere was sixth in playoff points-per-game among all NHLers, and seventh in playoff points.  He carried the team to the Finals in 2009-10, leading the playoffs in points.  If the Flyers would have won that series, it is likely Briere would have won the Conn Smythe Trophy.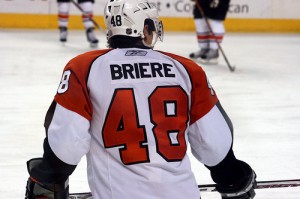 Briere's contributions did not stop there.  In his time in Philadelphia, Briere served as a mentor and role model to a number of young players, including Jeff Carter, Mike Richards, Claude Giroux, and Sean Couturier.  Briere even went as far as to have Giroux and Couturier live with him and his children.  Briere took the pressure off the young, developing players.  They were allowed to develop their games on the second and third lines instead of being forced onto the first line where they weren't ready to handle the spotlight and big minutes.  In Briere's first year in Philadelphia, Carter's point total jumped 16 points compared to last year, and Richards' total improved by 43.
Traded Alexei Zhitnik to Atlanta for Braydon Coburn on February 24th, 2007
With the Flyers mired in one of the worst seasons in their history, they took the rare role of seller at the trade deadline.  Looking to make a serious playoff run for the first time in their history, the Thrashers coveted the then-34 year old Zhitnik's veteran experience over Coburn, who had spent the past two seasons bouncing between the NHL and AHL.
The Thrashers were swept in the first round of the playoffs that year, and Coburn has gone on to be a solid, minute-munching top 4 defenseman for the Flyers.  Paired with Kimmo Timonen, the pairing has often been the Flyers' best pairing for the past seven seasons.
Traded Michael Leighton, 3rd round pick to Columbus for Steve Mason on April 3rd, 2013
After a remarkable rookie season, Steve Mason had been a consistent disappointment for the Blue Jackets.  When the Flyers acquired him in April, the move was seen as a low-risk, high reward move.  After all, Michael Leighton is awful, and a third round pick is not a big price to pay.
The results have been stunning.  Mason has been one of the best goalies in the league since the trade, single-handedly carrying the Flyers earlier this season.  Playing for a new contract after signing a one year deal in the offseason, Mason looks to be the #1 goaltender the Flyers have been yearning for.
Signed Matt Read to a three year contract on March 24th, 2011
After giving up a bounty of picks to acquire Chris Pronger, Holmgren resorted to signing undrafted free agents from juniors and college to populate the Flyers' prospect pool.  Read was a four year star for little-known Bemidji State University in Minnesota.  He was the leading scorer when the team made an improbable run to the Frozen Four in 2009.
After he was signed, Read reported to the Adirondack Phantoms where he put up 13 points in 11 games to finish the 2010-2011 season.  Read made the Flyers out of training camp after an impressive preseason, and has been a fixture in the Flyers' top nine since.  His versatility and special teams acumen has been a valuable asset for the Flyers.
Traded Steve Downie, Steve Eminger, 4th round pick to Tampa Bay for Matt Carle, 3rd round pick on November 7th, 2008
After a stellar Hobey Baker winning season at the University of Denver, Carle had another tremendous performance his rookie year in the NHL.  He was the centerpiece in the trade that sent Dan Boyle to the Sharks from Tampa Bay.  With Barry Melrose running a gongshow in Tampa Bay that included the mismanagement of young players like Carle and Stamkos, Paul Holmgren pounced on the vulnerable Lightning.  A week before Melrose was fired, Carle was sent to Philadelphia.
There has not been a more under-appreciated player in recent Flyers history than Matt Carle.  Fans moaned and groaned over his "weak" wrist shots that always found the net, and his "constant turnovers".  In reality, Carle was one of the most effective even strength puck moving defensemen in the NHL during his time in Philadelphia.  The year after he left, the Flyers went from 7th in 5-on-5 GF/GA to 25th.
Many fans claimed he was being "sheltered" by linemate Chris Pronger.  But in his time in Philadelphia, Carle was a better even strength scorer than Pronger, and his teammate Kimmo Timonen.  Below is a chart of the best even strength point producing defensemen from 2008-09 to 2011-12, Carle's time as a Flyer.  The chart contains the most famous, highly regarded offensive defensemen of the time, and Matt Carle.
Hired Peter Laviolette on December 4th, 2009 & Fired Peter Laviolette on October 7th, 2013
During John Stevens' tenure as Flyers coach, the young stars on the team like Mike Richard, Jeff Carter, and RJ Umberger blossomed.  Stevens was a great coach in terms of developing young players, and his lack of a defined system allowed them to flourish as young NHLers.  But by the 2009-10 season, the Flyers were a team of seasoned veterans that were not playing up to their talent level because of the lack of a system.  As a result, Stevens was canned and Laviolette, a taskmaster with a strict attacking system was hired.  The team went on a tremendous run to the Stanley Cup finals, and with even competent goaltending, could have won it all.
When Mike Richards and Jeff Carter were traded for young players, Laviolette's clock began ticking.  For his system to work, Laviolette needs established, veteran NHL players that will stick to a system.  Youngsters like Brayden Schenn and Sean Couturier struggled in his system as a result.  Combined with his lack of in-game adjustments, it became clear that change was necessary, and Laviolette was fired.  Holmgren hired Craig Berube, a developmental coach with a system.  As a result, the team's play has improved drastically, and the team currently owns a playoff spot.
Signed Jaromir Jagr to a 1 year, $3.3M deal on July 1st, 2011
After a three year hiatus in the KHL, Jaromir Jagr announced his intentions to return to the NHL.  The overwhelming consensus was that he would re-join the Pittsburgh Penguins.  Jagr shocked the hockey world when he signed in Philadelphia.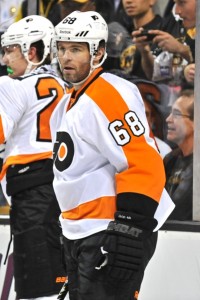 Jagr was placed on a line with Claude Giroux and Scott Hartnell.  The result was one of the most productive lines in the NHL, with Giroux and Hartnell both setting career highs in goals, assists, and points.  Jagr's vision, strength on the puck, and playmaking skills made the line click.  Without Jagr on his wing, it is unlikely Giroux would have had the career year that put him among the league's elite.  Jagr also served as a veteran leader and positive example on the team with his tireless training regimen and hard work.
Traded a 1st round pick to Nashville for Kimmo Timonen, Scott Hartnell on June 18th, 2007
With this trade, Holmgren's actions gave birth to the practice of trading draft picks for the unrestricted free agency rights to pending free agents.  He quickly inked the two to a pair of six year deals, and they have been fixtures on the Flyers since.  Timonen has been a very effective two-way, top pairing defenseman that has played in all situations.  Hartnell brings a rare blend of physicality and skill.  If you look at the most successful lines the Flyers have had in his time in Philadelphia, Hartnell is the common denominator.  He was a big member of both the Hartnell-Briere-Leino and Hartnell-Giroux-Jagr lines.
Traded Alexandre Picard, second round pick to Tampa Bay for Vaclav Prospal on February 25th, 2008
After suffering a concussion and re-aggravating the symptoms due to returning too early, Simon Gagne was shut down for the remainder of the 2007-08 season.  Coming off of a 40 goal season the year before, the Flyers needed to replace his offensive punch.
They acquired a familiar face in Vinny Prospal, who instantly had chemistry with Danny Briere.  Prospal would go on to score 27 points in 35 combined regular season and playoff games for the Flyers, leading them to a surprise run to the Eastern Conference Finals.  He may have only played for 35 games, but was extremely valuable in that time, and in hindsight the cost ended up being very minimal.
Traded Jeff Carter to Columbus for Jakub Voracek, 1st round pick, 3rd round pick on June 23rd, 2011
This trade was a part of Holmgren's most controversial offseason as Flyers general manager, where he made the franchise-altering decision to trade Mike Richards and Jeff Carter.  Normally, trading a two-way 6'4″ #1 center for futures would be a bad idea, but the trade has worked out well for the Flyers.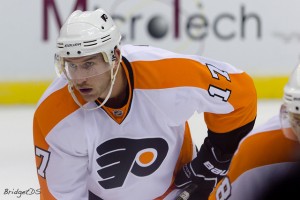 Voracek has emerged as a dangerous top six winger alongside Claude Giroux, scoring the tenth most points by a right wing since the trade.  The first round pick ended up being Sean Couturier, who at the age of 21 is already one of the best defensive forwards in the NHL.  The third round pick turned into Nick Cousins, one of the best forward prospects in the Flyers' system.
These ten shrewd Paul Holmgren transactions have paved the way for future success in Philadelphia.  Holmgren has not been without his mistakes, and I will highlight his ten biggest blunders next week.