Since he entered the Ontario Hockey League as an under-aged player in the 2011-12 season, Aaron Ekblad has had the spotlight (and some sizable expectations) upon him. At the BMO Top Prospects Game, the captain of Team Orr and the #3-ranked North American skater by NHL Central Scouting was one of a handful of players at the very top of most scouts lists of players to watch.
And for good reason. The 17-year-old is a point-per-game player and captain of the OHL's Barrie Colts. He served as captain of the gold-medal-winning Canadian team at the recent Ivan Hlinka Memorial Tournament. And he represented Canada again over the holidays, jumping up nearly two age brackets as part of the World Junior entry in Malmo, Sweden.
We had the chance to chat with Aaron Ekblad prior to the Top Prospects Game in Calgary.
What's the best advice you've gotten about how to deal with these types of high-pressure situations?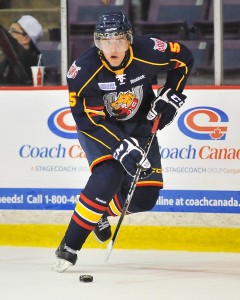 There's a lot of people who have helped me get through it, whether it's Dale Hawerchuk, who's been there, done it all. Bobby Orr's been there, done it all. Those guys are great to turn to in times of high pressure situations. However, with my mental state, I'm fine with taking care of that myself. I'm not someone placing my problems on someone else, but the kinds of pressures that I deal with aren't anything too out of control. I have a lot of great teammates on all the teams I've played for that have helped me through all my [pressure situations].
Do you look at the draft rankings at all? Or do you put it out of your mind?
I try to focus on playing the game. Like I've said in the past – I've said it a thousand times and I'll say it again – team success comes before individual success. I've learned that from some of the greats of hockey. You see it everyday in the OHL and all over the CHL. If you win, you're going to be touted as a better player, just because you know how to win.
Sean Monahan was able to jump into the NHL right out of the draft, and he's been lauded for his maturity. Do you try to carry yourself with maturity and try to focus on being the best junior you can be so you can be the best pro you can be when the time comes?
Yeah. To be a pro means you need to be mature, it means to be able to step into big minutes at big times, and if I have that opportunity, then great. But I know it's hard work and it's teammates that have brought me here, so that's nice.
Do you peek at the NHL standings at all to see where you might go, or is that something you try to put aside for the summer?
Yeah. I know what the possibilities are, but to have those possibilities continue to be there I have to be at my best every night. I think that's important. If I just worry about playing hockey, those things will fall into place and stars will align.
Ryan Pike has covered the Calgary Flames and the NHL Draft extensively since 2010 as a Senior Writer for The Hockey Writers and Senior Contributing Editor of FlamesNation.ca. A member of the Professional Hockey Writers Association, he lives in Calgary.