The Edmonton Oilers, staring a lost season in the face, decided to cut bait on their most frustrating possession: Devan Dubnyk. The 27-year-old net-minder is currently making $3.5-million. His contract will expire at the end of this season, when he will become an unrestricted free agent. Thus, we have to ask ourselves: was Dubnyk traded as a rental player to a team with illogical playoff aspirations?
Dubnyk Traded: The Oilers Perspective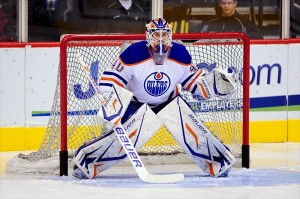 As I previously alluded to, the Oilers season is lost. They are 15-29-5, good for 35 points – worst in the Western Conference. In addition, Edmonton has the worst goal differential in the league at minus-46. Dubnyk became expendable when the Oilers brought in Ilya Bryzgalov on a one-year deal. While Bryzgalov got off to a hot start, he has struggled mightily as of late. The Russian net-minder has given up four goals or more in four of his past five games.
While Bryzgalov's stats certainly don't contain any reason for optimism about his prospects of turning his career around, Dubnyk has simply run out of chances in Edmonton. The 33-year-old Bryzgalov has a much higher ceiling and also a higher floor.
For the Oilers, Matt Hendricks is a cheaper and younger version of Ryan Smyth. Hendricks, 32, is owed $1.8-million per season over the next four years after signing a contract extension recently. Hendricks isn't going to make any significant additions or subtractions to the fate of this team, but he is going to provide what the Oilers really need — defensive integrity. Hendricks, a native of Blaine, Minnesota, has been an important member of the Predators penalty-kill this season, and his ability to block shots, provide hits, and win face-offs is quite valuable to an Oilers team that is lacking in those categories. He should be a great fit with Boyd Gordon (should the Oilers retain Gordon's services).
Let's quickly compare Matt Hendricks to Ryan Smyth:
| | | | |
| --- | --- | --- | --- |
| Player | Year | Fenwick For (close) | PDO (close) |
| Ryan Smyth | 2013-2014 | 47.3% | 96.2 |
| Matt Hendricks | 2013-2014 | 45.9% | 97.0 |
| Matt Hendricks | 2012-2013 | 48.2% | 96.5 |
PDO, defined as shooting percentage plus save percentage (when a given player is on the ice) can be a useful stat. Seen here, we see that when the score is close, these two players are nearly identical, and both appear to be hurting their team. However, the significant penalty-kill time these two can both provide, is important nonetheless. Fenwick-For and PDO, are both stats that are best used in 5-on-5 situations (as the stats listed above are). If Hendricks can return to his effectiveness he exhibited with the Washington Capitals, this low risk move by the Oilers should work out for them. It's not like they were going to retain Dubnyk anyway.
Dubnyk Traded: The Predators Perspective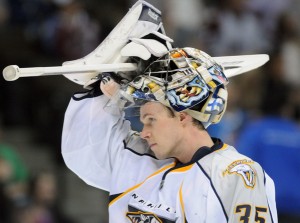 This move by General Manager David Poile is a bit of a head scratcher. No, not because Hendricks is an extremely valuable commodity or a vital piece to that team, — Paul Gaustad already serves the purpose that Hendricks was — it is puzzling because it reeks of  a GM trying to make the playoffs in order to save his job. The recovery of Pekka Rinne has gone slower than expected, and for some strange reason the Predators feel they are in need of a goaltender, rather than a scoring presence.
Look, Carter Hutton has been bad. Even Head Coach Barry Trotz publicly shamed his goaltender saying his goaltending was "not good enough for this league", but the Predators need goals. If the Predators were serious about having a playoff worthy team, the right move would've been to more aggressively covet Thomas Vanek a couple of months ago.
The other reason for this move could be that Poile — and this time, rightfully — believes that Dubnyk was hung out to dry by a terrible Oilers defense, and that a change of scenery (to a better defensive team) would do him well. This of course, requires the caveat that he either must be re-signed by Nashville (for a backup goalie price), or that Poile will flip Dubnyk at the trade deadline after he has acquired some added value. Should Dubnyk improve his stats as a Predator, there are teams like the Pittsburgh Penguins and Minnesota Wild that could use another half decent goaltender behind their starter. But we doubt Poile is that smart; he hasn't given us any reason to believe that up to this point.