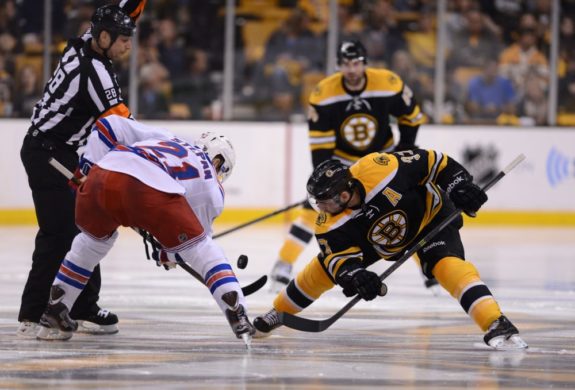 Under Claude Julien's regime, the Boston Bruins have never had a major problem with killing power plays and with it's special teams. Well, that is until now. The Boston Bruins' special teams and penalty killing units have been failing as of late and as a result, the team is now struggling.
Since December 31, the Bruins have allowed an alarming ten power play goals in 27 opportunities. The Bruins haven't fared much better on their own power play. In the seven games since December 31, the Bruins have only scored one power play goal, a Patrice Bergeron power play goal against the Islanders on New Years Eve, in 23 tries.
[Stadium Series Update: NHL Stadium Series tickets are available from PrimeSport]
The Bruins are 3-5 in their last eight games and this is a huge reason why they are on this current skid and there appears to be no end in sight. In Tuesday nights game against the Toronto Maple Leafs, the Bruins gave up two power play goals that turned out to be very decisive in a 4-3 loss to the Leafs.
Head coach Claude Julien doesn't seem to be too fazed by their recent struggles, saying,
"Every year we go through this, guys. Every year, [in the] middle of the season, we seem to go through a struggle, and we work our way out of it. Nothing is different… I mean we're sitting here, and we're talking about our team, but there's not a single team in this league that doesn't go through this. I'm trying not to be overly critical versus trying to fight our way out of it, and that's what I'm trying to do here. That's why I'm kind of avoiding some of these questions here about this and that. It's not about being negative here, it's about working our way out of it."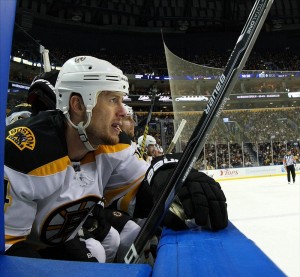 That's true, but there doesn't appear to be a simple remedy in Boston. The Bruins are without a couple of their best penalty killers in Chris Kelly (broken fibula) and Dennis Seidenberg (torn ACL &MCL), in fact you could probably point to Seidenberg's injury as the start of the downward spiral for the Bruins' special teams. Seidenberg injured his knee on December 27, just two games before the Bruins scored their last power play goal to date.
The Bruins are making far too many mistakes on the penalty kill. For example, in the game against Toronto on Tuesday night, Gregory Campbell and Daniel Paille focused too much on Dion Phaneuf and Phil Kessel and absolutely forgot about Jake Gardiner. Gardiner was able to sneak one past Tuukka Rask for the first of two Maple Leaf power play goals.
How exactly can the Bruins fix this mess before it turns into a full blown meltdown? There's no easy answer for that. Julien has tried shuffling the penalty killing units around, including placing Zdeno Chara on the second power play unit to help finally score some power play goals. Still nothing.
There is no set timetable for Kelly's return from his broken fibula, although he is skating. His presence would somewhat helpthe ailing special teams, but his return isn't going to solve their problems, it may help, but it won't end it. Perhaps it's only a slump that all teams go through like Julien and Jarome Iginla have stated, but the Bruins are heading out on the road against two tough teams in Dallas and Chicago. Usually trip on the road don't help matters much, especially when one of the games is against the defending Stanley Cup champions.
Tuukka Rask put it best when he was asked how difficult it is to win when you can't kill a penalty or take advantage of power plays.
"It's almost impossible."
If it's impossible to win now like this, you can just forget about the Bruins heading back into the Stanley Cup Final. That would be impossible.
What do you think of the Bruins' special teams and how do you think they can remedy it? Comment below or send me a Tweet, @MarkWGraham