The summer of 2013 was an eventful one for the Ottawa Senators. The Senators opening round victory over the Montreal Canadiens in the 2013 playoffs — before being ousted by the Pittsburgh Penguins in the second round — convinced General Manager Bryan Murray that his team was one big piece away from being a major contender.
In early July, Murray capitalized on a tenuous situation between the Anaheim Ducks and their struggling star Bobby Ryan. The 26-year-old Ryan, a native of Cherry Hill, New Jersey, grew weary of then Head Coach Randy Carlyle during the 2012-2013 season, while he was a member of the Ducks. Ryan's frustrations became quite public  and as a result he became the subject of quite a few trade rumors. Murray, who was searching for an answer to the loss of long-time captain Daniel Alfredsson, gambled on the struggling young right winger when he sent Swedish born youngster Jakob Silfverberg along with Stefan Noesen and a first-round pick to Anaheim in return for Ryan.
Focusing first on the return for Ottawa, it's important to note that this was a serious investment for the Senators. Ryan, who was the second overall pick in the  "Sidney Crosby Draft" of 2005, recorded only 30 points in the 46-game lockout-shortened 2013 season. While it's true Ryan has definitely provided outstanding production — 36 points in 42 games as of this writing — the move opens itself to "Monday morning quarterback" analysis because the 200 pound winger is only under contract until the end of 2014-2015. It stands to reason that Ryan, who is an American, is in no way a shoe-in to re-sign with Ottawa once his current deal is up.
The 23-year-old Jakob Silfverberg was definitely the prize among the trio of assets that the Senators sent the Ducks, but 20-year-old Stefan Noesen deserves some attention as well. Noesen, a native of Plano, Texas, posted well over a point-per-game during the past three-years as a member of the Ontario Hockey League's Plymouth Whalers. The 205 pound right winger was selected 21st overall by Ottawa in the 2011 NHL Draft.
While all of this post-trade analysis isn't the point of this article, the realization of the hefty amount of assets given up by Ottawa is a necessary, as it  underscores the extreme importance that this season, and next season, holds for the Senators.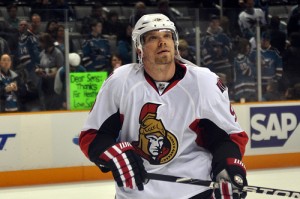 After a very public break-up between the Senators and long-time captain Daniel Alfredsson, the team from the Canadian Tire Centre began to scan their ranks for a new captain. Their search ended with 30-year-old center Jason Spezza. Spezza, a native of Mississauga, Ontario, is the third longest tenured Ottawa Senator on the active roster. Spezza's 11 years with the club slate him behind Chris Phillips and Chris Neil whom have been with the team for 16 and 12 seasons respectively (a fact that is without a doubt the major contributing factor to Neil and Phillips both being named alternate captains). Spezza leads active players on the Senators, having amassed 651 points in 650 games with the club. In addition, Spezza and Dany Heatley are the only players in Senators history that have averaged over a point per game. 

At first glance Spezza's overall point production (30 points in 39 games) looks perfectly fine, but a closer look reveals that his 5-on-5 effectiveness has declined. So far this season Spezza has 16 of his 30 points in 5-on-5 situations. This is in contrast to his 2011-2012 season (his last healthy season) during which Spezza posted 51 of his overall 84 points, in 5-on-5 situations. For those who aren't mathematical robots, those rates are 53% and 61% respectively.
The Ontario native has posted a minus-14 plus/minus rating on the season, a number that is second worst to only Milan Michalek (a frequent line-mate of Spezza). Michalek isn't blameless either, as his 0.43 point-per-game rate — 18 in 42 games — is the 29-year-old Czechoslovakian's worst point-per-game output since his rookie year with the San Jose Sharks. Michalek has regressed significantly since his 2011-2011 campaign, during which he potted 35 goals. The 35 goal output, a career high mark, played a significant role in Michalek's 52.6 percent Corsi-For rating. Corsi, which is explained in this article, is far from an "end-all-be-all" form of analysis, but it has quite a bit of relevance.
For example, it stands to reason that since Michalek and Spezza skated together 80 percent of the time in 2011-2012, they obviously had good chemistry throughout what was an excellent season for the tandem. The numbers reflect this, as Michalek's Corsi-For rating was 53.6% with Spezza as his center, and just 49.1% when they were separated.
Unfortunately for the city of Ottawa, 2013-2014 has not been kind to the duo. Michalek's individual Corsi-For rating is 50.3% thus far. Not only has Michalek's individual production declined, his chemistry with Spezza has flip-flopped. Michalek is now better when separated from Spezza, as the Czech native has a 51.2% Corsi-For rating without Spezza as his 5-on-5 line-mate. Michalek has been more productive without Spezza than with him.
Michalek isn't the only Senator experiencing a production dip while skating with Spezza. Right winger Cory Conacher has a Corsi-For rating of 53.0% and during his 147 minutes and 26 seconds with Spezza, the 24-year-old records a 47.7% Corsi-For rating.
Finally, the Senators are 2-0 with Spezza out of the lineup (wins against the Boston Bruins and the Washington Capitals). The 30-year-old captain is currently nursing a lower-body injury.
The Problems in Ottawa, Part 2: Penalty Minutes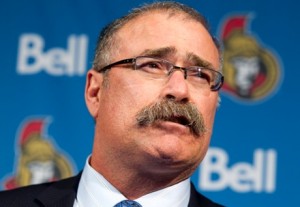 Head Coach Paul MacLean's Senators can be described using a single item: his vintage mustache. The Senators, headed by tough guy Chris Neil, are a ferocious bunch. Their punishing style of hockey sees them ranked first in the league in minor penalties taken, as well as times shorthanded — and the margins on those categorical leads are not even close. The biggest problem with being on the penalty-kill so frequently is that it restricts time spent in the offensive zone.
At least there is some good news on account of the fact that taking of a lot of penalties shows no direct correlation to making the playoffs. Though it stands to reason that it's really ineffective hockey. The Boston Bruins had the worst power-play time minus penalty-kill time ratio in the league last year (during the regular season), and they made the Stanley Cup Finals. Although, the Colorado Avalanche did lead the league last year in penalty-kill time, and we all know how abysmal their season was under Joe Sacco.