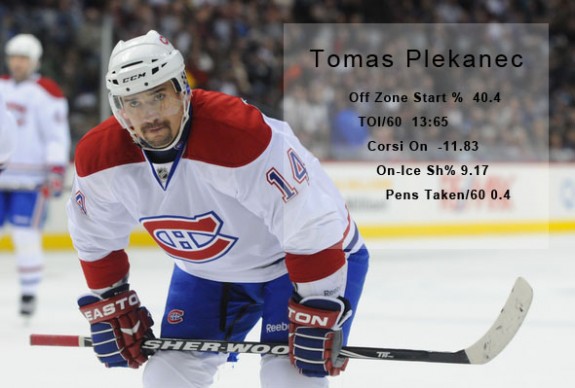 Goals, assists and points are no longer enough to gauge a player's strengths or weaknesses. The official NHL main stats page is 15 columns long. And while individual team sites offer valuable insight including game-by-game trackers or season-by-season trackers, these numbers like any stat, are open to interpretation.
@AndrewBerkshire Budaj has a better GAA and winning% than Price. Price has a better save%.
Both are having great years. #numbersdontlie

— Mike Johnson (@mike_p_johnson) December 29, 2013
@mike_p_johnson @JoeMeloni Save percentage is the best indicator, I don't think GAA or wins tell much considering quality of opponent.

— Andrew Berkshire (@AndrewBerkshire) December 29, 2013
In recent years, a number of dedicated hockey fans have launched websites devoted to quantifying countless aspects of the game or revising old statistics into more accurate equations. Now a player's ice time can be measured against their quality of competition, a defensive forward's efficacy can be measured against a shots for differential or a defenseman's defensive play can be measured by blocked shots or turnovers.
Here are some go-to websites that offer advanced statistics on almost all aspects of the sport:
NHL Player Statistics
QuantHockey is a good place to go for player stats of all kinds including nationalities, ages, records, season-by-season point comparisons etc.
For a much more in-depth analysis of a player's performance that takes into account quality of competition, face-off situations and Corsi numbers, Behind the Net is a great tool:
The stats are complicated and account for almost any factor that would affect any player's performance so be sure to refer to the accompanying blog that does a great job of breaking down the logic behind each stat:
BehindtheNet.ca: Frequently asked questions
I also enjoy ESPN's player pages that offer game-by-game stats and splits:
Finally, a good source for giveaways, turnovers and takeaways can be found at SportingCharts.com.
It's a great source for easy to read stats that can also be downloaded. For instance, here is a graph of Tomas Plekanec's Career Turnover Plus/Minus: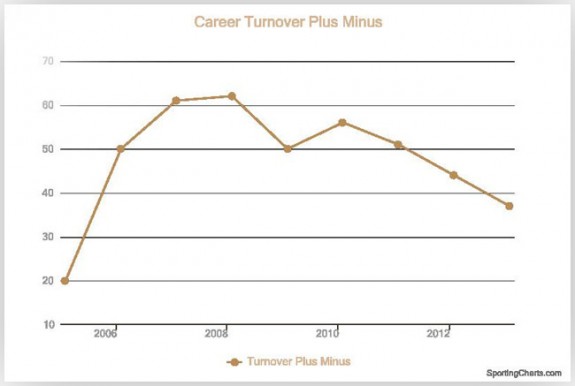 A good source for advanced research on goaltending statistics and new ways of interpreting often-used numbers comes care of Contrarian Goaltender and SBNation:
ContrarianGoaltender.Blogspot.ca
SB Nation courtesy of C Austin, Seven Stats: Playing Goalie Numbers
NHL Team Stats
The Extra Skater is a great resource for advanced team stats, team comparisons as well as player performance for any given night:
Hockey Reference is another database offering a wide range of stats on any player:
The best source for line combinations and pairings can be found at Hockey.Dobbersports.com:
Hockey.Dobbersports.com Line Combinations
Game by game tracking of player shifts can be found care of ShiftChart.com
The impact of man games lost to injuries for any given team has been calculated by Man Games Lost:
Man Games Lost to Injuries FAQ
For an amalgamation of advanced stats on any player including their efficacy with teammates, Stats.HockeyAnalysis.com is a great site:
Thanks to Josh Kay of THW for directing me to the teammate stats page which is a bit difficult to find: Tomas Plekanec Stats with Teammates
Referees
If you want to scout the referees in advance of any team game or see what plays might be under review, Scouting the Refs is a good site:
Following the $
Capgeek.com is a great resource to track a team's spending:
Articles Library
NHLNumbers.com has a reference library on articles about statistics which is a great way of keeping up with what analysts are tracking and whose developing new ways to look at or read the game:
SB Nation is also a good source for tracking how bloggers and analysts are utilizing advanced NHL statistics:
These are just some of the many stats pages and sites that are out there developing new ways of understanding a fast-paced team sport.  All contribute to our understanding that a forward cannot be measured by points alone, and that a player's role should be taken into account.
All these sites have helped me at some time and I'm thankful for my THW colleagues who have helped me add to this list.  We're always looking for different ways to study or understand the game, so please feel free to drop in a comment with your favourite stat site and I'd be happy to update this library which will hopefully always be changing.
Happy New Year, hockey lovers!