Rankings:
Minnesota
Clarkson
North Dakota
Wisconsin
Cornell
Boston College
Quinnipiac
Harvard
Boston University
Robert Morris
Game of the Week
#6 Boston College at #9 Boston University, Wed. 1/8 @ 7 p.m. EST
Boston College hasn't gotten the results they've been looking for on the road so far this year, and losses to Cornell and Quinnipiac and a tie against Harvard would signal that they've had trouble against stronger teams in the national picture. However, except for a loss to New Hampshire early in the year, the Eagles have done well in Hockey East play, going 7-1-0 against conference teams. Their defense has been suspect at times, but that's also Boston University's biggest weakness too. BC will want to focus on pinning the Terriers in their own zone and  pressuring their defensemen into turning the puck over. They'll also need to be responsible on the back-end and prevent BU's talented forwards from becoming difference-makers.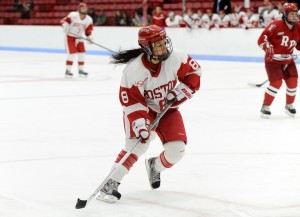 Boston University has also been outstanding in Hockey East play, going 20-0-0 in conference play in the 2013 calendar year. And though their defense hasn't been spectacular, goaltender Kerrin Sperry has, with a .939 save percentage so far; the Eagles have been stable in goal lately but they've had some inconsistency there this year, which could give the Terriers the edge. With a skilled top-six and a fairly shaky blue line on each team, winning one-on-one battles and getting in behind the defense will be crucial to success in this game. Sarah Lefort and Louise Warren have elevated BU this year by doing just that, but they'll likely need the same effort from all four lines as they go up against a pretty deep Boston College forward group.
Top-10 Teams in Action
St. Cloud State at #4 Wisconsin, Fri. 1/3 @ 8:07 p.m. EST & Sat. 1/4 @ 4:07 p.m. EST
#5 Cornell at Brown, Fri. 1/3 @ 7 p.m. EST; #5 Cornell at Yale, Sat. 1/4 @ 4 p.m. EST
Princeton at #7 Quinnipiac, Tues. 1/7 @ 7 p.m. EST
Northeastern at #8 Harvard, Sat. 1/4 @ 2:30 p.m. EST; #8 Harvard at Connecticut, Tues. 1/7 @ 7 p.m. EST
Dartmouth at #9 Boston University, Sat. 1/4 @ 3 p.m. EST
St. Lawrence at #10 Robert Morris, Sat. 1/4 @ 7 p.m. EST & Sun. 1/5 @ 3 p.m. EST
What to Watch For
The Frozen Fenway tilt between Harvard and Northeastern that was originally scheduled for Thursday afternoon was cancelled due to the weather; it will now be played Saturday at Harvard's Bright-Landry Hockey Center instead. This is a big cross-town test for Northeastern, who is below .500 and has one win against a team with a winning record. The Huskies desperately need a boost and a victory over the Crimson could provide that. Harvard has gone 9-1-2, with that one loss coming way back on Nov. 1, despite having some big holes to fill. Northeastern's a speedy team, however, and that could really put the Crimson's defense at a disadvantage.
Thanks to all of you, WE DID IT! Now we'll have to keep you following. But first, we're going play hockey outside. pic.twitter.com/d6ZmSqcFMm

— Harvard W Hockey (@HarvardWHockey) January 2, 2014
St. Lawrence will travel to Robert Morris for a two-game series against the rolling Colonials. The Saints suffered a pair of 3-2 losses to Mercyhurst right before the break, but they are way overdue for a big win this year. Robert Morris has more than proven their worth so far this season but they're entering a tough six-game stretch here; they have upcoming series against Quinnipiac and Mercyhurst as well. The Colonials will be facing a strong goaltender in Carmen MacDonald and though they've got a cast of forwards who can put the puck in the net, it'll be interesting to see how they fare against a solid ECAC team.
Quinnipiac will host Princeton after the two squads tied 1-1 in late November. The Bobcats outplayed the Tigers for the first two periods but Kimberly Newell kept Princeton in the game, only conceding one goal, and they were able to battle back in the third period. Quinnipiac will definitely be looking to finish the effort this time around by either putting the Tigers away early or by controlling things for all three periods. Princeton has shown plenty of fight this year, however, and could give the Bobcats trouble again.
After beating Dartmouth in overtime, Vermont headed into the winter break with an 8-7-4 record. They've shown a lot of improvement this season, and that will be put to the test in their last non-conference games of the year against Syracuse. The Orange have big wins over Boston College and Cornell, as well as ties against Mercyhurst and Robert Morris, but they fell to Lindenwood just before the break. With Kallie Billadeau, Syracuse on paper has a big advantage in goal over the Catamounts, who have had trouble finding consistency there. Roxanne Douville seems to have settled in, though. At any rate, the series should be a good match-up between two teams who are exceeding some expectations this year, and a decent measuring stick for both squads.